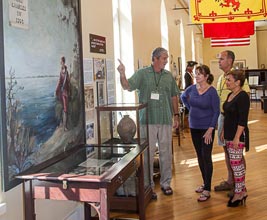 Patrons of the Fall Festival of Houses and Gardens can enjoy an added attraction this year. They will also have the chance to visit the Beaufort History Museum and learn about the deep, rich history of the area.
            "It is all possible because the Beaufort History Museum has moved back to the Arsenal," said BHM President Anna Schaffer. "People attending the Festival will be picking up their tickets in the Arsenal Courtyard. The Museum is located just upstairs. It's a perfect fit and we are delighted to be able to offer this opportunity."
            Isabella Reeves, Special Events Coordinator of the Festival, said that the Historic Beaufort Foundation has been hosting the popular house and garden tours for over forty years. "Understanding the incredibly interesting history of this area and the background of the historic district can add to the experience, " she said.
            Presented by the Historic Beaufort Foundation, The Fall Festival of Houses and Gardens is scheduled for October 24-26. Featured are tours of more than a dozen historic homes and properties, including the newly refurbished Lemon Island Marina, now the home of the Port Royal Foundation Maritime Center.   There is also a Kitchens & Cuisine tour on Sunday, with local Chefs creating their specialties in houses downtown and on Lady's Island.
            For more information on the Fall Festival of Houses and Gardens and to purchase tickets for the tour email events@historicbeaufort.org, call 843-379-3331 or visit www.historicbeaufort.org.   Tickets to the Beaufort History Museum may be purchased in the Visitor Center at the reception desk on the first floor of the Arsenal.
            The Beaufort History Museum has evolved to focus specifically on the history of the Beaufort District. It strives to manage and display artifacts and documents held by the City of Beaufort, telling the compelling stories of this area from the early 16th Century until modern times. The Arsenal address is 713 Craven Street. The BHM hours of operation are 9:00 AM – 5:00 PM Monday-Saturday and Noon – 5 PM on Sunday. Docents are on duty to provide information and conduct tours. A donation of $5.00 per visitor ($4.00 for Seniors) is required. Children and active military are admitted free of charge. The organization maintains a website at www.beauforthistorymuseum.com.
.