Classic Boat Rally offers small boat sailers adventure and a unique racing format… along with some really good parties!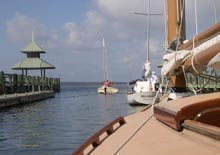 The seventh annual Classic Boat Rally, a race in the Intercoastal Waterway from Savannah Ga. to Beaufort, S. C. was run this past April 20 and 21. The race, which is open to "sailboats of classic design having an overall length of 15 to 24 feet," this year drew six entries, four of which were Marshall Sanderling catboats.
The two days of sailing between these famously appealing towns are broken up into four individual races, a morning race to a predetermined point along the route, and a second race from that point to the day's final destination.
The waters encountered along the way vary from wide open sounds like Port Royal and Calibogue to fast flowing rivers like the Beaufort and the Savannah to narrow creeks and cuts which explain, if you didn't already know, why the Intracoastal is called "the ditch". Scenery varies from shorelines lined with opulent pleasure domes, the abodes of what seem to be endless numbers of the very rich, to the quietude and ageless serenity of vast stretches of pristine marsh.
Here is the realm of the dolphin, the snowy egret and the alligator. As you round a bend in a creek, you may surprise a herd of deer or a pack of feral pigs. You watch them scatter into the semi-tropical brush and realize that this scene is identical to ones that were surely witnessed here by Spanish conquistadores, French corsairs, and English colonists as they disputed this territory in the late fifteen and early sixteen hundreds. I rounded one such bend in the recent race and having been transported back to earlier times by just such a scene, rounded another and was brutally rushed into the present by the sight of a giant Chinese container ship so large and ugly that it seemed to blot out the sky.
Race originator, organizer and perennial contender for top honors Woody Norwood explains that he felt there was an unfilled niche for a race more adventurous than sailing around the bouys off a club, yet more affordable in time and expense than ocean racing. Owners of smaller, trailer able boats needed a venue which combined challenging conditions with an unusual and rewarding itinerary.
"Classic Design" for purposes of this race is defined as "sailboats other than those designed for one-design fleet racing." This might be otherwise expressed as "anything but rule beating Clorox bottles." Examples of approved classes are Herreshoff 12, Mongomery 15 and 17, Cape Dory Typhoon, Marshall 18 and 22 catboats, West Wight Potter 15 and 19, Precision 16 and 18, Ensign, Flicka 20, Cape Dory 22, and Bristol 24. Other designs are welcome within the spirit of the event upon approval of the chairman of the Regatta Committee.
Essential to the success of the race is Woody's yearly research into the tides which will prevail along the route. He finds a stretch of time when the tidal currents will be 95% favorable and the dates for the race are thus determined. The tidal currents in this maze of river, island, and marsh can be truly bewildering and the calculations involved here are truly right up there with rocket science.
Participating in this year's event were "Diversion," Jerry Valka's Bristol fashion Marshall Sanderling (cuddy version) which he trailered to Beaufort all the way from Chicago., "Shorebird" your narrator's new (to him) cuddy Sanderling, and "Kitty" and "Fifi", both open Sanderlings owned respectively by Paul Keyserling and Carlos Black. The non-catboats were "Myrdie III," a Cape Dory Typhoon Senior (22'5") owned by race organizer Woody Norwood and an unnamed Harmony 22 skippered by Buddy Sharpton of Savannah.
"Diversion," "Shorebird," "Myrdie III" and the Harmony 22 all started from Savannah on the twentieth. They would be joined by the open Sanderlings the next day at Windmill Harbour on Hilton Head for the last two laps. In the first day's racing, honors were shared by "Myrdie III" (first place in the Morning) and "Shorebird" (first place in the afternoon).
The first day's racing ended with the interesting experience of locking into Windmill Harbor on Hilton Head. Once you have gone through the locks you are sealed off from Calibogue sound and just about totally protected from the elements. Windmill Harbor is also home to the very elegant South Carolina YC where the contestants enjoyed filet mignon and grouper washed down with ample quantities of Pinot Noir.
Next morning the fleet, augmented by the presence of the the two open Sanderlings, locked out of the harbor and began the first race of the day headed northeast up Skull Creek bound for G "27" in the Beaufort River where there would be a finish and a new start for the afternoon race. The going was upwind, causing a spirited tacking duel until it fell very light halfway across Port Royal Sound. With the fleet totally stalled, the committee boat announced a shortened course for the first race with the finish just beyond where the fleet was currently located. This was a happy circumstance for "Shorebird" because it ensured that "Myrdie III", a faster boat upwind, would not have time to catch her and take over first place. "Fifi" just nipped "Shorebird" at this finish, but "Shorebird" now was ahead of "Myrdie III," the only other boat in contention for over- all honors at this point.
The wind piped up nicely at this point and the fleet moved on to G "27" for the start of the day's second race which would wind up at the Beaufort Yacht and Sailing Club. Like all the races in this event, this was a staggered start with the slowest boats according to PHRF going first followed at intervals by the faster entries according to a formula which, if every boat performed up to its ideal statistics would have all boats finishing together. Thus "Diversion" started first, followed a minute and a half later by her fellow cuddy Sanderling "Shorebird," the difference here due to the fact that "Diversion" was toting a heavy diesel inboard and dragging a propeller while her sister was not, The rest of the fleet followed at appropriate intervals, the lighter open Sanderlings again giving up some time to the cuddy boats. Starting last was Buddy Sharpton's nameless Harmony 22 with its low PHRF and great reputation for speed.
"Shorebird" liked the wind she had and after passing "Diversion" seemed to be holding her position against the fleet pretty well. As the minutes ticked by, however, it became clear that the two open Sanderlings were moving up. "Kitty," in particular, was showing a fine turn of speed and, counterintuitively, was moving ahead by taking to the center of the river where one would expect the adverse current to be strongest. "Shorebird's" sorry skipper, your narrator, observed this and said to himself, "ah ha! local knowledge!" and steered for the center of the river in hot pursuit. Looking back, he could not understand why the rest of the fleet was doing just the opposite, in fact tacking away from the rhumb line and going even closer to shore. Shorebird's lead over the fleet and "Myrdie III" her rival for an over-all win seemed insurmountable now, and if her skipper was not dancing a jig and singing at the top of his lungs, he sure felt like it.
As we roared on up the river past the U.S. Marine installations on Parris Island, the fleet looked distant and unthreatening behind. Only "Kitty" up ahead and "Fifi" bearing down to starboard were of any concern and neither had enough points to win over-all. "Fifi," helmed by Carlos Black and his vivacious wife Brenda, was certainly doing a number on us though. That she was going to pass and leave us well behind was clear. Remembered racing advice from somewhere to the effect that you shouldn't waste time looking at opponents, but just sail your boat as well as you know how, came back to us so I stopped watching the Blacks and gave all my attention to the luff of my sail.
Next time I snuck a glance back over my shoulder I was amazed to note that "Fifi" seemed to have vanished into thin air. Then, way astern, I saw her sideways to the fleet and canted over at an uncomfortable angle; aground. She must have been quite close to me when she hit and but for a few yards in one direction or another, it could have been me. So that's what it means when it says "spoil area" on the chart.
The rest of the race was pretty uneventful. "Kitty" ahead and "Shorebird" just behind kept their lead over the rest of the fleet and crossed the finish line one two. Jubilant, I did vaguely wonder why we received no gun or horn at the finish.
Only later did I find out the reason the fleet had gone towards shore while I was following "Kitty" out into mid-river. There was a buoy to be rounded and we had not given sufficient attention to the chart. The penalty was disqualification for both boats. It hurt, but I have to admit that if I had rounded that buoy with the rest of the fleet everything might have been different. "Myrdie III" would have been in much better position then, and it's anybody's guess how things would have gone. I learned a lot about "the agony of defeat" that day, but I cherish my placard which says "Savannah to Beaufort, 2nd place.
Following the events just described, there was another great dinner, this time at the wonderfully congenial Beaufort Yacht and Sailing Club. Grilled Chicken, boiled local shrimp, multitudinous fixing's, live music, unlimited wine and/or beer… all for $25.00. You cant beat it.
The awards ceremony saw Jerry Falka get a well deserved "Bunky Heifrich Award" for "most positive spirit." It seems the 74 years young Jerry had started out from Chicago with "Diversion" in tow when his car broke down. He managed to get back home and borrow another vehicle. But time was now short, so he now drove twenty fours straight, arriving at the Huddle House restaurant in Beaufort where he took a short nap in the parking lot, then drove on to the Beaufort Yacht and Sailing Club where he rigged and launched his boat preparatory to a pre-race cruise down to Savannah for the start of the Rally. Jerry has no stove on "Diversion," so we don't know what he ate along the way.
"Shorebird" got the award for "most authentic" classic boat, which I think she deserved because she has some three-strand line aboard and her bright work looks a little more like it might do on a working catboat. The "Blue Buoy," nominally given to the most "navigationally challenged," is actually only given to very experienced and competent sailors who can stand the guff. This year it went to Carlos Black for finding the bottom off Parris Island. The award for most Bristol Fashion Classic Boat also went to Carlos for his immaculate "Fifi."
Sunday saw more racing in the Beaufort River and Monday held a race from Beaufort up Brickyard Creek, out into the Coosaw River, and around to the Dataw Island Marina with another awards dinner in the evening. Your narrator retired from this one when the breezes started gusting to 33kts. It was won by pre-eminent Marshall 22 sailor Roy Crocker in his beautiful "True Love."
Owners of small classic boats who feel the lure of this wonderful week of racing can be assured that they will be welcome at all the events and dinners. The racing is unique and challenging. The dinners are world class, and the company is great. Skippers interested in bringing their boats to next year's event could do no better than to contact race organizer, and this year's winner: Woody Norwood at (678) 427-2937.
W.R. Cheney, who moved to Lady's Island from Vermont this past December, sails the engineless Marshall 22 PENELOPE out of Swan's Island, Me. in summer and his newly acquired Marshall Sanderling SHOREBIRD from Lady's Island, S.C. winters.