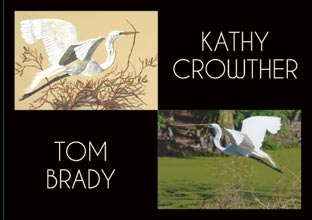 Sometimes, out of the blue, good luck just comes your way!  That's exactly what happened to Kathy Crowther about a year ago: she had a chance to meet a photographer who loves birds and nature as much as she does. His name was Tom Brady and he was kind enough to share his talent with her.  Tom and his wife Maureen bought one of her paintings and Tom asked if she would like to see his photographs?  She said yes, she couldn't wait!  Kathy thought his photographs were brilliant, she loved everything about his pictures: the sharp contrast in colors, his attention to detail, and the interesting poses of the birds. Almost every photo stirred her imagination and when he offered to let her use his photographs as studies for her paintings she thought it was a "dream come true!"  She asked what she could do to repay his kindness and Tom said, "Let's have a show together," and so it is! 
Their collaborative show "Wings" will be held in the USCB Center for the Arts Gallery for the month of November.  The opening reception will be held on Monday, November 3rd from 5 – 6:30 pm.  Please come and celebrate the excitement of nature through the eyes of these artists.
Tom took up photography four years ago after he retired. He joined a photo interest group in Mooresville, NC where, with his point and shoot camera, he attended monthly photo critiques and learned more about cameras and
photography in general. After moving to the Lowcountry, he was overwhelmed with the variety of birds on the ponds and marshes.  Over the last few years he has discovered all of the wonders of their seasons, their interactions and their beauty, even some of the not so beautiful juveniles.
Painting is Kathy's passion; it always has been.  She loves to take a blank piece of paper and make it come alive, and birds are her specialty.  She moved to Beaufort eight years ago and found a wellspring of inspiration through her surroundings.  Kathy paints in gouache and outlines her paintings in ink. She has a very distinct style, which she developed over the years.  She exhibits her work throughout the south, in Beaufort at the Pinkney Simons Gallery and at Charleston's Piccolo Spoleto Festival.