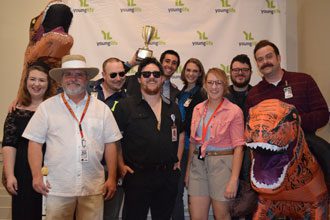 Over 250 people attended the fourth annual William Trask and Holly Konoza Trivia Night fundraiser on April 6th in support of Beaufort Young Life,a non-profit organization that serves hundreds of area teens. Honoring Beaufortonians Holly Konoza and William Trask, who founded Beaufort Young Life in 2006, this year'sevent grossed over $30,000 through ticket sales, sponsorships and a Silent Auction. It is the most successful Young Life event of the year.
According to Area Director Andrew Lancaster, "Trivia Night is a unique fundraiser in Beaufort. It involves fun yet challenging questions, dressing up in wild and crazy costumes, and of course lots of laughter." Trivia Night featured 24 themed teams, who enjoyed friendly, yet intense competition amongst their friends and neighbors. This event gives adults the opportunity to experience what teens enjoy at Young Life's weekly meetings and camps – fun, laughter, and genuine relationships. 
While each rounds' points were tallied, competitors strolled the 75+ item Silent Auction and enjoyed donated cuisine. The Silent Auction included a vast array of items given by generous Young Life supporters — vacation homes and other family events, gift certificates to restaurants and businesses, gift baskets, jewelry, dock parties, golf foursomes, fishing charters, hunting events, and even a kayak!
Lancaster is delighted by the support from the Beaufort community. "We are so grateful for everyone who sponsored, participated, donated, and helped this event be a success. It is because of them that we can continue to impact the lives of teens in Beaufort. Young Life activities reach middle school students, high school students, and teen moms in Beaufort, with nearly 250 participating on a weekly basis.
The title sponsors for the event were Moe's Southwest Grill and Durham Dental.  Corporate sponsors included:  Chick-Fil-A, Southern Palmetto Landscaping, Pendarvis Law, Charleston ENT, Southern Tree Service, Ameris Bank, Carolina Sportscare, Clark Troutman Group Merrill Lynch Wealth Management, It's Retail Therapy, Lowcountry Real Estate, Collins Pest Control, Ribaut Medical Partners, Aesthetic Dentistry, Where'd Ya Get That, Keith's Plumbing, Modern Jewelers, Palms on Parkway, Carpet One, and Gilbert Law.
Such widespread community support is crucial in enabling Beaufort Young Life staff and volunteers to enter the lives of hundreds of Beaufort teens, focusing on what matters to them — fun, adventure, friendship and a reminder that they are loved. As Lancaster explains, "Young Life is all about relationships. Our adult leaders are involved in kids' lives every day.  These friendships earn them the privilege to share the truth about God and His love for them."
Young Life reaches teens in Beaufort every week through three missions – Wyldlife for middle school, Young Life for high school, and Young Lives for teen moms and their babies.  If you are interested in becoming involved with Beaufort Young Life, please contact Area Director Andrew Lancaster at (919) 921-2338 or visit www.beaufort.younglife.org.