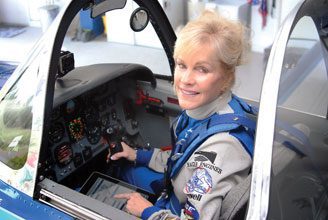 A pioneer female aviator and a world champion aerobatic pilot are among the civilian performers who will join the customary lineup of outstanding military acts at the 2019 Beaufort Air Show at the Marine Corps Air Station Beaufort on April 27-28.
The U.S. Navy Blue Angels will return as the headliners for the upcoming show.  The 45-minute demonstration of elite Navy and Marine aviators is guaranteed to thrill and excite air show attendees. Their blue-and-gold F-18 fighter aircraft will be joined by a number of other military flight demonstration teams, including the F-35 Lightning II, F-22 Raptor, F-18 Hornet, and U.S. SOCOM Para-Commandos Parachute Team.
JULIE CLARK
Among the world-class civilian performers at the MCAS Beaufort show, Julie Clark is considered a legend in aviation history as one of the first and only female fliers to enter the air show industry as early as 1980.
"While most 8-year-old girls were playing with dolls," Clark explains, "I was building models of airplanes and reading all I could about flying." Her father, Capt. Ernie Clark, was a chief pilot for Pacific Airlines. "My dad got me interested in flying. I got really excited when he would take me along on airline flights in the DC-3 or F-27.  Dad would put me into the baggage compartment and would sneak me into the cockpit. I had to beg and plead, but I thought that was the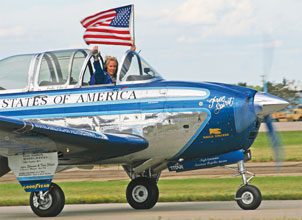 greatest thing to fly with my dad."
On May 7, 1964, Capt. Clark was filling in for a pilot who had called in sick. In the '60s, cockpits were left unlocked; while en route from Reno to Oakland, a passenger entered the cockpit with a gun and killed Julie's father and his first officer.  The Fairchild F-27 went down, killing all 44 passengers on board.  The incident resulted in a law (now referred to as the Clark Act) requiring cockpit doors to remain locked during commercial flights.
Capt. Clark, who also flew C-47s in the U.S. Army Air Corps during World War II, is honored with a panel in the Smithsonian National Air and Space Museum in Washington, D.C.
In spite of her father's tragedy, Julie Clark continued to pursue her passion for flying. She spent her college book money on flying lessons. After college, while working multiple jobs, Clark would take virtually any flying opportunity she could find to build flight time and earn higher ratings. Clark's major break came in 1976 when Golden West Airlines, a West Coast commuter airline, hired her to fly DeHavilland Twin Otters. The first – and only – woman ever to fly for Golden West, Clark flew mail routes at night. In 1977, when Hughes Airwest (formerly Pacific Airlines) hired Clark, she became one of the first women to fly for a major airline, launching what has become a storybook career. After a number of mergers and buyouts, Clark became a captain for Northwest Airlines in 1984 and retired 20 years later.
Coast-to-coast, from Canada to Bermuda, Julie Clark's elegant air show performances stir the hearts and minds of young and old alike. Painting smoke-trailing loops, rolls and hammerheads in patriotic red, white, and blue, her aerial ballet thrills those fortunate enough to view her performance.
Clark's aircraft is a hand-polished aluminum Beechcraft T-34A Mentor, which she bought sight unseen in 1977 at a government surplus auction in Anchorage, AK, for $18,000. The T-34A was produced from 1953-56 as a U.S. Air Force trainer with the T-34B model used as a Navy trainer.
ROB HOLLAND
Two decades after Julie Clark's entrée into the industry, Rob Holland celebrates 18 years of performing for air show crowds.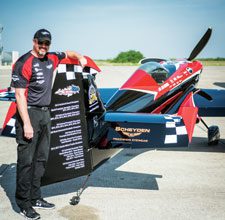 And while Holland better fits the traditional pilot profile, he's nothing close to the standard. Like many future aviators, Holland caught the flying bug at a young age; earning his pilot's license while still a teenager, he began aerobatic flying almost immediately. At the same time, he began building valuable flight time and experience as a corporate pilot, commuter pilot, banner-tow pilot, ferry pilot, and instructor operating his own aerobatic flight school.
Today, Holland is one of the most decorated, respected, and innovative aerobatic pilots and air show performers in the world. He is a record-setting winner of eightconsecutive U.S. National Aerobatic Championshipsand also is the four-time defending World Freestyle Aerobatic Champion and a nine-time U.S. Freestyle Aerobatic Champion. He is truly an accomplished and skilled aviator. 
Holland brings his passion for aviation to audiences at air shows across North America, hoping to inspire others to pursue their dreams with the same focus and dedication that has propelled him to the very top of the airshow world.He has distinguished himself by blazing a trail of innovation, developing maneuvers never before seen at air shows.
"One of my goals is to take aerobatics to the next level," Holland says. "I want to push the limits of what can be done."  
Holland performs in the MXS-RH, a single-seat, custom-designed, carbon-fiber aerobatic beast built by MX Aircraft in North Carolina. The 1,200-pound aircraft is powered by a 380-horsepower Lycoming engine and is capable of pulling 16 positive and negative "Gs" and can roll at nearly 500 degrees per second.
While Holland's impact and influence on the air show community is undeniable, his remarkable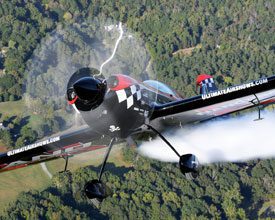 skills at the controls of the MXS-RH are paired with a humble, unassuming, and approachable demeanor that has forged a unique connection with countless fans worldwide.
Holland graduated from Daniel Webster College in 1997 with Bachelor of Science degrees in Aviation/Airway Management and Aviation Flight Operations. He holds ratings as an Airline Transport Pilot (ATP), Certified Flight and Ground Instructor (CFI, CFII, IGI, AGI), as well as glider and seaplane ratings. He has more than 14,000 hours flight time in more than 170 different types of aircraft.
Holland most enjoys meeting current and veteran members of the military through his hero flight program. "My favorite part of the air show weekend is meeting future aviators and honoring former members of the U. S. Armed Forces by introducing them to the thrill of flight. While most have been exposed to aviation, many have never had a personal flying experience. It is my goal to pay tribute to those who have served and aspire to civilian careers following their service."
The MCAS Beaufort Air Show will take place April 27 – 28. Gates open at 9 a.m. and general admission is free. For more information, visit www.beaufortairshow.com