Laissez les bons temps rouler… for the Arts Council!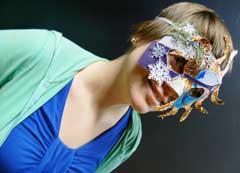 The Arts Council of Beaufort County's mission to "promote and nurture" is often re-energized into the slogan "Weaving the Arts into Every Day Life" to point out the fact that the arts are indeed everywhere you look in Beaufort County: writers' meetings and book clubs, home studios and sketching in the parks, the proliferation of textile artists and quilters and knitters, videos being edited on every fifth computer— lots of creative, expressive work.
But sometimes it's just time to put aside all that careful craftsmanship and rapid words per minute and worries about your tube of Hookers Green running out, and have a party. A big, get-dressed-up-and-boogie party.
Mardi Gras Beaufort is on Saturday, January 23, at the Officers Club at the Marine Corp Air Station, and is a fundraiser for the Arts Council. "We are really excited, and already have some fantastic donations of original art by the area's top leading artists," said Deanna Bowdish, who is herself thoroughly woven into (from, maybe?) the arts, being an artist, a gallery owner, a workshop leader, a member of the Mardi Gras committee (which also includes Claudette Humphrey, Mari Valentin, Etta Mann, Veronica Miller, Nat Hughes, Marie Lewis, Connie Gardner, Diane Britton Dunham, Bruce Doneff and James Denmark) and, best of all for the staffers and supporters of the arts council, she is also the president of the board. "Attending Mardi Gras is an opportunity for people to support an amazing organization that is working so hard to raise the level of the arts in Beaufort County— and to have a great time and take home a great piece of art!" the board president has declared.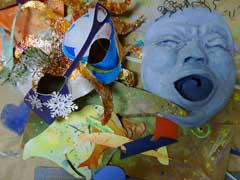 The party will be fueled by the live music of Dwayne Dopsie & the Zydeco Hellraisers, direct from New Orleans. Dopsie is the youngest the son of Rockin' Dopsie, late King of Zydeco, Alton Rubin Sr. The art-filled evening will also include dinner, dancing, the silent auction, and a parade of kingly and queenly surprises— festive attire is recommended! For the silent auction, internationally recognized artist and committee-member James Denmark proclaimed a call for mask-themed art from local artists; the winning mask will be heralded by Mardi Gras Kings and Queens.
Local artist Tammy Nold has created and donated such a mask to the event. "I moved here from the Midwest, so I wanted to do a North to South thing, something that would transition well. For instance the shovel goes from snow to sand, and the sand bucket holds melting ice. Art has always been my passion— I did one of the mermaids too— and this was a fun way to be involved."
Fun is the ticket to creativity, and Mardi Gras tickets are $60; $480 reserved tables of 8, and available now at ARTworks in Beaufort Town Center. 379-2787, http://www.beaufortcountyarts.com. The Arts Council of Beaufort Count is an independent, non-profit service organization that is not a function of the Beaufort County government. New hours for the arts council offices, the artist studios, Contemporary Craft at ARTworks are 11-6 Tuesday-Friday, & 11-3 Saturday.