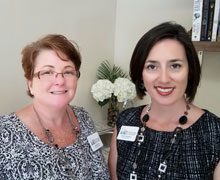 Two local residents are the first hires for The Retreat at Lady's Island, an assisted living and memory care community currently under construction at 9 Sunset Boulevard in Beaufort. Valerie Howe will lead The Retreat as Executive Director, with Rachel Longino Simpkins serving as Sales Director. Both women currently reside in Shell Point.
A 30-year resident of the Beaufort area, Valerie Howe has worked in the healthcare industry for 20 years. She holds a Bachelor of Science in Healthcare Management and a Master of Business in Healthcare Administration from South University. Howe is licensed in the State of South Carolina as both a Community Residential Care Facility Administrator and a Licensed Practical Nurse.
As an Executive Director hired during The Retreat's construction, Howe will play many roles. During the building phase, she will coordinate with construction teams and assist the Sales Director with the promotion and marketing of the new community. Once construction is complete, the focus will shift to preparing for State certification and making ready for the first residents. Finally, after the Grand Opening, she will assume a traditional Executive Director role, overseeing The Retreat's daily operations.
Howe is a board member of the South Carolina Association of Residential Care Homes. She is also President of the Healthcare Network Group of the Lowcountry, a regional organization working to enhance the quality of care for all Lowcountry residents by creating a network of local healthcare professionals.
Rachel Longino Simpkins comes to The Retreat at Lady's Island with experience in senior living and hospice. A Georgia native, Simpkins joined the Marine Corps in 1994, serving in Communications for the 3rd Force Service Support Group – a vocation that took her as far away as Japan and eventually to Beaufort. Simpkins chose to stay in the area to finish college and make her home.
As Sales Director, Simpkins will work with seniors and their families to find the right fit of services and accommodations for each person. She will also promote The Retreat through presentations and other events.
Expected to open in early 2018, The Retreat at Lady'€™s Island will offer three stories of senior living with beautiful views of the waterway, marina and nearby marsh. Retreat residents will enjoy private assisted living suites and studios, each with a private bathroom and kitchenette. On the first floor, those with Alzheimer's disease or similar memory issues will find a refuge in the secured Memory Care wing. Other on-site amenities will include a waterfront patio, fitness center, physical therapy center, movie theater, salon, chapel, and more.
For more information on The Retreat at Lady's Island, call (843) 379-9502 or visit The Retreat's Facebook page at www.facebook.com/RetreatLI.