The Presbyterian Women of First Presbyterian Church invite you, once again, to take time off from your holiday hustle and bustle to enjoy some moments of quiet wonder at the annual Nativity Celebration. In just a few short years, this exhibit of crèches from around the world has become one of Beaufort's favorite downtown Christmas events.
            Every year, the event gets a little bigger – more nativities on display and more people through the doors of the First Pres Fellowship Hall. This year, you can expect to see more than 70 nativity scenes from all over the world, and the hours have been extended to
accommodate more visitors of all ages.
            Donna Sheetz of the Presbyterian Women says, "One of the most beautiful experiences for us was last year when the pre-school children from St. Helena and First Baptist Church of Beaufort came. Seeing the awe and wonder in their eyes put a smile on all our faces; but the most heartwarming and touching scene was seeing a group from Summit Place, with their walkers and wheelchairs, following in line behind these precious little ones. I tear up each time this memory comes to mind. Then, later that day, a little girl from St.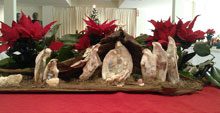 Helena Preschool came back with her mommy to show her what beautiful things she saw earlier. The mother was so grateful for this gift of sharing one on one time with her little one."
            All the nativities are on loan from church members and friends. This year there will be a crèche on display designed and created by Bob Doster of Lancaster, SC, a nationally acclaimed sculptor and recipient of the Elizabeth O'Neill Verner Award, the state's highest honor in the arts. The church will also again share a large nativity made from oyster shells on driftwood by local artist Chris Nietert.
            "We'll have quite a few new ones as well as the return of the crowd favorites," says
Donna Sheetz. "It is amazing to see the beauty of the First Christmas as seen through the eyes of artists from all across the US, different countries and cultures. Sharing these beautiful nativities with the community is our gift to all."
            The nativities will be on display Friday and Saturday, Dec. 9 & 10, from 10 am – 4 pm, and on Sunday, Dec. 11 from Noon – 2 pm. The event is FREE and open to the public in the First Presbyterian Church of Beaufort Fellowship Hall at the corner of North and Church Streets. For more information, call 843-524-3051.