The hot days or summer are coming, but there's still time to celebrate spring, thanks to the Beaufort Garden Club, who will host "Garden-a-Day 2008" in celebration of National Garden Week.

During the week of June 2 – 6, Beaufort residents and visitors alike are invited to enjoy a stroll through a different garden every morning. Local homeowners will open their gardens to the public between the hours of 9:30 am and 12:30 pm. Beaufort Garden Club members, at least one of them a master gardener, will be on the scene to answer questions, and iced tea and cookies will be served.
According to Garden Club member Holly Karnath, "We like to choose gardens that have points of interest scattered among the foliage and flowers. Paths, seats, fountains, bird baths, etc…"
One particularly interesting "point of interest" is in the garden of Ronald and Judy Bloss, where there resides an extremely old Sparkleberry tree – North America's largest blueberry – which is almost as tall as the house.
Another special touch can be seen in the garden of Michael and Karin Durbin.
"They have a dogwood tree that died," says Karnath. "Instead of cutting it down to the ground, they cut it off where it started to branch off, at about 10 feet high. Then they nailed several birdhouses to the top and trained a couple of red climbing roses up the trunk."
The Garden-a-Day tour is a gift to the community from the Beaufort Garden Club. The public is invited to enjoy this event at no charge!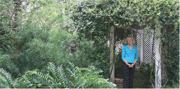 Gardens on View
Monday, June 2 – 163 Spanish Point, The Durbins
Tuesday, June 3 – 336 Cottage Farm Drive, The Laings
Wednesday, June 4 – 125 Spanish Point Drive, The Nettles
Thursday, June 5 – 373 Cottage Farm Drive, The Blosses
Friday, June 6 – 2600 Dover Lane, Mrs. McLean