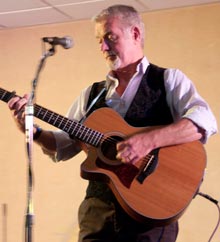 The Irish Festival is coming again to Beaufort and the drums are sounding…
In Gaelic those drums are called Bodhrans. Round, framed, one-sided, like a large tambourine, they make a dull, thumping sound when beaten rapidly.
Did you know that 12% of Americans cite Irish ancestry, and that the largest portion of that group lives in the South? What a great excuse to throw a weekend-long party, Irish-style, right here in Beaufort!
What is the Festival all about? Irish language, customs, traditions, history, music, food, drink, family fun, and humor are all part of the coming celebration.
Last year the festival earned over $1000 that was donated to Hope Haven.  This year the festival is donating earnings to Habitat for Humanity.
Irish Festival and Heritage Celebration Schedule
Feb 24  – An Evening in Ireland Gala
Fine Food, great libations, and entertainment by local favorite Harry O'Donoghue, Best Western Hotel on Bay St, 6 – 9 pm. Tickets $45. (Limited to 125 guests.)
Feb 25  – An Irish Family Fun Day at the Main Festival
Noon – 4 pm, Featuring the Dady Brothers, Harry O'Donoghue, Irish Dancers, Irish Soda Bread Competition, Irish crafts, souvenirs, clothing, an Irish Ancestry Exhibit, an Irish Kid's Fest (with stories, crafts, games and music), and more! $10 per person, children 12 and under are free. The Quality Inn Hotel on Boundary
Feb 25  – Irish Pub Night
Starting at 9 pm. Great Irish music and a special guest appearance. No cover charge! Luther's on Bay Street
Feb 26 – Irish Jam Session
Come relax, listen and sing along. From 1 – 4 pm. Luther's on Bay Street.
For more information, or to purchase tickets, visit www.beaufortirishfestival.org or email beaufortirishfestivalinfo@gmail.com