Our favorite festive weekend is upon us! Once again, Main Street Beaufort brings us three days of old-fashioned holiday cheer on the street of downtown Beaufort.
The fun begins on Friday, December 7, with "Night on the Town." Bay Street will be closed to traffic and merchants will stay open late for this evening of shopping, entertainment, food and fun. Choirs will be singing, Santa will be strolling, the Christmas tree will be lit, and so much more! The festivities begin at 6 pm…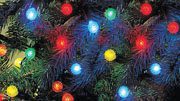 On Saturday, December 8, "Light Up the Night" returns after a two-year hiatus due to park construction. Don't miss this fabulous site, as local boats deck their halls and parade down the river in a spectacle of lights from 5 – 8 pm…
The holiday weekend wraps up Sunday, December 9, with an old-fashioned Christmas parade through Beaufort's city streets. Beginning at the National Cemetery, the parade will head down Boundary Street, then down Carteret past USCB, then right onto Bay Street and beyond. High school bands, baton twirlers, floats, church groups, politicians… they'll all be there, not to mention Santa on a fire truck. Don't miss this wonderful annual tradition, which begins at 3 pm.