The Beaufort Orchestra announces its annual musical holiday celebration concerts on Thursday, December 6th at 8:00 P.M. and a Sunday Matinee, December 9th at 3:00 P.M. at the USCB Performing Arts Auditorium in Beaufort. The concert will include the music of Mozart, Handel, and Bach, as well as popular holiday favorites. All Beaufort area music lovers are invited to join us in enjoying a varied concert of classical works and familiar seasonal favorites! Maestro Frederick Devyatkin has included plenty of familiar holiday music in this concert. Concertgoers are sure to recognize tunes like Havah Nagilah, Winter Wonderland, Carol of the Bells and Sleigh Ride along with the opportunity to sing along with familiar Christmas songs.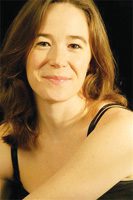 The classcial portions of the concert will feature soprano soloist, Mary Hubbell of Charleston. Ms. Hubbell will be accompanied by the orchestra in selections from Handel's Messiah; Mozart's Exsultate, Jubilate; and the Magnificat in D Major by J. S. Bach.
She is a graduate of Boston College and holds a Masters Degree in Singing from University of California at Santa Barbara. Her vocal interests and repertoire are particularly diverse! In addition to music of the Classical Era, she is fond of exploring Contemporary music of the Twentieth and Twenty-first Centuries. She participated in the Amherst Early Music Festival in Massachusetts during the summer of 2007, where she performed a leading role in the opera, La Calisto by Cavalli. She has also appeared as a soloist with the Royal Concertgebuow Orchestra of Amsterdam.
In May of 2007 she was featured in Charleston's Piccolo Spoleto Spotlight Series in a concert of bel canto music. When not busy teaching at The Charleston Academy of Music and Hungry Monk Music, she continues her studies with workshops and master classes in the United States and Europe.
From Sacred to Swing – A Holiday Celebration
With Mary Hubbell, soprano soloist
Thursday Evening, December 6th, 8:00 P.M.
Sunday Matinee, December 9th, 3:00 P.M.
Subscriptions and Reserved Seating now available through
Beaufort Regional Chamber of Commerce, 1106 Carteret Street, Phone 843-986-5400, Ext 34
Single tickets are $25, Youth through High School $5
All concerts are held at the USCB Performing Arts Auditorium, 801 Carteret Street, Beaufort
www.beaufortorchestra.org