According to experts, some Monarch butterflies migrate more than 2,000 miles in the fall, traveling from Canada to central Mexico!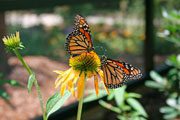 Thanks to Hilton Head Island's Coastal Discovery Museum, butterfly enthusiasts will have a much shorter distance to travel in order to enjoy an up close and educational look into the lives of these captivating creatures.
The museum's new Karen Wertheimer Butterfly Enclosure, which opened to the public on June 5, features hundreds of beautiful native butterflies gently fluttering about the 1,200-foot screened enclosure, as well as a variety of 'nectar' plants to feed adult butterflies and 'host' plants to feed butterfly larvae.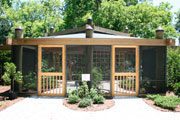 More than simply a butterfly nesting area, the new enclosure will serve as an informative laboratory to nurture and cultivate butterflies that are commonly found in the Lowcountry, as well as provide an educational experience for visitors. In addition to Monarchs, the enclosure will also include the following species: Gulf Fritillary, Zebra Longwing, Giant Swallowtail, Spicebush Swallowtail, Cloudless Sulphur, Zebra Swallowtail, Pipevine Swallowtail, Black Swallowtail, Queen and Palamedes Swallowtail.

Participants can learn about the butterfly's life cycle, via information panels or guided tour with a museum expert, and enjoy a truly hands-on experience – touching live caterpillars, seeing the butterflies in all four stages of their metamorphosis, learning about their habitat, and more. All plant materials are identified with botanical and common names.
Designed by Bluffton's Eric Walsnizich, of W.K. Dixon, the sturdy structure features pilings, which are sizable enough to secure it during a hurricane and adhere to the town of Hilton Head Island's building requirements.

Carlos Chacun, the museum's knowledgeable naturalist, commented, "This is a wonderful opportunity for people to learn about butterflies in our area – how they live, what plants they eat, how important they are."
While butterflies in the wild typically experience a 2% survival rate, the new enclosure will help raise the rate to 90%, guaranteeing butterflies.
Said Michael Marks, President and CEO of the Coastal Discovery Museum, "I think it's going to be a huge attraction for visitors of all ages."

The Karen Wertheimer Butterfly Enclosure At a Glance
Size: The enclosure comprises 1,200 square feet of screened-in space and features numerous plants along its outer perimeter
Butterfly Species: The enclosure currently features six species, including: the Zebra Swallowtail, Monarch, Gulf Fritillary, Zebra longwing, Black Swallowtail and Spicebush Swallowtail. The museum indicated that it plans to feature seven additional species, including: the Palamedes Swallowtail, Tiger Swallowtail, Cloudless Sulphur, Queen, Giant Swallowtail, Common Buckeye and Pipevine Swallowtail.
Plants: A variety, including plants that both feed and shelter nesting butterflies
Survival rates: Adult butterflies rarely live more than a couple of weeks; you may well see dead butterflies during your tour. However, the enclosure and care from staff members combine to ensure survival rates of 90 percent, up from the 2 percent in nature.
Admission/Hours: Free from 9 a.m. to 4:30 p.m., Monday – Saturday; and 11 a.m. to 3 p.m. on Sundays. Guided Butterfly Discovery Tours are available at 10 a.m. on Mondays and 3 p.m. on Wednesdays, June – September, and run approximately 1 – 1 hours. Cost for tours is $10 for adults, $4 for children age 4 to 12. Reservations are recommended, but not required.
Dream Stop Garden
The Coastal Discovery Museum, in partnership with The Hilton Head Island Council of Garden Clubs and The Garden Club of South Carolina, Inc., also developed the "Dream Stop Garden" to introduce area visitors and residents to the beauty and diversity of the region's flowers and the butterflies that rely upon those flowers.
This wildflower garden features essential nectar flowers and host herbs and plants used by a variety of butterfly species and their caterpillars, or larvae, for nourishment. A successful butterfly garden is one that satisfies the needs of the butterfly and its larvae including: food for adults and larvae, shelter and water.
According to museum experts, offering a combination of colorful blooms, herbs, water and rocks for sunning and resting in your own garden will provide the essentials butterflies need to survive and thrive, and allow you to enjoy these captivating creatures at home.