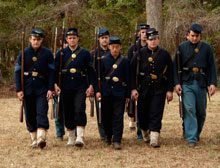 The bark of officers mustering troops for review. The resounding clack of marching boots. Crackling fires. Bubbling cook pots. Mail call. These are just a sample of the sights and sounds that will accompany Union troops as they occupy Beaufort at a Living History Encampment presented by the Beaufort History Museum.
            The 50th Pennsylvania Infantry Regiment, Union forces that occupied Beaufort in 1862 during the Civil War, will be brought to life by more than 30 re-enactors, who will stage the encampment in the Arsenal Courtyard, March 11-13. A complete schedule of the weekend's many entertaining events and demonstrations is available on the Museum website at www.beauforthistorymuseum.com. Admission is free.
            The encampment will provide a fascinating look at everyday life in Beaufort that followed in the wake of the Battle of Port Royal (November, 1861), when Confederate forces were rapidly defeated, local residents fled, and Union troops moved in. The re-enactors, who are coming from as far away as New England and Pennsylvania, will camp out in the Arsenal's walled courtyard space, dividing into a "4 corners" focus.   On display will be Brigade Headquarters, a commissary and Army Sutlers (traveling tradesmen who supplied the troops); infantry life and equipment; Northern Missionaries and Abolitionists; Freedmen; and the 1st South Carolina Regiment, which was comprised of soldiers of African American descent.
            Activities will include cooking over open fires, an infantry drill, a class in session at a Freedmen school, a march through town to a bay-front park, and a visit to the National Cemetery for a wreath laying ceremony. Prominent historians Stephen R. Wise and Lawrence S. Rowland, authors of Rebellion, Reconstruction, and Redemption, 1861-1893, will be at a book signing at the Beaufort Public Library Saturday morning, March 12.
            "This is truly an exciting time for the Museum because the Living History Encampment offers us an opportunity to experience much of life as it was in Beaufort during an important time in our history," said BHM Board President, Carol Lauvray. "It helps us tell the story of the early days of the Reconstruction era here, which began during the Civil War. We are very grateful to encampment organizer Daniel Gidick of Charleston and to our partners, Penn Center and the Beaufort Pubic Library, for their efforts in creating this educational event."
"The Living History Encampment also serves as a exciting way to preview our upcoming Special Exhibit on Reconstruction in Beaufort, opening in June when the Museum will participate in the South Carolina Humanities Festival with many other arts, cultural and historic organizations throughout Beaufort County. BHM's Reconstruction Exhibit will be on display at the Museum for at least one year, so those who live in and visit Beaufort can experience it firsthand."
            Beaufort History Museum has evolved to focus specifically on the history of the Beaufort District. It strives to manage and display artifacts and documents held by the City of Beaufort, telling the compelling stories of this area from the early 16th Century until modern times. Docent classes are conducted on an ongoing basis.
For information on becoming a Docent, contact Lorrie Burleyknoles at lburleyknoles@beauforthistorymuseum.com or (559) 362-3237.
The Arsenal address is 713 Craven Street. BHM's hours of operation are 10:00 AM – 4:00 PM Monday – Saturday. Docents are on duty to provide information and conduct tours. A donation of $5.00 per visitor ($4.00 for Seniors) is required. Children and active military are admitted free of charge. Please visit the website or BHM's Facebook page for updates and news from the Museum.
Living History Encampment
 
Date:              March 11-13, 2016
Site:               Beaufort History Museum
                        The Arsenal
                        713 Craven Street
                        Beaufort, SC
Schedule of Events
Friday:
 
2 – 5 PM Arrival of event re-enactors

Setting up of camp with "4 corners" focus: 1) Brigade HQ, commissary & Army Sutlers; 2) infantry life & equipment, 3) Northern Missionaries & Abolitionists, 4) Freedmen & the 1st South Carolina Regiment of African descent

Ongoing demonstrations at each of the stations
Saturday:
7:30 AM Breakfast Call – oatmeal & molasses  

8:00 AM Camp opens to the public 

9:00 – 11:00 AM – Book signing by Stephen Wise & Lawrence Rowland at the Beaufort Public Library

9:30 AM Infantry Drill – Facings and Manual of Arms 

11:00 AM Freedmen School session

Noon Dinner Call – Rice, peas, bacon & collards 

12:30 PM Mail Call – letters and boxes from home

1:30 PM Inspection of Infantry Company followed by a brief march down Scott Street to the park on Bay St. in the Point

3:00 PM Freedmen School session

4:00 PM Infantry Drill

5:30 PM Visit to the Beaufort National Cemetery for a brief wreath laying ceremony; camp closes to the public.
Sunday
7:00 AM Breakfast Call

8:00 AM Camp opens to the public; Cleaning of barracks

9:00 AM Infantry Drill

9:30 AM Freedman school

10:00 AM Dismissal of formation

11:00 AM Arsenal closes to the public
Admission:               Free   (Donations accepted)
Presented by:           Beaufort History Museum
Partners:                  Beaufort Public Library
                                  Penn Center