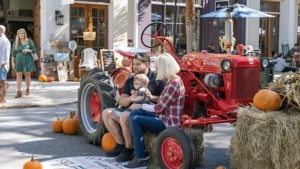 The award-winning coastal town of Habersham's idyllic village center, the Habersham Marketplace, will present the 13th Annual Habersham Harvest Festival celebrating the bounty of the fall season this October 13-15, 2023. This favorite Lowcountry lively street festival features a vintage fair theme with family activities, celebrated local food purveyors, and artisan vendors set against the backdrop of timeless southern architecture on Market Street. The Habersham Harvest Festival is now a three-day event that begins with a Friday evening Carnival for rides, live music and food on October 13 starting at 4:00 p.m. The full festival continues Saturday, October 14 from 10:00 a.m. to 6:00 p.m and Sunday, October 15 from 10:00 a.m. to 6:00 p.m.
We invite you to bring the whole family after school on Friday and take advantage of the Friday only all-you-can-ride bracelet offering for $25.
Then, join us again on Saturday or Sunday and spend your day browsing artisan vendors, food trucks and restaurants, free and ticketed activities for kids of all ages including the ever-popular 47-ft Ferris wheel, live bands, a petting zoo, horse and carriage rides, vintage carnival rides, contests, face painting, hayrides, the a reading garden for kids of all ages, and more!
Free admission with food, drink, ride tickets, and art and crafts available for purchase; select activities may include nominal entry fees. Learn more about participation or sponsorship at www.habershamharvestfestival.com.
The Harvest Festival is hosted in Habersham Marketplace. Habersham Marketplace is located at 13 Market Street in Habersham just off of Joe Frazier Road via Broad River Blvd. in Beaufort, SC. For more information, visit www.habershammarketplace.com