The nonprofit Pat Conroy Literary Center is honored to host a free public drop-in launch event for Donna Keel Armer's The Red Starfish, Book #1 in the Cat Gabbiano Mystery Series. Join us on Saturday, October 7, from 5:00 to 7:00 p.m. at 601 Bladen St., in downtown Beaufort. No advance registration required. Books will be available for sale and signing. Refreshments will be provided. The author will speak briefly at 5:45 p.m.
About The Red Starfish
Kidnapped? Murdered? Or another publicity stunt?
A gorgeous film star and her priceless starfish necklace disappear. What do the indecipherable clues she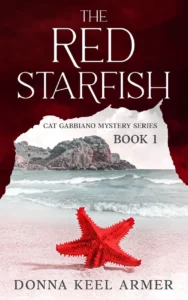 leaves behind mean? Desperate to find her missing friend, Cat Gabbiano abandons her home and business in the South Carolina Lowcountry to fly across the ocean to Italy where she and her best friend spent magical childhood summers. Will Cat solve the mystery of her friend's disappearance or will she become the next victim? Woven against the alluring Adriatic coastline of Puglia, The Red Starfish mixes a dangerous cocktail of power, corruption, passion, and the forever friendship of two captivating women.
"Born on the same day, two women forge a life-long friendship. When Cat gets Stella's desperate phone call asking for help, she doesn't
hesitate to get on a plane from the Low Country of South Carolina to the Italian village of Castello del Mare. When she arrives and learns Stella is missing, she finds herself caught in a web of treachery, danger and deceit. Can she decipher the clues Stella left her? Is there anyone she can trust? The Red Starfish is a gripping and suspenseful tale that will keep you guessing right to the end. Donna Keel Armer has crafted a superb mystery – and if you've been to Italy, you'll delight in the descriptions of the food and the countryside. If you've never been, you'll long to go."–Sally Handley, author of the Holly & Ivy cozy mystery series
Donna Keel Armer is the author of Solo in Salento: A Memoir which has been translated into Italian as Un'americana in Salento. She recently completed a book tour of Southern Italy. She's a photojournalist and has published essays for travel anthologies and in magazines featuring photographs and articles on travel, food and wine, home and garden and various other topics. When she's on the road, she writes a private travelogue. Donna is a former board member of Friends of the Beaufort Library, a member of Sea Island Spirit Writers, and a docent at the Pat Conroy Literary Center. Donna and her husband Ray split their time between their forever home in the South Carolina Lowcountry and their beloved Italy.