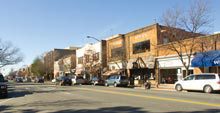 When you hear the phrase "vibrant college town," what image comes to mind? If you are like many people I know, it's probably not downtown Beaufort and USCB's Historic Beaufort Campus.
Yet Beaufort has enormous potential to become exactly that—a vibrant college town. Its rich history, natural beauty and Lowcountry charm could enable Beaufort and USCB to attract a young, active and intellectually engaged population. Such influx, in turn, could empower much-needed economic, social and cultural revitalization and growth. So what is missing right now? To answer this question, I'll share a few observations.
When I think of a vibrant college town, I see Chapel Hill, NC, home to UNC-Chapel Hill since 1795, and home to me since my birth in 1988. I grew up in downtown Chapel Hill, just down Franklin Street—the town's main street—from the university. The downtown Franklin Street area, which sports numerous shops, restaurants, bars, museums, theatres, pharmacies, banks and public transit hubs, runs along one edge of UNC's campus. Several times a year the street is blocked off for celebrations (UNC basketball championships), parties (Halloween night), street festivals and parades, all of which form some of my fondest memories of growing up there. Downtown is the place to meet friends, eat dinner, see and be seen. It has become a destination.
Despite the suburbanization trend of the last 60 years, downtown Chapel Hill has survived as a vibrant town center. Before the town's suburbanization, Franklin Street served as a traditional commercial and social hub for everyone, permanent residents and students alike. In the 1970s a shopping mall sprang up two miles from downtown, followed by a low-density sprawl of new subdivisions, shopping centers and highways. Some small businesses that had thrived for decades downtown, such as grocery and department stores, could not compete with their new suburban counterparts and closed their doors. Still, unlike in many other cities across the country that were experiencing similar suburbanization, the university's presence in Chapel Hill's downtown helped Franklin Street adapt to the changing market and continue to flourish as an economic and social hub.
Today, Chapel Hill's downtown and UNC enjoy a strong symbiotic relationship. The diversity of shopping, dining and nightlife located close to the university draws tens of thousands of students from across the state, the country and the world to Chapel Hill each year. In turn, the students frequent downtown establishments and rent apartments and houses in adjacent neighborhoods, all the while breathing life into the downtown area and further enhancing its economic and social vitality. Overall, the strong presence of college life at the heart of downtown has helped the town center weather the storm of suburbanization and become a focus for college life at UNC as well as a social destination for the permanent residents of Chapel Hill.
What can we in Beaufort learn from Chapel Hill's success in maintaining a vibrant downtown? Like Chapel Hill, Beaufort experienced significant suburban growth starting in the middle of last century, with increased commercial development along Boundary Street/Highway 21 and later on the islands. Though USCB was reestablished downtown in 1959, for various reasons (including lack of affordable and attractive student housing) it produced little discernable student presence downtown. Traditional businesses that were once mainstays along Bay, Carteret and Boundary streets, such as Tom's Shoe Repair, Edward's Five and Dime and Miller's Market, were largely out-competed by big box stores and strip shopping centers that opened far from downtown. Luckily for Beaufort, tourism has kept Bay Street afloat as a relatively lively destination. But because of its lack of basic services such as supermarkets and pharmacies, downtown still does not offer much of a draw for Beaufort's residents, aside from its restaurants.
By establishing USCB's Historic Beaufort Campus as a strong presence downtown, Beaufort could reclaim its once-vibrant city center. USCB has moved many major operations to its South Campus in Bluffton, but potential new plans and public-private partnerships promise to revitalize and expand the downtown campus to become a center for the arts.
Even so, if Chapel Hill's lessons tell us anything, two things must happen in order for USCB to create positive change downtown:
First, USCB must continue its efforts to create a genuine downtown campus by focusing on expanding the campus, increasing the number of full-time students and creating attractive student housing so students do not have to commute into town—a situation that would jeopardize their potential positive influence downtown. Second, the city government, private landowners, developers, and entrepreneurs must continue to reinvest together in downtown, revitalizing old stores and shops to create places where students and residents will want to live, work and study. These two things have to happen simultaneously for a symbiotic relationship—like the one that has grown organically in Chapel Hill—to take root.
Not only will a thriving college atmosphere breathe new life into Beaufort, it will make the historic downtown again a destination for local residents. And it will make Beaufort that much more attractive to tourists and visitors—including future potential students and professors, who will then, in turn, continue to revitalize downtown with their much-needed presence. Expansion and reinvestment will take time, but down the road, a few hundred additional young, energetic, educated residents in the heart of downtown will do wonders for Beaufort. And more restaurants, entertainment venues and stores with basic services along Bay, Carteret and Boundary streets will do wonders for enticing these students to make downtown Beaufort their home for four (or more) years. If we give this process of downtown revitalization a chance, one day our first image of "vibrant college town" could, in fact, look a lot like Beaufort.
This article was written by guest columnist, William Sendor. William is from Chapel Hill, NC. He recently graduated from the College of William & Mary in Williamsburg, VA. His mother grew up in Beaufort, and he is working in Beaufort now as an intern at the City of Beaufort's Office of Civic Investment. He is one of three summer interns who have done amazing work this summer for the City. His colleagues, Andrew McIntyre who attends McGill University, and Matt Morris who attends University of Texas at Arlington, will be sharing their insights on Beaufort as well.