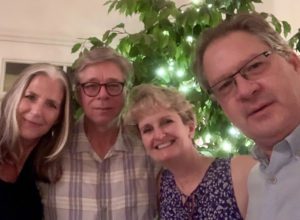 Post-pandemic catering is crazy-busy but LCW column deadlines keep on coming. For the past week, I've been pondering some delish Tex-Mex recipe ideas. Suddenly, it's time to cook and photograph the whole shebang. What do you do when you've prepared food for four and there are only two of you here to eat it? Slight dilemma. The remedy was to share the love and the deliciousness with two of our besties. Vince and I hosted Lowcountry Weekly's publisher and editor, Jeff and Margaret Evans, at our house for a Mexican Fiesta for four. This week's menu can easily be doubled or tripled to include even more guests. You'll only need to add some tasty margaritas or a pitcher of sangria to create a full-fledged dinner party. Another column deadline is just around the corner. You're Eating My Column. Hmm. I think I may be onto something fun to do this summer. Stay tuned for Volume Two.
Corn and Black Bean Salad with Cumin Vinaigrette
Southwestern Caviar!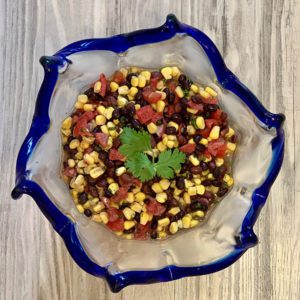 2 (15.25-ounce) cans yellow corn, drained
2 (15.25-ounce) cans black beans, rinsed and drained
3 medium tomatoes, seeded and chopped
¼ cup minced cilantro
½ cup chopped red onion
¼ cup fresh lime juice
1/3 cup red wine vinegar
1 teaspoon Dijon mustard
2 teaspoons ground cumin
4 tablespoons vegetable oil
In a medium bowl, combine corn, black beans, tomatoes, cilantro and red onion.  In a small bowl, whisk together lime juice, vinegar, mustard, cumin and vegetable oil. Toss dressing with vegetable mixture. Refrigerate at least 4 hours before serving.  Serves 8 to 10.
Steak Fajita Nachos
Not a beefeater? Chicken would be a fabulous substitute!
1 pound sirloin steak, cut into thin strips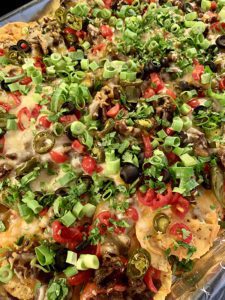 1 (1.4-ounce) package fajita seasoning mix
1 tablespoon vegetable oil
1 medium onion, thinly sliced
1 red bell pepper, thinly sliced
Tortilla chips
2-3 cups shredded cheese (cheddar, mozzarella or Mexi-blend)
1 cup sliced grape tomatoes
½ cup chopped green onions
½ cup chopped fresh cilantro
1 (2.25-ounce) can sliced black olives, drained
Sliced jalapenos, to taste
Shredded iceberg lettuce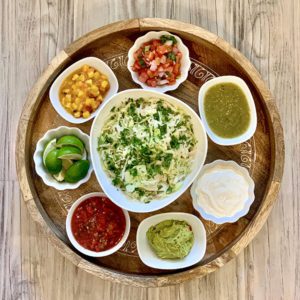 Mango salsa
Fresh tomato salsa
Salsa verde
Pico de gallo
Guacamole
Sour cream
Fresh lime wedges
Place steak strips in a large bowl. Add seasoning mix and toss well to coat. Cover and let marinate in refrigerator for at least 3 hours. Heat vegetable oil in a large skillet over medium heat. Add onion and pepper and cook until tender. Remove from heat. Add marinated meat to skillet and cook until browned and cooked through. Preheat oven to 350 degrees. Line a baking sheet with aluminum foil and spray the foil with cooking spray. Spread tortilla chips evenly on prepared pan. Add cooked steak, onions and peppers. Top with shredded cheese and sliced grape tomatoes. Bake in prepared oven for 15 to 20 minutes or until cheese is melted and nachos are warmed through. Serve with shredded lettuce, mango salsa, fresh tomato salsa, salsa verde, pico de gallo, guacamole, sour cream and fresh lime wedges on the side. Serves 4.
Alligator Lime Pie
I can credit this pie to my first venture into the world of catering.  For a project in my public speaking class in college, I had to give a demonstration in front of the class.  I made this pie, shared it with my classmates and took home an A+.  Try frozen lemonade for a different twist. (Editor's note: BEST. PIE. EVER.)
1 pre-baked pie crust (graham cracker, chocolate, pecan, shortbread)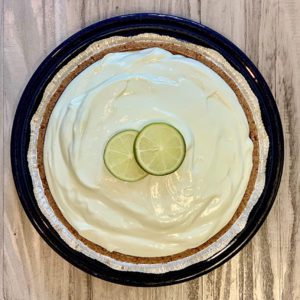 1 (14-ounce) can sweetened condensed milk
1 (6-ounce) can frozen limeade, thawed
1 (8-ounce) carton frozen whipped topping
1 drop of green food coloring (optional)
Fresh lime slices
Combine sweetened condensed milk and limeade. Stir in food coloring. Fold in whipped topping until thoroughly combined. Spoon mixture into pie crust. Garnish with lime slices. Refrigerate for at least 2 hours before serving. Serves 6 to 8.
The writer owns Catering by Debbi Covington and is the author of three cookbooks, Celebrate Beaufort, Celebrate Everything! and Dining Under the Carolina Moon. For more great recipes and to view her cooking demonstrations, visit and subscribe to Debbi's YouTube channel. Debbi's website address is www.cateringbydebbicovington.com. She may be reached at 843-525-0350 or by email at dbc@cateringbydebbicovington.com.