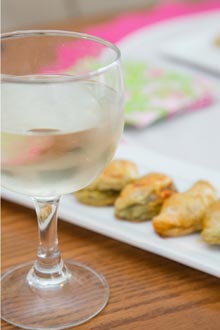 If variety is the spice of life, then feta is the cheese – at least in this week's recipes! Feta is a brined curd cheese that's traditionally made in Greece. It's an aged crumbly cheese, commonly produced in blocks and has a slightly grainy texture.
The Greek word "feta" comes from the Italian word "fetta" which means "slice." Feta was introduced into the Greek language in the 17th century. Opinions vary whether it refers to the method of cutting the cheese in slices to serve on a plate or slicing the cheese to put it into barrels. Traditionally, feta is made in the lower Balkan peninsula from sheep's milk. Goat's milk has been used in recent times. Feta is delicious as a table cheese, in salads, and with pastries in baking. It can also be served cooked or grilled and adds a salty alternative to other cheeses in a variety of dishes.

Feta Cheese Foldovers (see above)
8 ounces feta cheese
3 tablespoons thinly sliced green onion
1 egg
1 package frozen puff pastry, thawed
1 egg (for egg wash)
Crumble cheese and mix with green onions and egg. Cut pastry into twelve 3-inch squares. Place a mounded tablespoon of filling in the center of each square. Moisten edges with water and fold pastry over filling to form a triangle. Press edges together firmly with a fork to seal. In a small bowl, beat remaining egg with 1 teaspoon water. Brush tops lightly with egg wash. Bake in a preheated 375 degree oven for 20 minutes or until golden brown. Serve warm or at room temperature. Serves 12. (Photography by Susan DeLoach, above)

Orzo and Tomato Salad
1 cup uncooked orzo pasta
¼ cup pitted green olives
1 cup diced feta cheese
3 tablespoons chopped fresh parsley
3 tablespoons chopped fresh dill
1 ripe tomato, chopped
¼ cup olive oil
1/8 cup lemon juice
Salt and pepper, to taste
Bring a large pot of lightly salted water to a boil. Cook orzo for 8 to 10 minutes or until al dente, and rinse with cold water. When orzo is cool, transfer to a medium bowl and mix in olives, feta cheese, parsley, dill and tomato. In a small bowl, whisk together olive oil and lemon juice. Pour over pasta and mix well. Season with salt and pepper to taste. Chill before serving. Serves 6.

Baked Shrimp with Feta Cheese (Girades mi Feta)

1 tablespoon olive oil
1 teaspoon minced garlic
1 teaspoon dried oregano
½ teaspoon red pepper flakes
1 (28-ounce) can diced tomatoes
1 (3.25-ounce) jar capers, drained
Salt and freshly ground black pepper, to taste
1 pound fresh shrimp, peeled and deveined
4 ounces crumbled feta cheese
Heat olive oil in a large skillet over medium-high heat. Add garlic, oregano and red pepper flakes. Saute briefly, without allowing the garlic to brown, about 2 minutes. Add the tomatoes, stirring well, and bring to a boil. Simmer, stirring frequently, until juices are reduces and sauce is slightly thickened, about 5 minutes. Add capers and season to taste with salt and pepper. Spread half of the sauce in a lightly greased baking dish and top with the shrimp. Top with remaining sauce and sprinkle with the crumbled feta. Bake in a 350 degree oven for 15 to 20 minutes, until bubbling hot and the shrimp are pink. Serves 4. (Photography by Paul Nurnberg)

Spanakopita Pie
1 tablespoon butter
½ bunch green onions, chopped
½ teaspoon dried oregano
1 teaspoon dried dill weed
2 (10-ounce) packages frozen chopped spinach, thawed and squeezed dry
½ teaspoon ground black pepper
½ teaspoon salt
¼ teaspoon ground nutmeg
Pinch ground cayenne pepper
4 ounces feta cheese, crumbled
1 cups cottage cheese
4 eggs, beaten
1 frozen deep-dish pie shell, thawed at room temperature
Heat oven to 350 degrees. Melt the butter in a medium skillet. Add the green onions, oregano and dill weed and saute for 2 to 3 minutes. Add the spinach, pepper, salt, nutmeg and cayenne and saute 3 minutes more. Set aside to cool. Combine feta and cottage cheese with the eggs in a medium bowl. Add the spinach mixture and pour into the pie shell. Bake for 30 to 40 minutes, until a knife inserted in the center comes out clean. Serves 6.

Greek Salad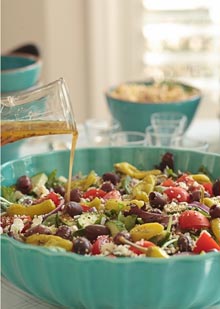 For the dressing:
¼ cup olive oil
2 tablespoons red wine vinegar
½ teaspoon garlic salt
¼ teaspoon freshly ground black pepper
¼ teaspoon sugar
For the salad:
1 (8-ounce) bag mixed salad greens
1 small tomato, diced
½ medium onion, diced
12 kalamata olives
8 pepperoncini peppers
4 ounces crumbled feta cheese
½ teaspoon dried oregano
Combine dressing ingredients in a small bowl, mixing well to combine. Pour dressing over salad greens and toss to coat. Divide salad greens on four individual salad plates. Top with tomato, onion, olives, peppers and feta cheese. Sprinkle with dried oregano, Serves 4. (Photography by Paul Nurnberg)

The writer owns Catering by Debbi Covington and is the author of two cookbooks, Gold Medal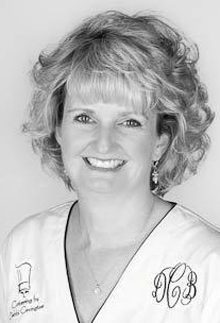 Winner of the Benjamin Franklin Award, Celebrate Everything! and Dining Under the Carolina Moon. Debbi's website address is www.cateringbydebbicovington.com. She may be reached at 525-0350 or by email at dbc@cateringbydebbicovington.com