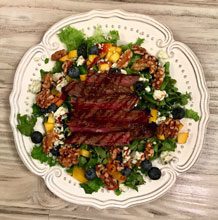 I'm not going to waste any space this week rambling on about why we should all eat more salads. We already know why, don't we? Have a happy and healthy August!

Grilled Steak Salad with Peaches
and Blueberries
I rarely peel peaches. The skin is perfectly safe to eat. Be sure to wash the peaches just like you would wash an apple or pear before consuming.
For the balsamic reduction:
1 cup balsamic vinegar
Pour vinegar into a small saucepan and place over high heat. Bring to a boil. Reduce heat to low and simmer until the vinegar has reduced to 1/3 cup, about 15 minutes. Set balsamic reduction aside to cool. Cover, unrefrigerated, until ready to serve.
For the steak:
2 tablespoons balsamic vinegar
2 tablespoons fresh lemon juice
1 tablespoon dijon mustard
1 tablespoon Worcestershire sauce
2 cloves garlic, minced
½ teaspoon dried oregano
½ teaspoon dried basil
½ teaspoon dried thyme
½ teaspoon paprika
¼ cup olive oil
1 (2 to 3-pound) London broil or flank steak
Combine balsamic vinegar, lemon juice, mustard, Worcestershire sauce, garlic, and spices. Whisk in olive oil. Place meat in a gallon-sized zip-lock bag. Pour marinade over meat. Marinate in the refrigerator for 12 to 48 hours. (The longer the meat marinates, the more tender it will be.) To cook, remove the meat from the marinade and let it come to room temperature. Preheat grill to high heat. Turn the grill down to medium high or let coals cool down before you put the meat on. Turn the meat about every 6 minutes. (Cooking time will depend on how hot the grill is and the size of your meat. The meat will continue to cook as it rests so it's best to remove it from the grill when it's a bit underdone.) When the meat reaches an internal temperature of 130 degrees, remove from the grill and let rest for 10-15 minutes. Cut meat into thin slices across the grain.
For the salad:
Green leaf lettuce, shredded
Fresh peaches, diced with skin on
Blueberries
Blue cheese, crumbled
Walnuts, toasted and roughly chopped
Place lettuce greens on a serving platter. Add peaches, blueberries, blue cheese and walnuts. Top with warm sliced steak and drizzle with balsamic reduction.
Greek Salad with Lamb Chop Lollipops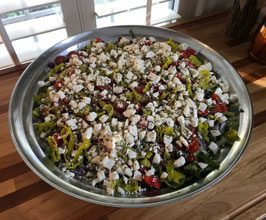 Substitute lamb loin chops or even ground lamb, if you prefer.
For the vinaigrette:
¼ cup olive oil
2 tablespoons red wine vinegar
½ teaspoon garlic salt
¼ teaspoon freshly ground black pepper
¼ teaspoon sugar
Place all ingredients in a small jar and shake to mix. Set aside until ready to serve.
For the tzatziki sauce:
Greek yogurt
English cucumber
Dried dill weed
Place yogurt in a bowl. Peel cucumber, remove seeds and dice into small pieces. Fold cucumber into the yogurt. Season to taste with dill weed. Cover and refrigerate until ready to serve. Store leftover tzatziki in the refrigerator for up with 5 days.
For the lamb:
1 rack lamb, cut into chops
Salt and pepper, to taste
Season lamb with salt and pepper. Grill over medium-high heat for about 3 minutes per side or until cooked through to desired doneness. Transfer chops to an oven-safe plate and place in the oven to keep warm.
For the salad:
Green leaf lettuce, chopped or torn
English cucumber, diced
Roma tomatoes, diced
Red onion, finely diced
Baby carrots, sliced
Kalamata olives
Pepperoncini peppers, sliced
Feta cheese, crumbled
Place salad greens on a plate; dress lightly with prepared vinaigrette. Add cucumber, tomatoes, red onion, carrots, olives, peppers and feta cheese. Top with warm lamb chops. Serve with a dollop of tzatziki sauce.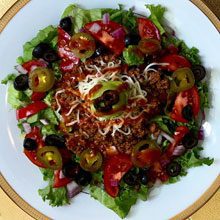 Beef Taco Salad
Think super healthy tacos minus the shells.
For the beef:
1 pound ground beef
1 (1.25-ounce) packet taco seasoning
½ cup water
Brown ground beef in a large skillet; drain well on paper towels. Return beef to skillet; add taco seasoning and water. Cook according to directions on back of seasoning packet. Keep warm until ready to serve.
For the salad:
Green leaf lettuce, shredded
Red onion, diced
Campari tomatoes, halved and sliced
Sliced pickled jalapenos
Sliced back olives
Monterey-Jack cheese, shredded
Guacamole
Taco sauce
Place lettuce on a platter. Top with red onion, tomatoes, jalapenos and olives. Add seasoned beef to salad. Top with shredded cheese and guacamole. Drizzle with taco sauce.
Arugula Salad with Fruit and Olives
I took this salad to a dinner party last Sunday. It's a great side dish for any type of grilled meat. I used canned pears and mandarin oranges.
For the vinaigrette:
¼ cup extra-virgin olive oil
2 tablespoons red wine vinegar
1 teaspoon honey
1 teaspoon Dijon mustard
1/8 teaspoon salt
1/8 teaspoon black pepper
Whisk oil, vinegar, honey, mustard, salt and pepper in a small bowl. Set aside until ready to serve.
For the salad:
Baby arugula
Canned pears, sliced
Mandarin oranges, drained
Blueberries
Kalamata olives, halved
Goat cheese, crumbled
Walnuts, toasted and roughly chopped
Place arugula in a large bowl; toss lightly with vinaigrette. Top with pears, oranges, blueberries, olives, goat cheese and walnuts.
Lowcountry Spinach Salad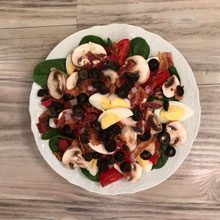 This is one of my favorite salads from my college days at Atlantic Christian in Wilson, NC. My roommate, Lori Jones Wagner, was the first person to introduce me to bamboo shoots. I've loved them ever since.
For the vinaigrette:
¼ cup red wine vinegar
1 tablespoon Dijon mustard
½ cup ketchup
2 tablespoons sugar
1 tablespoon Worcestershire sauce
1/3 cup vegetable oil
Salt
Freshly ground black pepper
In a small bowl, whisk together vinegar, mustard, ketchup, sugar and Worcestershire sauce. Gradually whisk in vegetable oil. Season with salt and pepper, to taste.
For the salad:
Baby spinach leaves, stems trimmed
Fresh mushrooms, sliced
Red onion, finely chopped
Roma tomato, quartered and sliced
Boiled eggs, quartered
Bacon, cooked and crumbled
Canned bamboo shoots, chopped
Sliced black olives
Spread spinach on a large serving platter. Arrange remaining ingredients decoratively over the spinach. Serve with vinaigrette on the side.
The writer owns Catering by Debbi Covington and is the author of three cookbooks, Celebrate Beaufort, Celebrate Everything! and Dining Under the Carolina Moon. Debbi's website address is www.cateringbydebbicovington.com. She may be reached at 525-0350 or by email at dbc@cateringbydebbicovington.com.