We're channeling our friend, the great lawyer/writer Scott Graber (we love his column for The Island News), when we write: It's 5 p.m., we've lit a fire, we've poured ourselves two glasses of a nice Bordeaux, and it's time to dish it out and pour it on when it comes to our love for the Wine Room experience at Beaufort's beloved Breakwater.
Those who know about Breakwater's Wine Room always seem to have a story. It might be about someone special that joined them for dinner there, a dish they enjoyed (or that someone else ordered and they tried), a certain wine, or a favorite server. Well, we have stories aplenty about each of these topics… and more. Here's just one.
So, several years ago, after having just moved to Beaufort full-time, we were invited to a "Christmas dinner" by a neighbor. With our desire to be gracious guests, we asked, "What can we bring to your home?" Our neighbor immediately replied, "Oh, bless your heart, you're not coming here. We're taking you to dinner in the Wine Room at Breakwater." Thus, our love affair with the unique dining experience at Breakwater began.
First, the facts. The Wine Room is popular. You need to make a reservation and it typically needs to be well in advance… especially during December, for the Holidays (or the week of Thanksgiving, as we recently learned). Generally speaking, the maximum number of guests is 14, though we've heard that's a bit flexible. There's also a minimum "spend" (food and beverage), which is $500, a figure we've never had trouble reaching. What can we say about always reaching the minimum with ease? We like wine… and food… and lots of people at the table.
For those who haven't experienced it or seen it, the Wine Room is across from Breakwater's bustling bar. It's long (maybe 20 feet or so) and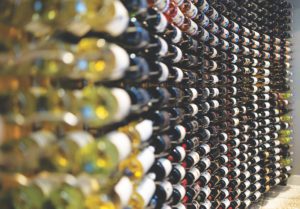 narrow (about eight feet), with a floor-to-ceiling window facing two four-top bar-height tables that are across from the bar and a "wall" of wine bottles along the other wall. Our very rough guestimate is that the wall holds a thousand-plus bottles of wine (and, no, we didn't sit there one night and count them).
The Wine Room is reserved for the entire evening and has the same hours as the rest of Breakwater: Monday to Thursday, 5 p.m. to 9 p.m., and Friday and Saturday, 5 p.m. to 10 p.m. Other than the unique setting, the dining experience in the Wine Room is the same dining elsewhere in Breakwater (and, now, outside as well).
Our recent "Friendsgiving" dinner offers a glimpse of a typical wine room experience. After starting with a cocktail hour (along with a great wine menu – more on that later), Breakwater has a strong spirits and cocktails program (cheers to Bar Mixologist Liam Galán), we were seated for dinner. The Wine Room has a dedicated server, who is with you throughout the evening. That night, we were pleased to have Will again, who is typical of Breakwater's attentive and knowledgeable service team (with a nod here to General Manager Donna Lang and Front of House Juliet Harvey).
Everyone that evening ordered wine with dinner, so a word or three about Breakwater's wine menu (their term) seems appropriate. It's extensive, with more than 30 wines by the glass and maybe 50 or so varied bottles (including a range of pinot noirs we always enjoy exploring). Wines by the glass are listed on the left-hand side of the menu and wines by the bottle are on the right.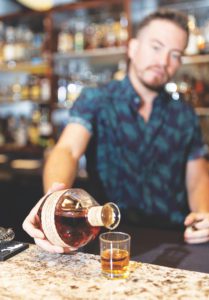 Except for "Bubbles," which come by the flute or bottle, wines by the glass come in six- or nine-ounce pours, as well as being available by the bottle (note that these wines are aren't listed on the right-hand "Wines by the Bottle" side of the wine menu, so there's really at least 75 different bottles of wine typically available at Breakwater.
Along with the aforementioned sparkling category, including traditional Champagne, brut rosé, moscato, and prosecco, the possibilities include: lots of chardonnays and sauvignon blancs, a smattering of pinot grigio/gris, chenin blanc, a Spanish albariño, a sweet-ish German riesling called Fünf (which Cele's sweet-ish mom was happy to see), the previously mentioned pinot noirs, lots of intriguing red blends, delectable deep-red cabernet sauvignons, big-ish zinfandels, malbec, Montepulciano, and several relatively unique red grapes, including tempranillo, nero d'avola, gamay, and more. For the record, when it comes to wine, the use of capitalization is often confusing and inconsistent. We did the best we could here, but when it comes to wine, who the heck really cares?
Though "research" is still in progress, some of our favorite Breakwater wines include: Mirabeau rosé (a crisp dry Provencal rosé); Silverado Miller Ranch (a Napa sauv blanc that comes in a fun liter bottle for 50 bucks, currently); two tasty and traditional-style French sauvignon blancs (we keep hoping they'll add a Kiwi sauv blanc); an Illahe Estate pinot noir from Oregon's famed Willamette (rhymes with "damn it") Valley, plus several other excellent pinots from the Willamette and beyond; lots of interesting red blends (this still-in-love couple loves the Pasqua Romeo & Juliet Passiment from Italy); and many world-class cabernet sauvignons, like The Calling, a cab from California's lesser-known Alexander Valley. We knew a few of these wines pre-Breakwater, but discovered several of them in the wine room and look forward to many more discoveries in 2022 and beyond.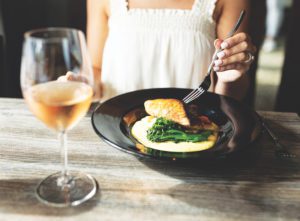 As for the food, it's very good and it tastes even better with wine (and water as well, BTW…really). We've basically learned to trust whatever Executive Chef Marley Wreden and Managing Chef Gary Lang put on the menu.
A Breakwater meal typically starts with several of our favorite appetizers for sharing (and we only invite friends who share). For our recent Wine Room experience, aforementioned Scott Graber and his lovely wife Susan decided to order several apps and make their dinner out of it, along with sharing tastes with the rest of the table. Susan paired their varied apps, which included perfectly seasoned and fried oysters, with a glass of chardonnay, while Scott opted for a red blend, if we recall correctly.
Many of our go-to apps were ordered by us or someone else at the table, including: Butter Bean Hummus (we order it every single time); the
popular and surprisingly creative (trust us) Meat & Cheese Board, which is ideal for sharing; a Pimento Cheese Plate (with grilled baguette and pickled okra); Deviled Eggs (featuring Italian sausage); Fried Green Tomatoes, with pimento mornay and candied bacon; creative Lowcountry Boil Eggrolls with Tabasco aioli and more; and their tasty Shrimp Burger Sliders (served with Old Bay house-made French fries).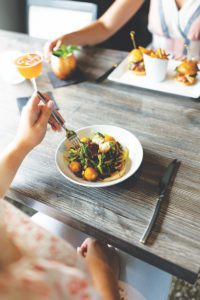 Starters include a classic She Crab Soup, Red Stripe Chili (made with Red Stripe beer, marinated beef and sausage, bell peppers, corn, beans, cheese, sour cream, and scallions, with a side of jalapeño cornbread), a generous Grilled Caesar Salad, and a creative, fresh, and oh-so-healthy Harvest Salad.
As for entrées, we have our favorites in this category as well, but always enjoy trying something new that someone else orders (again, we only invite sharers). A short list of faves for us has to include: comfort foods like Chicken Pot Pie and Bacon-Wrapped Lamb Meatloaf; the Pimento Cheese Burger (made with Wagyu beef and served with a black truffle butter for just a few bucks extra); Pistachio Salmon and Shrimp & Scallops (again, trust us on both of these); a duroc Pork Chop with mac and cheese and more; famed Fried Chicken with bacon-garlic green beans (choose from traditional gravy or Nashville hot). Along with the burger, red meat lovers will love Breakwater's Argentinian Beef (marinated grilled flank steak), the New York Strip, and their modern take on Hamburger Steak (again, using Wagyu beef).
Then there's the Fresh Catch, which one of us generally orders without fail. And, Breakwater's never failed us. For Friendsgiving, it was perfectly seared red snapper, served with broccolini and grits, topped with generous chorizo crumbles (an unusual and pleasant surprise as fish topping) and luscious lobster cream sauce.
Scott and Susan happily savored (and shared) their apps, while affable and affably ravenous friend Rob obviously enjoyed his fried chicken with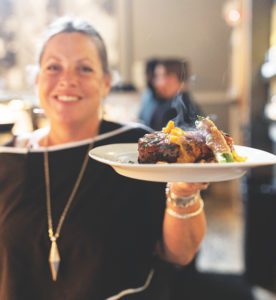 gravy…but, he tasted our swimming buddy Donna's Nashville hot version and declared her spicy bird even better. Rob's hunk of a husband, Jim, got the Fried Green Tomatoes ("best I've ever had anywhere") and overflowing Chicken Pot Pie ("excellent crust and very rich sauce"), Donna's equally hunky hubby, Don, raved about the Hamburger Steak ("loved it"), and happily coupled friends Marilyn and John enjoyed "great" Stuffed Mushrooms (featuring savory southern-style sage sausage), She Crab Soup, and Chicken Pot Pie (and, thankfully, we're sharers from way back).
Along with tasting lots of apps passed around the table, we devoured our Argentinian Beef and the aforementioned Fresh Catch, switching (and cleaning) plates halfway through our entrées. And, yes we gave bites with anyone who asked (no double-dipping allowed!). As an aside, Breakwater's numerous delectable sides are available a la carte as well (did someone say brussels sprouts?).
We're honestly not huge dessert fans, but we will always listen to what the server describes (often having tasted it beforehand to provide first-hand knowledge). Plus, we're not averse to letting someone else order a dessert or two, and then begging for a bite. However, for Friendsgiving, everyone said their last sips of wine would serve well as their dessert. At least until we all got home.
Of course, we don't always eat in the Wine Room when we head to Breakwater. When it's just two or four of us, we generally opt for the varied dining rooms, but we also love eating at the bar or outside, when the weather cooperates.
Breakwater
203 Carteret St.
Beaufort, SC 29902
(843) 379-0052