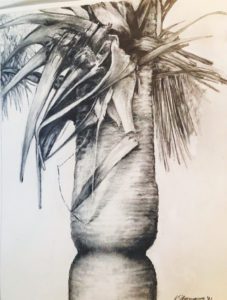 Local artist Karol Thompson will be featured in a one-woman show at the Charles Street Gallery from December 17 – January 15. The public is invited to meet the artist at a holiday reception at the gallery on Friday, December 17 from 6 – 9 pm.
"As far back as I can remember, I was drawing," says Karol. She studied art at Florida State University, then taught art in Jacksonville for two years. "I had meant to be an artist. I hadn't meant to fall in love with teaching, but I did. That fact set the direction of my life."
Karol went on to earn an MA in Art and a PhD in Arts Education, writing her dissertation on Hegel's Phenomenology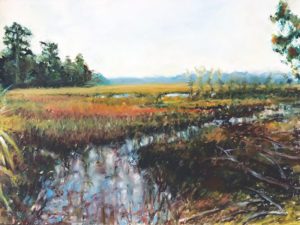 of Spirit, all the while teaching Art and Humanities in Prince George's County, Maryland. In 1985, she received the Washington Post Agnes Myers Teacher of the Year Award for outstanding and creative teaching. She advocated tirelessly for a county wide school for the arts, and in 1987, the Prince George's County School for the Visual and Performing Arts finally came into being. Karol worked there for ten years, developing the visual arts program.
Her paintings and other works of various media have been exhibited all over the Washington, DC area, as well as in Sea Island, GA, Jacksonville, FL, and Atlantic Highlands, NJ.
Karol currently lives in Habersham, where she works in her studio every day.
Come meet Karol Thompson and celebrate the holidays with the Charles Street Gallery on Friday, December 17 from 6 – 9pm. www.thecharlesstreetgallery.com