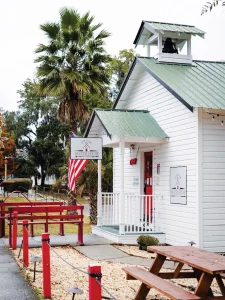 If you've lived in Beaufort or Port Royal for a while, you've seen the charming schoolhouse building on Paris Avenue reinvent itself a couple of times. Years ago, it was Mikki's Diner. Then it was an outpost of the Lowcountry Cracked Egg chain. And, more recently, it has become The Olde Schoolhouse Restaurant. And, in our opinion, this version has the right ingredients and recipe to stay on our dining-out menu.
The building itself has a story, albeit a sketchy one for us. According to the folks at the Historic Port Royal Foundation, it was originally built as Fennell School in Yemassee in the early-1900s, serving the African American community of Hampton and Beaufort counties in the early days of segregation. It remained a school until the mid-1940s, when it was moved to the edge of town and converted into a grocery store. Beaufortonian John Keith purchased the building in 2001 and moved it to Port Royal, as the first building of his Harbor Village retail concept, which is where the building sits today.
Although we don't know much about the space in its former lives, we can tell you about its current life as The Olde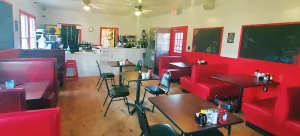 Schoolhouse Restaurant. During the pandemic, the owner of Cracked Egg moved away from the area. He deeply valued and cared about the business and its employees, which led him to reach out to local businessman, Jake Higgins, to see if he wanted to buy it. And Jake jumped at the chance.
Now, a little background on Jake. Originally from Baltimore, Jake's first job was as a school resource officer in Ohio. While holding down that full-time job, he started his own business—a security company, SecurityNow USA, which provided security to clubs and bars. Since that time, the security company has expanded to all 50 states and has thousands of employees, contractors, and restaurant clients.
But that didn't stop Jake. Ten years ago, he moved to Bluffton, where he took a job as a Narcotics Detective with the Bluffton Police Department, then became the Detective Sergeant of the Narcotics and Violent Crime Unit for the Jasper County Sheriff's Office and is currently a State Trooper.
But he still had a desire to get even more involved with his community. Which led to him buying and opening a series of local businesses under his company, Higgins Family Brands, including Coastal Sunset Property Services on Hilton Head, Which Wich, Kilwins, Coastal Sunset Carwash, Dairy Queen, and Bluffton Pizza Company, all in Bluffton, as well as HWY 21 Drive-In Theater in Beaufort. Although he has sold some of these in recent years, he continues to expand his local business empire. "I have been able to acquire local businesses to help save jobs and keep history alive," says Jake.
With expansion goals in Beaufort, Jake purchased the Cracked Egg in Port Royal in early 2022. He changed the name to honor the building in which it sits, kept many of the same menu items, and rebranded the space into The Olde Schoolhouse Restaurant. When asked how he has time to run all those businesses and patrol Beaufort and Jasper counties, Jake says, "I have great people that work with me who manage the businesses. I trust them and love them and their families."
Case in point is Mary Cooney, general manager of The Olde Schoolhouse Restaurant since opening day. With 33 years of experience with Cracker Barrel and three years at Blackstone's Café prior to coming to Port Royal, you might say that Mary can school us on service and hospitality. "I love what I do, and the people I meet. It's why I have been serving for over 40 years," says Mary.
Let's get to the meat of the restaurant (see what we did there?). The white schoolhouse just on the edge of the Cypress Wetlands is a warm inviting space, with lots of outdoor tables with umbrellas, picnic tables and a fire pit. Inside, it feels like, well, an old schoolhouse, with chalkboard walls, wooden floors and red leather booths. Serving breakfast and lunch—although dinner service is on the horizon (more about that later), the space is cozy and feels like a familiar diner.
The breakfast menu is loaded with options, from bagels to bowls, omelets to oatmeal and pancakes to platters. In addition to classic diner standards, they've got a killer take on French toast with their honey cinnamon French toast biscuits. Yep—you heard us right! We're talking fresh homemade biscuits dipped in a honey cinnamon batter, grilled, then flash fried and topped with powdered sugar. If you just want to sample them as an appetizer or breakfast dessert (yes, it's a thing), they even serve up bite-sized French toast fritters for the table to share (this is Mary's favorite breakfast dish).
Some of their other most popular breakfasts include: The Olde Schoolhouse Breakfast featuring three eggs made
to order, two breakfast meats, grits, toast, breakfast potatoes and two homemade pancakes (for the heartier eaters); the Train Wreck, with waffle fries covered with two eggs, two strips of bacon, a heaping scoop of homemade sausage gravy, and cheddar cheese; or the Big Bowl with breakfast potatoes covered with three scrambled eggs, bacon, sausage gravy, and cheddar cheese.
As amazing as these sound and taste (trust us!), Mary says that people come for the pancakes. "The massiveness of them is what brings people in. They've heard about them and have to come see them for themselves." Literally falling off the plate, these buttermilk pancake saucers are served up slathered with butter and cinnamon sugar—with plenty of maple syrup on the table. Or, try the Chicken & Pancakes with three all-natural white meat fried chicken tenders on top.
And then, of course, they have more savory options like shrimp & grits, Crazy Grits (covered in chopped ribeye, grilled bell peppers and onions, and then smothered in cheese), corned beef hash and country fried steak.
Don't fret if you're a lightweight, er, lighter eater, because they've also got you covered, with yogurt parfaits, avocado toast, oatmeal with brown sugar or plain and everything bagels.
Lunch is equally delicious and filling, with enough choice to please any palate. The menu starts out with a dozen sandwich options—from standards like egg salad and tuna melts, to heartier options like a meatball sub, half-pound bacon cheeseburger or buffalo chicken grilled cheese. They also feature four different wraps, including chicken salad and a popular veggie option.
According to Mary, customer favorites at lunch include their grilled BLT, with four strips of hickory-smoked bacon, lettuce and tomatoes on your choice of bread grilled to perfection (take it from us, add an egg and go for the BELT!), as well as their chicken avocado bacon wrap, with freshly grilled chicken, chunky avocado and crispy bacon wrapped with spring mix and tomatoes, and then drizzled with a spicy ranch. Mary's lunch fave—and one that she must have at least once a week—is the Philly cheese steak.
All sandwiches and wraps come with a choice of one side from an extensive list of a baker's dozen to choose from. You can't beat the waffle fries or the sweet potato fries, but the house made mac 'n cheese is a clear winner for us.
OSR also has varied specials for both breakfast and lunch, like a Philly omelet (basically their popular Philly
cheese steak stuffed into a fluffy omelet), chicken pot pie and a mushroom Swiss burger. And, for those looking for something healthier, four fresh salads with varied ingredients await.
Going forward, Jake and Mary look forward to opening for dinner, with a dinner menu featuring a small appetizer list of favorites, like mozzarella sticks, wings, onion rings and homemade soups, as well as old school comfort food entrees like your Mom used to make, including meatloaf, country fried steak, spaghetti and meatballs, shrimp and grits, and pork chops.
If the food is what brings you in, the friendly service will keep you coming back. According to Jake, "The Olde Schoolhouse's strength is its service. Just like Blackstone's Café [which Jake also purchased earlier this year], service is our key. That is what makes us different."
There are also plans to get their alcohol license and offer Mimosas for breakfast and beer, wine and cocktails for lunch and dinner. They also plan to cover the deck to keep it cool in summer and heat it for winter, as well as book live entertainment.
So, if you haven't been to Port Royal recently, it's time you head back to school and check out The Olde Schoolhouse Restaurant.
The Olde Schoolhouse Restaurant
1638 Paris Avenue, Port Royal,
Port Royal, SC 29935
Daily 7:00am–3:00pm