The Burger Beat returns, with a visit to the Old Bull Tavern.
Story & Photos by Mark Shaffer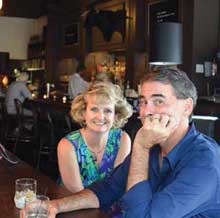 There is an old world sensibility to this short block of downtown Beaufort. This narrow piece of West Street was only recently a series of vacant storefronts. Today it is an eclectic collection of shops, galleries, studios and single pub that feels as if it's watched the years drive by in everything from Edsels to Smart Cars.
(Mark Shaffer with fellow Burger Beater & Everyday Gourmet columnist Debbi Covington at the Old Bull Tavern)
On most days after 5 o'clock, as the surrounding businesses begin to wind down, the Old Bull Tavern begins to buzz. Regulars take up their positions at the bar and stake their claim to the cushy leather couch near the window. People congregate out front around the street side patio furnishings to catch up on the news of the day. Owner/Chef, John Marshall, greets patrons between phone calls for reservations. His vintage green Schwinn Racer sits near the door. Bartenders Matt Pieper and Ryan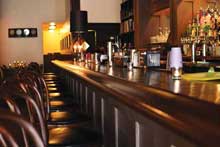 Parsons shake-up signature cocktails (see Life Behind Bars) beneath the Spanish bull mounted over the bar.
As daylight fades, the pub undergoes a dreamy transformation painted in the flickering golden hues of candlelight on wood and white walls. Letter boards hang on either side of the bull. Instead of the ubiquitous flatscreen TVs, patrons are treated to random and wide-ranging bits of wisdom and philosophy:
"When life gives you lemons you should make lemonade. And then try to find somebody whose life has given them vodka."
– Ron White
Amen, brother.
Since opening last September Marshall's gastro-pub has become a hub for locals and visitors alike and anyone who appreciates great food and drink. "It's a simple concept," he says. "It's all about a high order of food [and beverage] with an emphasis on preparation in a casual atmosphere at a good price."
The high order of food begins with what's local, something Marshall's passionate about.
"If it's local and available, it's on the menu," he says. And that extends to the bar, as well. The "House Innovations" feature a lot of seasonal ingredients like the popular LGB – lemon, basil, ginger and vodka.
"We use a lot of herbs in the Innovations," says Marshall. "The philosophy is definitely seasonal and about things that work together. Things that are flavorful and fresh."
The menu changes almost daily. Since January, John's taken to stamping the upper right hand corner of the menu with each new edition. As I write this he's up to 108.
He describes the menu as "tight and compact" with roughly a half a dozen choices in each category. And like the atmosphere, the menu is Old World, as well. Bar Snacks and Starters include Black Olive Tapenade With Goats Cheese and Grilled Proscuitto Wrapped Figs Stuffed With Gorgonzola. With Middle Plates and Entrees, indulge in a variety of cured meats, cheeses and house made pastas, Lamb Shank Braised In Red Wine, Tomato and Olvives or the Scottish Salmon On Black Lentils With Celery Root Puree.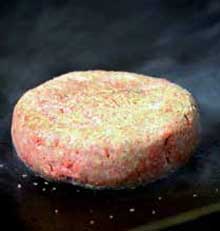 Of course we're here for the burger, and it stands to reason that a gastro-pub with a Bull over the bar serves up something pretty special.
My colleague, friend, cookbook author and the Lowcountry's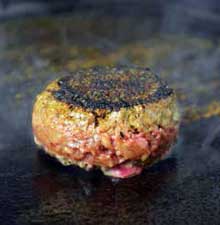 best caterer, Debbi Covington's joined the Burger Beat Irregulars along with my wife, Susan. I love a good burger, but Susan really, really loves a good burger. And this burger is indeed special: a baseball size half pound of MiBek farms pasture raised beef simply seasoned and seared on the flattop until medium rare. The patty's about an inch and a half thick, served on a buttered and grilled baker's bun with the fixin's of your choice and a mountain of gaufrettes – crispy, thin, waffle-cut fries. We go with a slab of hand sliced sharp cheddar on the burger and nothing else.
"Super juicy, good flavor," says Debbi. "You don't need the bun. It's like a little mini steak with a nice char. And it's not over-seasoned. A lot of times burgers tend to be over-seasoned so you miss the flavor of the meat."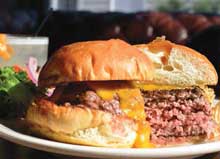 "The char is perfect," Susan agrees. "It's kind of crunchy and just melts in your mouth with all that flavor. The bun is just right, too. Not too hard, not too soft and it's a good ratio to the meat."
We all agree that the cheese – well aged and rich – is a nice compliment to the beef. MiBek Farms is a cutting edge, family run operation based in Barnwell, SC. Michael and Becky Worrell are both former agriculture professors turned sustainable farmers. The beef is dry aged 17 days before it's processed, adding to the richness and depth of flavor.
"There are no condiments on this burger," Debbi points out. "No mayonnaise, no mustard, no ketchup. Just the cheese."
"And it doesn't need anything else," says Susan, who usually reaches for the mayo first thing. "I
know it's good with the condiments because I've had it with the condiments, but it stands up well on its own."
"From a woman's perspective, two tablespoons of mayo is 120 calories," says Debbi. "Wouldn't you rather have 120 calories of fat in the burger with all that flavor versus the mayo?
"Since you put it that way, yes." I admit. No one's mentioned the addictive gaufrettes, which are fast disappearing. "What about these?"
"They have got to go," says Debbi. "Otherwise I'll eat the whole thing."
"Should I get those out of the way?" asks John with a grin.
Susan stays the plate. "Oh, they're just kidding," she says.
THE OLD BULL TAVERN: HIGHLY RECOMMENDED
205 West Street
Historic Downtown Beaufort
843.379.2855
Tuesday – Saturday, 5pm – 12am (?)
Learn more about Michael and Becky Worrell's environmentally friendly Barnwell farm online at www.mibekfarms.com
Read more about the Old Bull Tavern at Life Behind Bars.
Mark Shaffer's email is backyardtourist@gmail.com