Editor's note: each month The Lowcountry Weekly invites you to dinner. Or lunch. Maybe even breakfast. This is not a restaurant review.
The Big Idea (with apologies to Ernest Hemingway) is to provide you, dear reader, with a vicarious culinary experience, to share something of our rich and diverse food culture and the individuals who labor so hard to put it on the plate. Our "moveable feast" is a sort of loosely organized, roving dinner party seeking out the best eating experiences the Lowcountry has to offer – high end, low end and every end between. We are dedicated, we are hungry and the food is out there.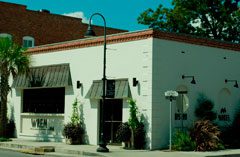 The Lowdown
Location: 210 Carteret Street, downtown Beaufort
Atmosphere: "An urban edge with a feeling of Lowcountry comfort"
Cuisine: "Innovative Bistro Fare"
Alcohol: Full bar, unique micro brews, wines and craft cocktails. For more on the bar at Wren visit us online at lcweekly.com and click on Life Behind Bars
Hours: Monday – Saturday: Lunch 11-3, Dinner 6-10, Bar Fare 11-11
Reservations: 843-524-9463
Etcetera: Wren's unique interior was designed and crafted locally
Website: Not yet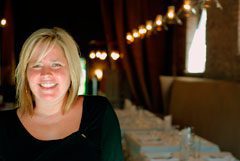 Prologue
Three. 3. 1+1+1. All sorts of things come in threes: Three Stooges, Three Musketeers, Three Blind Mice, three strikes, the triple play, Three Tenors, three dimensions and – of course – Three's Company. But perhaps there is no better use of "3" than the triangle, three equal sides each supporting the other in harmonious design and distribution of weight. "Threes" abound at Wren. The company logo features three birds representing owners Anne and Brad Sergent and Anne's mom, Nancy Huber. In fact, the numbers in the street address (210) add up to – wait for it – three. There are more, but the most important of all is the very design of the business itself – the triangle – three sides divided into restaurant, bar and market. "It's all about balance," says Anne (pronounced Annie). "Each side balances the other."
This evening The Moveable Feast meets to sample the latest additions to Wren's ever-evolving menu, all of them complete surprises. Naturally, the number three is involved. We'll do this in three courses, three acts, each directed by Anne who is also doing most of the cooking. "This," she says, "is going to be fun."
Act I: Ladies and gentlemen, Beau-Asian
Beaufort Shrimp Roll
Tempura Shrimp
Tuna Tartar
Rihaku "Dreamy Clouds" Nigori Sake, chilled.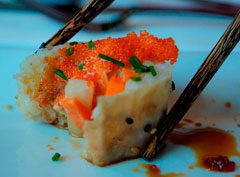 Table Talk:
"This is like Beaufort Asian. Beau-Asian."
"Are you going to include all the moaning and groaning?"
This meeting of The Moveable Feast convenes at the coveted round table in the rear corner of the restaurant. We number seven for this outing – a record turnout for this crew – and yet even as the sushi hits the table Anne cautions "Nobody eat too much. There's a lot more to come. I'm going to fill you up. I promise." I take her at her word. She's the Executive Chef and Wren is known for its generous portions, something Anne blames on her Ohio upbringing. "Hey, I'm a mid-western girl. Nothing was ever small," she says. God bless Ohio.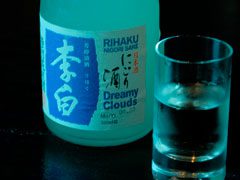 Most of what we sample this evening is brand new to the menu including the sushi, which is indicative of Wren in a couple of ways. First, it's been added by customer request, and second, Brad Sergent's making it with no prior sushi-making experience. He's learning as he goes, also a Wren tradition. Anne's self-taught in the kitchen as is Teresa Parisi over in the market (see the accompanying sidebar). From the reaction around the table, I'd say he's on to something, and this is no bunch of pushovers where sushi's involved. The presentation is equally impressive. For the Beaufort Roll, Brad uses a light soy wrap flecked with toasted sesame seeds, topped with a blaze of flying fish roe, a sprinkle of green chives and garnished with fresh watercress – one of those minute details that seem to elevate the whole plate a notch.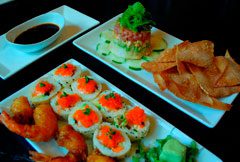 The Tuna Tartar is a round tower of different flavors and textures, rice and vegetables topped with a layer of the rich, buttery fish and a crown of roe and seaweed salad. The sake is a perfect palate cleanser and a beautiful compliment to Brad and Wren's first foray into "Beau-Asian." We drain our glasses with a toast and move on.
Act II: Eat it before it eats you
(featuring items from the Over-The-Top Bar Menu)
Foot-long Chili Cheese Dog
Foot-long Slaw Dog
Black Angus Hamburger
Lowcountry Fish & Chips
Selected Micro-brews
"This is insane, absolutely astounding! And possibly a bit obscene.
– One Feaster's reaction at first sight of the foot-long dogs.
"It's like giant bar food," someone offers. That's it – bar food on steroids. Better yet, this is the bar menu version of a 1980's action flick with Arnie, Sly and Bruce all sharing the same bill only with Arnie playing twins! (I was never a Chuck Norris fan) There's just too much firepower. Which begs the question, is it simple coincidence that Stallone made a movie about arm wrastlin' truckers back in '87 called Over the Top? I think not. Appropriately (and in keeping with the theme) all four platters are gloriously excessive, and incidentally, now also available for lunch.
The hot dogs are smoky, 100% beef, foot-long, half-pound behemoths no bun can contain, or so it appears. In fact, there is immediate disagreement over whether these monsters are actually sausages or hotdogs. No, Anne assures us, they are dogs indeed, just really, really special dogs. These come in two flavors, chili cheese and slaw.
Table Talk:
"The chili's got a hint of cinnamon in it, like Cincinnati chili."
"Maybe some allspice?"
"That would make sense."
The chili is indeed Cincinnati style, Anne's homage to her Ohio roots. Curiously, a lot of people at the table have actually had Cincinnati style chili in Cincinnati. Go figure. Back in the late '80's I once stood in line for chili at a political event in Cincinnati between Gary Sandy and a young governor from Arkansas. Ironically, Sandy played Andy Travis in the radio sitcom WKRP in Cincinnati and, in a case of life imitating art, had recently moved to Cincinnati. Bill Clinton was apparently a big fan of the show and chili. I try to tell this story but no one's interested. The food's kicking their butts, and the finale's still to come. The giant Black Angus Burger looks as if wild hyenas have savaged it. Trust me, this would take some doing considering it's most of a cow and the top of the bun is another measurable elevation above sea level ("very special, lean but juicy, full of flavor).
But the consensus show-stopper here in the second act is the Fish & Chips. Made with fresh local flounder from Sea Eagle Market, it's dipped in a remarkably light tempura batter, flash fried and served over a haystack of Wren's addictive shoestring fries. The result is unlike any fish & chips I've ever had – or any flounder, for that matter. I'm not a huge fan of either. The filets are more often than not processed, frozen, fried hard as a brick and then beached on a plate of soggy, greasy "chips." These filets are so fresh we practically need to whack them on the head, served with house-made tarter sauce (dill pickles, fresh capers, lemon juice, various herbs, mayo & sour cream) and grilled halves of lemon. This last component is the key. The caramelized, smoky citrus of the grilled lemons squeezed over the fish creates something epic. The crisp, light, slightly citrusy Oberon Ale from Bell's Brewery in Missouri pairs well with any of these offerings, particularly the fish.
"We're really trying to bring in the bar crowd," says Anne. "We want a menu we can sustain from around four o'clock until much later in the evening." Each of these platters is more than enough food for two, maybe three people, and any entrée can be shared for a minimal "split" fee.
Act III: The "Wow" factor
Roasted Local Grouper
Filet Mignon
Sea Grits
Selected Wines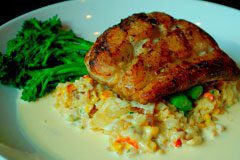 "I like it when people go wow!" Anne tells us during a brief intermission between courses. Those words are still ringing in our ears as the Main Event hits the table and nearly all seven of us do her proud. I believe one of us may have uttered something a bit more…declarative. I think that would be me.
"I work hard to make it exciting to go out," says Anne. "Presentation is an important part of the dining experience, but so is value, so is the wow. We do big and we do 'wow'; what we don't do is pretense."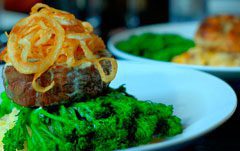 The presentations of these main courses are simply spectacular, not a speck of pretense in sight. Each dish is a culinary pin-up. Where the dishes in the middle act amounted to the foodie equivalent of a barroom brawl (the food won), this is much more subtle. This is what Anne terms inventive comfort food. "I was not classically trained," she explains. "My experience comes from cooking with my mother, cooking with my father, cooking with my grandparents and at family events and an undying passion for food. It's just classic good home cooking."
Table Talk:
"Oh. My. God. The steak is incredible – like butter."
"Spelled b-u-d-d-a-h. It's really remarkable."
I am constantly amazed at what can be done with a simple piece of beef in the right hands. Wren's take on the classic Filet Mignon comes on a bed of impossibly green broccolini (blanched and finished in the skillet), paired with Anne's signature mashed potatoes and topped with a crumble of crispy onions. I am lucky to actually get a taste, one I won't soon forget. "We spare no expense on that cut of meat," says Anne. The '07 MacKenzie Russian River pinot noir pairs nicely with the full flavor of the meat.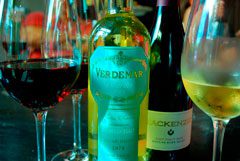 The table conversation is suddenly less chatty, more focused, everyone intent on experiencing each dish. The Grouper comes my way. Like so many strongly flavored fish, grouper is all too often drowned in sauces or buried in butter. Anne's let the fish speak for itself, and this grouper speaks volumes. Someone at the table puts it best, "a simple piece of fish says a lot about a chef, the great ones let the fish be what it's supposed to be." Simply seasoned with salt and pepper and perfectly cooked to a golden brown, the fish is served over risotto with cherry tomatoes, sweet corn and smoky bacon – bursting with the essence of summer.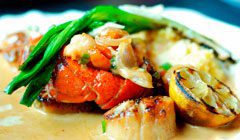 And then there is this thing called Sea Grits. "We're really well-known for our Sea Grits," says Anne. "It's made with large scallops (U10's), fresh shrimp and lobster tail. This is not your usual shrimp and grits." This is the understatement of the night. The grits aren't even your usual grits. The texture is dense and somehow still delicate, a perfect compliment to the rich cream sauce swimming with a bounty of fresh seafood all cooked to perfection. Again. It is a thing of beauty as lovely to look at in its over-sized scalloped platter as it is to savor bite by luscious bite. Anne's choice of a young Spanish white, the 2008 Verdemar Albarino, is crisp, clean and acidic enough to handle the full flavored grouper and the shear richness of the Sea Grits.
The plates are finally cleared, but we linger for a while longer with Anne, all of us clearly impressed by the evening and most of us stuffed in fulfillment of Anne's earlier promise. We are all agreed that this is indeed a level of excellence in flavor, freshness and quality rarely encountered in times such as these. As we break up, the last audible line on my recorder sums it up simply and perfectly, "man oh man."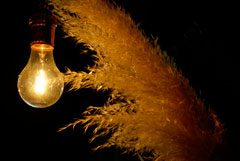 Epilogue:
A few days later I'm back at Wren for lunch with one of the Feasters. We both order Cobb Salads, a variation on the classic so fresh and perfect you'll want to slap anyone who ever made you a Cobb before this one. In the midst of the lunch rush, just before our plates arrive, he leans across the table with unsolicited testimony. "You know," he says beneath the buzz of the room, "I truly believe that the food we had in here the other night was some of the best I've ever put in my mouth in this part of the world. Seriously." My friend has a long and intimate knowledge of such things. He is not given to hyperbole. I wonder if it's too late to order a chili cheese dog?
Mark Shaffer's email is backyardtourist@gmail.com.