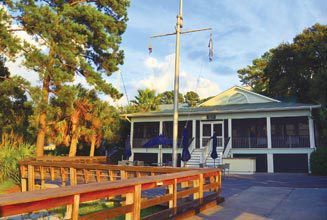 Whether you're coming by land or by sea, new chef/owner Penn Ten Eyck & company make it well worth the trip.
Story and Photos by Mark Shaffer
ÂÂ SWEETGRASS VERSION 2.0
The Moveable Feast first visited Sweetgrass four years ago as new owners Jeff and Lauren Tillapaugh took over this property on Dataw Island, a resort community and former cotton plantation near Beaufort. They transformed an unremarkable marina eatery into a destination restaurant and bar with a vintage beach club feel. The room is literally wrapped in a view of the marsh and marina. The polished plank flooring, old-fashioned ceiling fans and subtle variations of blue and green bring an easy, comfortable ambience to life. This place was built for sunsets and cocktails and fabulous meals shared with family and friends.
Last spring, as the Tillapaughs were looking for a change of pace, the young Chef de Cuisine at the Dataw Island Club was in search of an opportunity. Chef Penn Ten Eyck assumed the operation in March. Ten Eyck's resume includes classical training at the Culinary Institute of Charleston and experience in some of the finest kitchens in region, including Saltus River Grill and Bistro Patois in Beaufort and FIG, O-ku and Magnolia's in Charleston. His family has de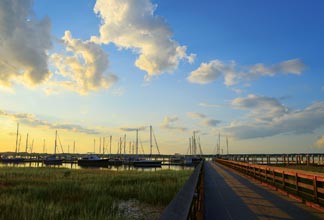 ep roots in the local food industry running restaurants and catering operations over the years. The buffet spread during the post-funeral scene in "The Big Chill" was a Ten Eyck family-catering gig. The chef's mom, Debbie, makes the desserts at Sweetgrass. Her impossibly layered Ultimate Coconut Cake did indeed live up to the title.
Ten Eyck says he knew early on he wanted to be a chef. "The first thing I ever cooked as a kid was French toast," he says. "It's still my favorite thing to cook." He smiles. "I made it for my daughter this morning."
I'm joined for this edition of the feast with Lowcountry Weekly Publisher and Editor, Jeff and Margaret Evans, and Everyday Gourmet columnist and Beaufort's best caterer, Debbi Covington. We take a corner table on the screened in porch overlooking the dock and marina and wait for what Chef Penn has to offer.

MELLOW MUSHROOMS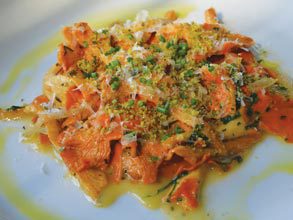 The first dish out is a complete surprise. You won't find the Yemassee Chanterelles on the menu. And don't bother badgering Chef Penn Ten Eyck about his source. He's taking the fifth. Let's just say that most of these highly prized Cantharellus cibarius are whisked away to the Holy City in armored vehicles under cover of darkness and into the culinary temples of Husk and FIG. And yet, here we are – mere commoners without reservations and nary a titanium MasterCard nor a Tuscan villa between us – savoring, reveling in what fungi fanatics consider the food of the gods.
They're lightly sautéed and served with basil oil, chives, a pecan gremolata and sprinkle of fresh Parmesan. In a word: divine. In two more words: sinfully rich. This simple, elegant dish says a lot about the chef's philosophy – if amazing produce like this can be had locally, Penn Ten Eyck will find it. And chances are he'll go out and pick it, as well. "I try to get out in the fields and pick as often as I can," he says. The groans of ecstasy from around the table strike up an appropriate overture for what's to come.

THE STARTERS
Fried Deviled Eggs – traditional filling inside a fried shell with pickled onion relish
Chicken Livers en Croute – grilled chicken livers marinated with rosemary, onion jam, apple wood smoked bacon, arugula and radishes on a toasted crouton
Beef Tartare – minced beef tenderloin, mushroom duxelle, puff pastry, truffled Dijon, house made chips
Pasture Shed's Watermelon Salad – heirloom melons, cucumbers, tapenade, red onions, green salsa, basil, fried ricotta cheese and aged balsamic
"We offer quite a bit of variety here," says Chef Penn as the starters are passed around. "We don't like to say we're too much of one thing – high end or low end. We just like to produce good food, source it as locally as possible and have a hand in everything we do by making it from the bottom up." This is evident with every plate that comes to the table. And as always, there's no photographic trickery on these pages. What you see is what we got. Each dish is photographed as it comes to the table.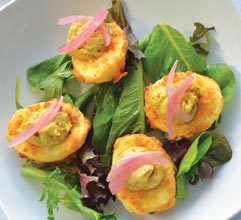 He's paired a Spanish rose (Las Rocas) with the melon salad and the Kono Sauvignon Blanc from New Zealand with the deviled eggs. The reds are both Californians: the Meiomi Pinot Noir goes with the beef tartar while the Spellbound Petit Syrah compliments the richness of the chicken livers. Spellbound's Rob and Lydia Mondavi are Sweetgrass patrons and part time Beaufort residents.
Fried. Deviled. Eggs. This just seems wrong. But it tastes so right. Margaret puts it best, "That's a double Southern whammy." It's also a bit of evil genius.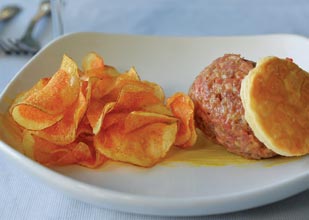 The whites are lightly breaded in a mix of panko flour, onion powder, garlic powder and cornmeal then flash fried. A traditional filling is made with the yolks and piped into the fired whites then topped with a slash of pickled onion relish. None of us have even heard of a fried deviled egg before. From now on, no "normal" deviled egg will do.
The Beef Tartar is one of the chef's signature dishes. "It's hand minced tenderloin with a combination of shallots, capers, cornichons, Dijon mustard, egg yolk and underneath is a mushroom duxelle," says Penn. The plate's finished off with a delicate puff pastry, perfectly crispy house made chips and a swipe of truffled Dijon. This is a real old school classic, an unapologetic homage to the Don Draper days of two martini lunches in smoke filled bars with Sinatra crooning in the background.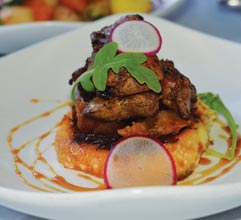 To say Debbi's a huge fan of the chicken livers is an understatement. "They are the best things ever," she proclaims. "I don't even like liver, but I will lick this plate. That's how good they are."
"Part of our job here is to take some things that aren't necessarily approachable for some people and make them approachable," says Penn. "Liver's a good example because the flavor can be overpowering. We try to calm that down a bit not only by balancing the ingredients on the plate but by treating the livers properly."
The chef marinates the carefully selected livers in garlic and rosemary for 24 hours before cooking. The grilled livers are plated on a bed of sweet onion jam with lardons of smoked bacon, a reduction of pork jus with brown sugar and cider all atop a toasted crouton. The result is a mad combination of sweet and savory to compliment the deep, velvety richness of the liver.
The Melon Salad is a complete departure from the rest – a rainbow combination of flavor, color,
texture and herb-infused aromas. It is a sensory experience – a deceptively complex balancing act of acidity and sweetness, as pleasing to the eye as to the palate. The local melons are beautifully sweet and bright, each one distinctive. The lightly fried little scoops of ricotta add a bit of depth to the plate, nicely brought together with the tapenade and balsamic.
"I love Penn's presentations," says Debbi. "They're just fabulous. And this is a great example. You always eat with your eyes first. And the fresh herbs make such a difference with everything."
Each wine pairing has been right on the money. The Las Rocas Rose is a particular standout with the melon.
When Chelsey comes to clear away the damage, Debbi makes dead certain no morsel of the liver remains.

MAINS
Sautéed Local Cobia – warm faro salad with heirloom tomatoes, sweet corn, duroc pork & scallion pesto
Pork Ribeye – pan crusted pork ribeye, English pea puree, curried butternut squash, cider jus, and pecan gremolata
Pan Crusted Grouper – Carolina Gold rice grits, eggplant caponata, preserved lemon
Veal Meatballs – slowly cooked in house-made tomato sauce with fresh fettuccine, basil and artisanal pecorino cheese
There are a couple of audible gasps as the main courses hit the table.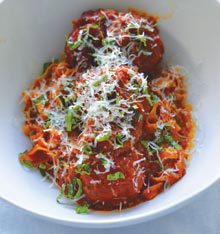 "The meatballs are a great testament to our commitment to scratch-made food," says Penn. "We make our pasta daily. We make our marinara with fresh local tomatoes daily. We make the meatballs daily and we shave the cheese and cut the basil to order. It's one of those things: if we're going to make simple food we're going to take it to the next level."
Both pieces of fish are absolutely gorgeous and uniquely prepared. The local cobia is served with a pickled scallion pesto over a warm salad of faro, sweet corn, heirloom tomatoes and Duroc pork. The grouper comes with an eggplant caponata atop a bed of creamy Carolina Gold Rice grits and finished with basil oil and preserved lemon. The rice "grits" also come with an explanation.
"Essentially you cook them like grits," says Penn. "You overcook the starch until it releases its creaminess so you have the consistency of grits but with the flavor of this beautiful rice."
Chelsey pours the wine for each dish. The pork gets a Kendall Jackson Zinfandel blend while the
meatballs call for a Columbia Cabernet. The strong flavor of the cobia will go nicely with a lightly oaked Central Coast chardonnay from Bridlewood. The less fishy grouper gets an unoaked French chardonnay, the Domaine Du Tariquet.
As soon as the chef is safely out of sight we fall on the food like a pack of starved hounds. Another chorus of groans is followed by the muffled silence of four people on the verge of sensory overload. Each dish presents a different exercise in the chef's mastery of layering flavors and textures.
"There's a lot going on here," says Jeff. He's nearly elbow deep in the meatballs. The portion is huge and we assume the chef has padded the dish to make sure we all get a taste. We're told later that everything on the table is portioned to normal standards.
The meatballs are indeed fabulous. I make a mental note to starve myself for a couple of days before tackling this beast again. The meat is rich and tender and perfect with the pasta, sauce and cheese. It is near perfection on a plate.
"That grouper is amazing," says Debbi. "And it's not usually my first choice for fish. The rice is risotto-esque."
I'm in the same boat as
Debbi when it comes to grouper, but this is pretty spectacular. The unexpected texture and subtle flavor of the rice is just the right complement to the fish. The lemon and basil add a splash of summer to the dish.
The pork is nicely crusted and sliced on a gloriously green bed of sweet pea puree and hunks of curried butternut squash. This may be the simplest plate on the table but it's a blast of color and flavor. The sweetness of the peas blends well with the curried squash without overpowering the pork – a nifty balancing act.
But the talk of the table is the cobia and the faro salad. The cobia is perfectly cooked and not fishy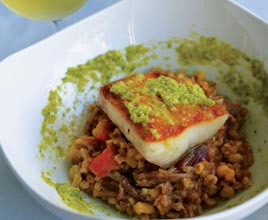 in the least. But the faro is perhaps the biggest surprise.
"The faro is terrific."
"What is faro?"
"That's pronounced fay-roh around here."
"Wasn't he the guy Moses tangled with?
"Don't talk with your mouth full."
Faro is an ancient wheat grain known for its texture and nutty flavor. Chef Penn's used it to great effect. The grain pulls the rest of the ingredients together and the shredded pork adds a wonderful smoky depth to the dish.
"The passion he has for food is right there on every plate," says Debbi. "Some people work with food
and don't necessarily love food. Penn loves food. It's in every detail."
Perhaps the best illustration of Chef Penn Ten Eyck's passion for food is how he prepares his chicken wings. That's right: chicken wings. He's brought out a sample.
"These are brined, smoked, braised, fried and glazed," he says. They are also the prettiest chicken wings I've ever seen. Margaret, who is known in certain circles as "Wing Girl," proclaims them "Best wings ever." After an experience like this, it's hard to believe that a simple chicken wing could spark such reaction. Then again, there's really nothing simple about Sweetgrass.
THE LOWDOWN
• Location: The Dataw Island Marina
• Atmosphere: "A waterfront beach bistro for an everyday escape that's closer than you think."
• Cuisine: Contemporary Southern with a heavy dose of family.
• Alcohol: Full bar, excellent value wine list (most available by the glass), good selection of imported & domestic beers, specialty cocktails
• Hours: Dinner served 5 – 9 pm. Closed Wednesday.
• Reservations: Recommended at 843-838-2151
• Website: www.sweetgrassdataw.com
• Etcetera: All of the house specialty cocktails are named for boats in the marina (see Life Behind Bars). We highly recommend the Dance Aweigh. At the end of a blistering hot day a couple of these will restore your humanity.
Get menus, maps and more at www.sweetgrassdataw.com
Mark Shaffer's email address is backyardtourist@gmail.com