Venerable Port Royal Eatery Deserves Her Stars

Story and Photos by Mark Shaffer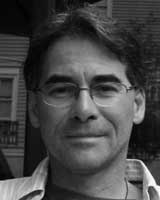 Going to MoonDoggies always seems like visiting an old friend's home – the fun one where everyone hangs out in the kitchen. Maybe that's because it's a family affair or maybe it's because the building is an old converted house. And like any authentic Lowcountry home of this vintage, it is steeped in character. Most of the first floor is wrapped in a rambling screened porch covered in English Ivy from floor to ceiling. The main dining room – the Lodge Room – is a vaulted chapel of exposed beams and windows, wonderfully rustic and airy. Even the floors have character. It's all tongue and groove heart pine the original owner salvaged out of old boxcars, polished by the cargo of time. And to complete the Lowcountry ambience, it's all nestled snugly beneath towering live oaks dripping in Spanish moss barely a stone's throw from the salt marsh and Sandy Point in the heart of Port Royal.
            As for the name, MoonDoggies has nothing to with Gidget's boyfriend of the same name from the 1960's surfer movies. However, co-owner/ chef Jeff Harris did grow up surfing in northern Florida and there is a bit of a surf vibe to the place. But the name comes by way of Harris' beloved Weimaraner, Miss Tascha (registered as Tascha's Moon Cyndre) who celebrated Super Bowl Sunday, 1994, by whelping ten pups. Apparently Miss Tascha was a big Cowboys fan. She lives on in the restaurant's logo and in the dining room's famous mural as she watches over her daughter, Dallas Alice, from above on a Lowcountry crescent moon.
           Today's edition of the Moveable Feast includes yours truly, Lowcountry Weekly Publisher Jeff Evans and Habersham-based Builder Leo Gannon. The ladies are otherwise occupied it seems. Fine. More of Chef Harris' famous crab cakes for us.
            We claim a table outside on the deck and order a round of cervezas as the first plates hit the wood. Today is Chef's Choice and we start with two of the most popular items on the menu: Crispy Fried Pickle Chips with Horseradish Sauce and Coconut Shrimp with Orange Marmalade Horseradish Sauce. The shrimp are large, lovely and loaded with flavor and that can mean only one thing in this part of the world.
            "They're obviously fresh and local," says Leo. "Very tasty, very tang
y."
"You can definitely taste the difference," says Jeff. "The breading's very light and the coconut pops. Not a hint of grease. And there's just the right balance of sweet and heat in the sauce."
            "I may have to eat 7 or 8 more to verify these findings," Leo deadpans.
The shrimp are so perfectly cooked even the tales disappear.
            We polish off the shrimp in short order and move on to munch on the fried pickles. I know what you're thinking. Fried pickles. Yawn.
            "The crispy fried pickles are probably the most popular thing on the menu," says Dawn Harris.
            I was a fried pickle skep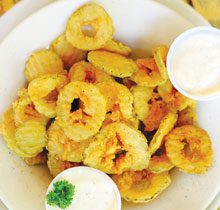 tic until my first plate of MoonDoggies' pickles some years back. MoonDoggies literally goes through these things by the gallon. The key to a crispy fried pickle is, well, starting with a crispy pickle. Soggy, limp pickles tend to stay that way. These are thin sliced crinkle cut with a nice hint of garlic that begs for the bite of a little horseradish sauce.  
            MoonDoggies is known for its fabulous burgers, hand cut steaks and sandwiches (regulars are obsessive about the Reuben), but the chef is all about fresh and local seafood this outing. And according to Dawn, when it comes to that side of the menu there is one dish that stands out above all else.
            "If I had to pick one thing to be known for it would be our Pan-fried Lump Crab Cakes," she says. "They are that special."
            I'm on record as an admitted crab cake addict, and good ones can be remarkably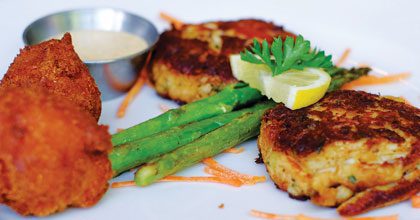 hard to find. Too often there's more "cake" than crab. Not here. This is as pure a crab cake as you're likely to find and the reason is simple. As Jeff Harris explained during our first visit here nearly eight year ago, this isn't just a menu item, it's part of MoonDoggies' culinary philosophy. "We've all lived on the coast our entire lives and seafood's always been a big staple with us – just good Southern cooking. We like to provide the kind of place, service and atmosphere that we'd enjoy. When I go out to eat I want to have a good meal, enjoy myself and relax. And that's what we try to do here." This is evident all around but most importantly on the plate where the absence of pretense is practically a secret seasoning.
            Nothing's changed with the years. We have a table consensus: this is a remarkably simple thing done incredibly well. Select lump crabmeat is seasoned with a blend of herbs and spices; sautéed in the butter Nature intended and served with perfectly grilled, fresh baby asparagus and house made hushpuppies.
            "They are to die for," says Leo.
            I ask Dawn if Jeff clears the kitchen before he makes his secret hushpuppy recipe.
            "Of course," she says.
            Good man.
            We head into the homestretch with the Spicy Shrimp Burger and a beautiful Blackened Mahi Salad with house made honey mustard vinaigrette.
            "The burger's really all shrimp except for a little bit of chopped parsley, bell pepper, onion and spices," says Jeff. "There's some cayenne in there. It's got a little kick. The remoulade sauce goes nicely with it. "
            "Wow," says Jeff Evans, "That's got a little zing to it alright."
            "That's really good," says Leo. "Again, you really get the freshness of the shrimp."
            "And there's just enough seasoning to bring that flavor front and center without overpowering it. A fantastic shrimp burger."
            "The potato salad is pretty fantastic, too," says Evans. "It's one of those things with endless variations, but this is on the money."
            "We keep it simple and don't overthink it," says Harris. "And the Duke's Mayonnaise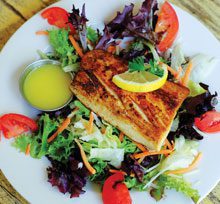 is the key. It has to be Duke's."
            We move on to the Blackened Mahi as Jeff breaks down the dish,
            "We call this our Sensational Seafood Salad at dinner, " he says. "We top it with bleu cheese crumbles and chop up some crispy hushpuppies and add it into the mix. It gives it a little sweetness that complements the blackened fish. We'll also grill it if you don't what the spice."
            "It's perfectly done," says Jeff Evans. "Just the right amount of kick."
            "Yeah, " says Leo, "this is one heck of a piece of fish. The salad's beautiful. Everything on the plate tastes as good as it looks."
            And on that topic, the images on these pages are what we like to call "the real deal." This is the food as it was served. No tricks or effects. No food stylist. Just the dish and whatever natural light was available. In fact I dug up the shots and notes from our first visit to MoonDoggies all those years ago. The crab cakes are identical. The quality and value has remained steadfastly consistent over time and that is remarkable in an age where cutting corners to toe the bottom line is the norm.
            Way back in September 2009 I asked Jeff Harris to sum up his restaurant in a single sentence. As I recall he didn't take a pause to consider.
"The priority at MoonDoggies," he said, "will always be about the quality of the food, always fresh, always local." Amen, brother.

MOONDOGGIES CAFE & GRILL
10th Street at Paris Avenue in Historic Port Royal
"Fresh local seafood & hand cut steaks"
Serving lunch and dinner, Tuesday through Saturday from 11:30 AM until 9 PM
Reservations 843-522-1222
Rates 4 1/2 stars out of 201 reviews on Tripadvisor.com
Mark Shaffer's email address is backyardtourist@gmail.com
Get more at LowcountryWeekly.com and like us on Facebook.