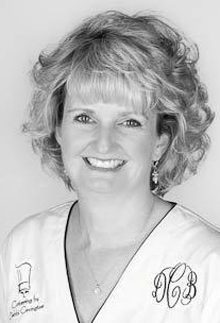 Throughout history, every society has celebrated the end of the harvest. Many have set aside a day of thanks. In 1941, Thanksgiving Day became a national holiday celebrated on the fourth Thursday in November. It's the one day of the year that we Americans can consume an abundance of food without a second thought about calories! The recipes this week are all Thanksgiving side dishes. Team a couple (or all) of them with a roasted turkey for a modern twist on a traditional Thanksgiving menu. All you'll need to add is a pumpkin pie topped with sweetened whipped cream for a grand finale. Happy Thanksgiving!
Thanksgiving Fruit Salad
1 large green (Granny Smith) apple, cored and chopped
1 medium red apple (Red Delicious), cored and chopped
½ cup seedless red grapes, halved
¼ cup diced cranberries
½ cup blueberries
1 cup mandarin oranges, drained
2 cups chopped pecans, toasted
¼ cup honey
½ teaspoon apple pie spice
Combine first 7 ingredients in a serving bowl. Mix the honey and apple pie spice in a small bowl and drizzle over apples and fruit. Serve immediately.
Serves 6.
Two Potato Au Gratin
1 tablespoon butter
¾ cup heavy cream
¾ teaspoon salt
¾ teaspoon white pepper
Dash fresh nutmeg
1 pound Russet potatoes
1 pound sweet potatoes
1/3 cup chopped fresh chives
1 cup freshly grated Parmesan cheese, divided
Preheat oven to 350 degrees. Grease a 9×13-inch baking dish. In a small bowl, mix cream, salt, pepper, and nutmeg. Peel potatoes. Slice very thin. Place potatoes in ice water to avoid discoloring. Drain and dry potatoes. Layer half of the Russet potatoes in the baking dish with the slices overlapping. Repeat with half of the sweet potatoes. Drizzle half of the cream mixture over the potatoes. Sprinkle with ½ cup Parmesan cheese. Repeat. Top with remaining cheese. Cover with foil. Cook for 35 minutes. Remove foil and cook for 40 to 45 minutes more. Serves 12.
Tomatoes Provencal
4 slices bacon, diced
1 clove garlic, minced
1 medium onion, thinly sliced
4 ounces fresh mushrooms, sliced
1 tablespoon flour
½ teaspoon seasoned salt
5 medium tomatoes
¼ cup plus 2 tablespoons grated Parmesan cheese, divided
1 tablespoon butter
Fry bacon in a medium skillet until crisp; remove bacon, reserving drippings in skillet. Drain bacon and set aside. Saute onion, garlic and mushrooms in skillet until tender. Stir in bacon, flour, and seasoned salt. Cut tomatoes into ½ -inch slices. Place ½ of slices in a lightly greased 8-inch square baking dish. Spoon ½ of bacon mixture over tomatoes; sprinkle with 3 tablespoons Parmesan cheese. Repeat layers. Dot with butter. Bake at 350 degrees for 25 minutes.
Serves 6 to 8.
Cranberries and Apples
3½ cups fresh cranberries
3 large Granny Smith apples
¼ cup oats
1¼ cup light brown sugar
1/3 cup all-purpose flour
1 stick butter, melted
1 cup chopped pecans
Lightly grease a 9×13-inch baking dish. Spread cranberries in bottom of dish. Slice apples. Do not peel. Top cranberries with apple slices. In a small bowl, combine oats, brown sugar, and flour. Sprinkle over fruit. Toss pecans in melted butter. Sprinkle evenly over fruit and topping. Bake in a preheated 350 degree oven for 55 to 60 minutes. Serves 10 to 12.
Spinach and Artichokes
12 ounces cream cheese, softened
4 (10-ounce) packages frozen chopped spinach, thawed and drained
½ cup butter, melted
3 tablespoons lemon juice
½ teaspoon salt
½ teaspoon pepper
½ teaspoon seasoning salt
½ teaspoon ground nutmeg
2 (8-ounce) cans sliced water chestnuts, drained
2 (14-ounce) cans artichoke hearts, drained and quartered
½ cup grated Parmesan cheese
Grease a 3-quart casserole dish. In bowl, with mixer at medium speed, beat cream cheese until smooth. Reduce speed to low, beat in spinach, butter, lemon juice, salt, pepper, seasoning salt, and nutmeg until thoroughly combined. Stir in water chestnuts. Arrange artichokes on bottom of baking dish. Pour spinach mixture over artichokes. Cover with foil. Cut several slits in the foil to vent. Bake in a preheated 350 degree oven for 30 minutes. Uncover and sprinkle top with Parmesan cheese. Bake until golden brown about 15 minutes more. Serves 12.
The writer owns Catering by Debbi Covington and is the author of two cookbooks, Celebrate Everything! and Dining Under the Carolina Moon. Debbi's website address is www.cateringbydebbicovington.com. She may be reached at 525-0350 or by email at dbc@cateringbydebbicovington.com.