(Wherein some of the best cooks in the Lowcountry bring the recipes from their kitchens to yours.)
"We elves try to stick to the four main food groups: candy, candy canes, candy corns and syrup." – Buddy the Elf (from Elf, 2003)
Food is a big deal for most of us this time of the year. Whether this has roots in faith, family tradition or clever marketing by shameless multi-national conglomerates, chances are most of us are looking forward to at least one – and probably one too many – special meals before the odometer rolls over to 2011.
Many years ago, when oil lamps powered television and images were "broadcast" in grainy black and white, my mother was a devoted member of The Cult of Julia. Thankfully, this occurred before her later conversion to the Sisterhood of Wheat Germ and Soy (SOWSY), so that we learned to appreciate what good food tasted like at an early age. Indeed, through Saint Julia's influence we were introduced to the glories of all manner of rich sauces and fat-laden delicacies. I seem to recall a well-stained copy of Mastering the Art of French Cooking always open on the kitchen counter. Dad bought a stand-up freezer to accommodate the need for freshly butchered meat and poultry, which he bought from local farmers (the Old Man was light years ahead of this "locavore" thing). And holidays became gastronomic events.
For about two months each year, roughly a week before Thanksgiving to a week into the New Year, the Shaffer kitchen was an engine of culinary experimentation: a mad laboratory of roasting, mashing, mixing, baking, simmering, boiling, whipping and blanching. Everything was made from scratch all requiring much fuss and bother and occasional light profanity. The first time I ever heard my Mother curse was in the kitchen after a serving dish slipped out of her hand and smashed during a Thanksgiving dinner. She spit the "S" word at the floor like cobra venom.
Nearly everything that came out of the kitchen during these times contained enough butter and cream to qualify as a separate, possibly dangerous, food group, and all of it was delicious. Often during these meals there was fresh game to be had. One of the best meals I can recall featured a whole haunch of venison Mom prepared using an old family recipe traced back to the Black Forest of Germany. The meat slow roasted on the bone for an entire day, basted in a rich, dark wine sauce and served with a mélange of root vegetables. It was and is the best thing I have ever tasted. The house smelled of it for days. The recipe has since been lost and it was only these many years later on a summer trip to the Bavarian Alps that I've tasted anything even approaching it. I breeched culinary etiquette and asked the restaurant owner (and our server) if I might possibly get the recipe. "I don't know," he smiled, picking through his English. "You vill haff to azk Mama." Mama looked like she may have stalked, killed and butchered that deer all by herself so I left her with a compliment. The search for the recipe continues. The memory remains.
Such memories run throughout the recipes collected within these pages, each one from the personal collections of some of the best cooks in the Lowcountry. Beekman Webb (The Foolish Frog) conjures up the fresh picked Devilled Crab he relished as a boy and a bygone era of Lowcountry life. Lauren Tillapaugh and Nadine Awoyemi (Sweetgrass), discover a cross-cultural culinary bond through their traditional Cornbread Dressing Recipe (no shortcuts allowed). Chef Richard Wilson of Maggie's Pub is transported back to his grandmother's kitchen with a simple pot of soup. Debbi Covington – our own Everyday Gourmet – shares a family recipe for Sour Cream Coconut Cake that recalls the tradition of church auctions and reinforces the awesome power of Black Walnut Extract when used for good. Nick Borreggine (Panini's Café) prepared his Rosemary Roasted Prime Rib of Beef for a family holiday gathering five years ago and wound up carving a whole new tradition. Christopher and Bethany Hewitt's Southern Graces brunch staple Almond French Toast Bake is a decadent family favorite. And so it goes.
Perhaps you'll find some memories of your own among these suggestions. The list is nothing if not eclectic. The recipes range from simple holiday cocktails like Chef Brian Waters' Homemade Eggnog to slightly more exotic efforts like Chef Will McLenagan's Venison and Wild Boar Terrine or Chef Jeff Harris' Linguine Provencal with Shrimp. Breakwater's Beth Shaw shares a traditional (and incredibly simple) recipe for Cured Salmon, the perfect nosh for a holiday cocktail party. There's a little something for everyone.
I spoke to Dad recently about plans for our own holiday meals. "It's been a long time since we've done a Rib Roast," I hint. The Old Man loves a good cut of beef.
"I'll take out a loan," he cracks and immediately adds, "and I'm going to get a goose. I want a goose like we used to have on the farm." He is many decades removed from that farm, but the memories of special meals with special people cling to the palate of the mind. I can still catch the scent of slow roasting venison across four decades. This year it will be roast beef and goose. And there will be butter. Oh yes, there will be butter.
– Mark Shaffer 12/16/10
Breakwater Restaurant and Bar
203 Carteret Street, Beaufort SC
843.379.0052 www.breakwatersc.com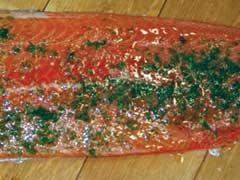 Chef Beth Shaw's Holiday Cured Salmon
This recipe is super simple but really good. It's good for the holidays but can also be good anytime of year. It's something my family used to always serve on Christmas Eve. The whole family would come over and we would set out a bunch of appetizers, this being one, and all snack while we opened presents. It's delicious by itself but we used to always serve it with capers, diced red onions, hardboiled eggs and toast points.
– Chef Beth Shaw
Holiday Cured Salmon
One 3 – 4 lb side of salmon, skin on
1 and a 1/4 cups sugar
3/4 cups kosher salt
1/2 tablespoon ground black pepper
1 cup fresh dill, chopped
2 tablespoons vodka (optional)
Method:
Place the salmon on a baking sheet, skin down. Mix the sugar, salt, pepper and dill together. Coat the top of the salmon with the mix. Sprinkle with the vodka and rub in well. Lightly wrap the salmon in plastic wrap or cheesecloth. Place another sheet pan on top and weight it down with some heavy aluminum cans or whatever else is available. Depending on the size and thickness of the salmon cure overnight or up to 48 hours until the salmon is fully cured. Remove the skin, slice and serve.
Maggie's Pub & Eatery
17 Market St., Habersham (Beaufort) SC
843.379.1719 www.maggiespub.net
Chef Richard Wilson's Butternut Squash Bisque
My grandmother always made Butternut Squash Soup for Christmas. The smell of roasted Squash still reminds me of the holidays. Grandma usually made the soup on Christmas Eve. The rustic, intoxicating aroma of roasted squash and ground seasonings permeated the air with Christmas. She would take all afternoon making this delight, perfect ever time! On the many Christmases that followed when I was not with her I would miss that soup, that beautiful aromatic smell and somehow, it never seemed as wonderful when she wasn't there. My mother attempted to make the soup for us but it didn't seem the same. It was probably the time, being with Grandma and helping to make this delight that made the memory so special. I make it several times a year, with slight variations, but I always try to make it each Christmas for Peggy and me using Grandma's recipe. A great variation is to add coffee liquor to finish. May your homes be filled with the spirit and aromas of the holiday season!
– Chef Richard Wilson
Butternut Squash Bisque
(Yields 1 gallon)
2 large butternut squashes
1 medium Vidalia onion, finely diced
1 Tbs garlic, chopped
1 Tbs ginger, chopped
1/2 cup brown sugar
2 qts chicken or vegetable stock
1 tsp fresh grated nutmeg
2 or 3 sprigs fresh thyme
1 cup white wine
2 cups heavy cream
Salt & pepper to taste
Split squashes legnthwise, scoop out seeds, and rub inside and out with olive oil. Place on sheet pan cut side down and roast in 400-degree oven until soft (about 20 to 30 minutes). Cool slightly, scoop out flesh and reserve. In a soup pot saute onions, garlic, thyme, and ginger in a little olive oil until onions are transparent. Add brown sugar and incorporate, deglaze with white wine and boil. Add squash and remaining spices and enough stock to just cover squash and simmer for 20 minutes stirring occasionally. Puree mixture with a hand held burr mixer, adjust seasoning, add cream if desired, or more stock if too thick. Serve with some cinnamon cayenne croutons.
MoonDoggies Café
10th Street at Paris Ave., Port Royal SC
843.522.1222 www.moondoggiescafe.net
Chef Jeff Harris' Linguine Provencal with Shrimp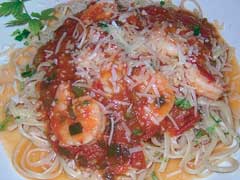 Ah, Linguine Provencal… We added this dish to our dinner menu so we could offer our guests a low-fat, low-calorie vegetarian option. Although this savory sauce is robust enough in flavor to stand alone, it is also fabulous topped with a giant portabella mushroom cap. Consisting of all fresh ingredients, this light, healthy sauce also works deliciously well with chicken, shrimp, or scallops.
– Chef Jeff Harris
Linguine Provencal with Shrimp
(Yields four servings)
2 tbsp. extra virgin olive oil
2 lbs. cocktail or Roma tomatoes, diced
4-5 cloves fresh garlic, finely minced
4 green onions (green and white parts), chopped
2 1/2 tsp. kosher salt
1/2 tsp. fresh ground pepper
1 lb. linguine
2 lbs. fresh, local shrimp, peeled and deveined*
1/4 cup dry, white wine
3/4 cup shredded asiago cheese, divided
3/4 cup shredded parmesan cheese, divided
Handful fresh Italian parsley, chopped
In a large saucepan over medium heat, bring tomatoes and olive oil to a boil. Add green onions, salt, pepper and garlic and reduce to simmer. Add wine and continue to simmer, uncovered, for 30 minutes or until sauce has thickened, stirring occasionally. While sauce simmers, prepare pasta according to instructions on package. With 5 minutes remaining on pasta cook time, add shrimp to sauce, stirring frequently until shrimp is cooked (shrimp will turn opaque white in color). Drain pasta and apportion into four servings. Sprinkle the hot pasta with half the shredded Asiago and parmesan cheese. Ladle shrimp and sauce over pasta and sprinkle with remaining cheese. Garnish with parsley and serve hot.
*For recipe as pictured, we used #21-25 fresh, local shrimp.
Plums Restaurant
904 Bay St., Beaufort SC
843.525.1946 www.plumsrestaurant.com
Chef Will McLenagan's Applewood Smoked Bacon-Wrapped Venison and Wild Boar Terrine
This recipe comes from my first apprentice chefs position in Richmond, Virginia under Master Chef Don Blu of the famed French restaurant The Butlery. The very first duties were to learn how to make the chef his daily salad of a very large mixing bowl of field greens and his own jug of extra virgin olive oil and sea salt.
The second lesson was to make the terrines of venison and boar. Recipe as follows.
– Chef Will McLenagan
1 lb of wild boar sausage
1 lb of venison sausage
1 1b of pork sausage
2 lbs of bacon
1 tbspn sage,
1 tbspn ground garlic
1 tbspn ground thyme
1/2 tsp salt
1/2 tsp pepper
1/4 lb pistachios
1/4 lb dry cranberries
In a large mixing bowl add everything except the nuts and cranberries and mix thoroughly. In a loaf mold about 3 inches wide, 4 inches deep and 16 inches long, layer half of the bacon on the bottom and up the side with excess hanging over. Do the same to the other side, front and back of the mold. Spoon in half of the mixture and press. Layer the nuts and cranberries down the length of mold, add the remaining mixture and fold the rest of the bacon on top.
Place the mold in a baking pan and fill pan with enough water to come up the side of mold by about an inch. Place in a 325 degree oven and bake about three hours until the internal temp reaches 165 degrees. Remove the mold and refrigerate overnight. Remove the terrine from the mold and cut into 1/2 inch thick slices. Grill over flame and serve with crusty bread and grainy mustard. Yum.
Panini's Cafe
926 Bay St., Beaufort SC
843.379.0300 www.paniniscafe.net
Nick Borreggine's Rosemary Roasted Prime Rib of Beef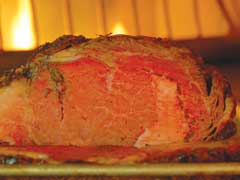 I cooked this dish one Christmas five years ago for a change from the usual holiday fare. Ever since my family insists that I bring it even if we are having turkey and ham.
– Chef Nick Borreggine
1 Whole Prime Rib of Beef
3 Heads of Garlic
1/4 pound fresh Rosemary
1 pound of Kosher Salt
1 quart of Chicken Stock or Broth
1/4 cup of Extra Virgin Olive Oil
The Day Before: With a paring knife make about 30 incisions all over the meat on top and bottom. Be careful not to make them too big the size of the knife only. Insert one clove of smashed garlic and some bruised rosemary into each incision. Let rest over night.
The next day preheat oven to 275 degrees. Place beef on a rack in a roasting pan and pour the salt on all sides liberally. Rinse excess salt out of pan. Roast for one hour and thirty minutes or until the internal temperature suites: 120 degrees for Rare, 130 degrees for Medium Rare, 140 degrees for Medium, 155 degrees for Medium Well and 170 degrees for Well Done.
Let rest for at least 10-15 minutes meanwhile to make the sauce. Take beef out of pan and pour off fat. To "clean" or deglaze the pan heat pan on stove, add stock and scrape with a wooden spoon. Bring to boil and transfer to pot. Reduce heat to simmer and skim off any fat that appears. When liquid is reduced by half use a hand blender to slowly incorporate the Extra Virgin Olive Oil. Add one twig of Rosemary and check for salt and pepper. Serve with your favorite holiday side dishes.
*Tip: To appease all guests, bring the Roast to 135 degrees in the center and the closer to the ends will be cooked for a variety of doneness.
Southern Graces Indulgent Catering & Delicious Design
The Beaufort Inn, Beaufort SC
843-379-0555 www.southerngracescatering.com
We serve this Almond French Toast Bake at our Sunday Brunch at the Beaufort Inn. This recipe is very special to Christopher and me as we came up with it together. By combining our own unique recipes, we created the most delicious French toast ever. Now when we go home for Christmas, we are "required" by the family to prepare this. It's also the most requested recipe that we get from guests at the Inn, and from brunch.
– Bethany Boles Hewitt
Almond French Toast Bake
(Serves 8 people)
1 loaf French bread or 1 Round Hawaiian Sweet Bread Loaf
7 large eggs
1 cup heavy whipping cream
1 cup milk
1 pint of Vanilla Bean Ice cream, melted in microwave to liquid
2 tablespoons sugar
1 teaspoon vanilla
1 teaspoon pure almond extract
1/2 teaspoon ground cinnamon
1/4 teaspoon ground nutmeg
1 pinch of salt (1/8 teaspoon will do)
Topping
1 cup butter
1 cup packed brown sugar
1 cup sliced almonds
2 tablespoons light corn syrup
2 tablespoons maple syrup
3/4 teaspoon ground cinnamon
1/4 teaspoon ground nutmeg
Directions:
Slice the bread into 20 1-inch slices and set aside. Generously butter a 13×9 or baking dish. In a large bowl, combine rest of ingredients for the bake, beating with whisk so that it is well blended. *Note that the Vanilla Bean Ice Cream should be fully melted and in liquid form when adding with the other ingredients. Dunk the bread slices into the bowl to fully saturate them with the liquid. Place into the baking dish in 2 rows, overlapping the slices. Cover and refrigerate overnight (or proceed to the next step if you need it right away). Next day, heat oven to 350 degrees, make topping. In saucepan, combine ingredients and bring to a boil, pour and spread evenly over top of bread slices. Bake casserole, uncovered, for 35-40 minutes until puffed and golden!
Emily's Restaurant & Tapas Bar
906 Port Republic St., Downtown Beaufort
843.522.1866 www.emilysrestuarant.com
Roasted Turkey Breast Roulade (with Andouille, Cranberries, and Champagne Roasted Apples)
I like this recipe because you have a little bit of "Holiday" and a little bit of "Lowcountry" at the same time. – Chef Mike Long
1 Half Turkey Breast pounded flat to around 1/2 inch
1/4 lb. good quality Andouille sausage, ground or fine diced
1/2 cup cooked cranberries (sweetened)
1 apple (I like Granny Smith for this recipe) peeled and rough chopped
1/2 stick celery
1/2 yellow onion
1 tablespoon olive oil
salt and pepper to taste
1 cup turkey stock (chicken stock will do)
Roast apples in 350 degree oven with just enough champagne (your choice) to cover 1/2 the apples. Cook until half tender (you still want a little crunch). Fine dice celery and onion. Add andouille, cranberries, apple, celery, and onion to mixing bowl. Mix well with olive oil. Sprinkle a little salt and pepper on pounded turkey breast. Skin side down. Add contents of mixing bowl to center of turkey breast. Position mixture to where you can roll the turkey breast. Tie with kitchen twine (some mixture will squeeze out). Place roulade in terrine and add turkey or chicken stock. Cook in 325 degree oven continuing to baste until center is 145 degrees. Let rest for 20 minutes. Slice in 1 inch increments, and serve with remaining jus from terrine drizzled on top. Garnish with fresh rosemary.
Wren Bistro & Bar
210 Carteret St., Beaufort SC
843.524.9463
Penne Con Salmone
1 medium onion chopped fine
2 garlic cloves minced
1/4 pound of butter (1 stick)
1 cup dry white wine
1 cup heavy cream
1/3 cup grated parmesan cheese
1/4 tsp. nutmeg
1/4 tsp. cayenne
Salt and pepper to taste
1/4 pound smoked salmon
4 stalks chopped fresh parsley
1 pound penne pasta
Saute the onion and garlic in the butter and wine. Cover and simmer for twenty minutes then uncover and cook off the excess liquid. Stir in the cream, cheese and dry spices. In a large pasta bowl combine the hot cream mixture, smoked salmon, pasta and toss. Top with fresh parsley and serve.
The Foolish Frog
846 Sea Island Parkway, St. Helena Island
843.838.9300 www.thefoolishfrog.com
Lowcountry Devilled Crabs
Blue crabs were a Lowcountry staple from the late 1800's until the 1970's. There were two ways they were usually eaten. The most common was to steam
them and dump them out on newspaper spread on the kitchen table. The whole family would gather around and pick and eat for the next hour or so until they were all gone. The other way – the most delectable, but also the most labor-intensive – was Devilled Crabs. In those days a crab cake was a rare item. It was always Devilled Crabs. A Devilled Crab tastes different from any crab cake. There's just something about that shell, I guess. Unfortunately they are rare on Lowcountry menus these days. There are a lot of reasons, but primarily it's because all the crab-picking houses have closed. For many years Port Royal was home to Blue Channel Corporation, the largest blue crab packing plant in the country. Today there is not a single facility picking crabs anywhere in Beaufort County. The availability in recent years of quality, imported crabmeat has made commercial crab processing prohibitively expensive in South Carolina.
So, to sample real Lowcountry Devilled Crabs you just may have to make them yourself. The hardest part is picking the crabs. To make 8 average sized Devilled Crabs you'll need the meat of about a dozen fat crabs. Steam the crabs for about 30 minutes (or boil them for about 15 if you must). Steamed crabmeat tastes better to me. You'll need to save the backs and scrub them well inside and out. Try to pick 8 shells of about the same size to minimize fighting over the big ones at the table.
– Beekman Webb
Sarah Ancrum's Devilled Crabs
(Sarah didn't use the sherry or parsley so you can leave them out if you like.)
6 Tbsp unsalted butter
1/3 cup minced onion
1/3 cup minced red bell pepper
1/3 cup minced celery
1/3 cup fine crumbs from Saltines or Ritz crackers
1 Tbsp lemon juice
2 Tbsp flour
3/4 cup milk
2 hard-boiled eggs chopped fine
1 tsp salt
1 tsp black pepper
1 Tbsp chopped fresh parsley
2 Tbsp good sherry (not "cooking" sherry)
1 lb fresh blue crabmeat
Saute onion, bell pepper and celery in 2 Tbsp of the butter until soft. Do not brown. Remove to a large bowl. In the same pan make a cream sauce with the other 4 Tbsp of butter, the flour and the milk. Add the cream sauce to the sauteed vegetables. Let cool and mix in the cracker crumbs. Sprinkle the lemon juice over the crab meat and add to the vegetable/crumb mixture. Add chopped eggs, salt, pepper, sherry and parsley and gently fold all together. Pack into the cleaned crab backs. At this point the Devilled Crabs can be either cooked or stored in the refrigerator for a couple days. Some people wrap them individually in foil and freeze for a month or more.
When you're ready to cook them, preheat the oven to 375 and bake for about 20 minutes or until very hot and slightly browned on top. Makes about 8 Devilled Crabs.
Sweetgrass Restaurant
Dataw Island Marina
843.838.2151 www.sweetgrassdataw.com
Heirloom Cornbread Dressing
(From Lauren Tillapaugh and Nadine Awoyemi of Sweetgrass – passed down by word of mouth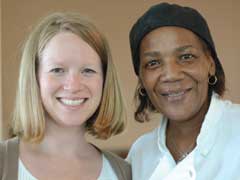 through several generations of both our families.)
Nadine and I were sharing Thanksgiving dinner this year when we discovered that, although we come from very different backgrounds, our family recipes for dressing were almost exactly the same! Since every family seems to have their own proprietary dressing (or stuffing) recipe – none of which are the same – we took this to mean that we were a culinary match made in heaven. From my great grandmother's Alabama country kitchen and Nadine's Mother's coastal Carolina kitchen, to yours. Enjoy!
– Lauren Tillapaugh
Boil a hen to make chicken stock (Hens – female adult chickens – make the best, most flavorful stock; if you are in a pinch or can't find a hen, a regular old chicken will do. Only in the most dire of circumstances should you use store-bought chicken broth).
Make cornbread in a cast iron skillet (the cast iron skillet is non-negotiable). Two 8-9″ skillets of cornbread should do for a 9×13″ pan of dressing. Any non-sweet cornbread recipe will work (for a mix, Martha White works well).
Crumble the cold cornbread with 2 dry pieces of plain white bread (also crumbled). Add no more than 1 piece of white bread per skillet of cornbread, otherwise the dressing will get "gummy". You only have to make "gummy" dressing one time before someone else is put in charge of making it for the next family gathering.
Add chopped white onions and chopped celery to your liking (should give the dressing texture and just a little color). Boil 4 eggs (2 per skillet of cornbread). Cool, chop and add to the dressing mix. Add salt and pepper to taste. Mix everything together with your hands (like the hen and the iron skillet, this is key).
Add chicken broth until the dressing is very moist. You will have broth left over and should baste the dressing periodically while it cooks. Bake at 350 degrees for at least one hour until dressing is browned and is the consistency of mashed potatoes.
Holiday Cocktail Recipe: Dirty Snowball

We were trying this one out today – it was way too good to be enjoying at 2:30 in the afternoon when you're at work
3 parts whole milk or half and half
1 part Bailey's
1 part Peppermint Schnapps
Pour into a shaker filled with ice, shake and strain into a chilled martini glass rimmed with cocoa. Cheers!
Catering by Debbi Covington
Beaufort, SC
843.525.0350
debbic@cateringbydebbicovington.com
www.cateringbydebbicovington.com
Debbi's Sour Cream Coconut Cake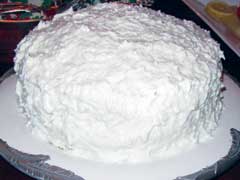 Sour Cream Coconut Cake is a family tradition at our house during the holidays. It's big, beautiful, moist and delicious! I wish I could take the credit but it's actually one of my Mama's recipes. Her coconut cakes are always best sellers at the annual Christmas auction at her church in North Carolina. They've been known to sell for over $100 each! Black walnut flavoring is the secret ingredient. Make this cake at least three days before you plan to serve it. It gets better as it absorbs the sour cream.
– Debbi Covington
Sour Cream Coconut Cake
1 (18.25-ounce) yellow cake mix
1 teaspoon black walnut extract
1 (16-ounce) carton sour cream
1 and 3/4 cups sugar
1 (12-ounce) package shredded coconut
Prepare cake according to package directions, including black walnut extract, making two 8-inch layers. When completely cool, split both layers. Combine sour cream, sugar and coconut. Chill. Reserve 1cup sour cream mixture for frosting. Spread the rest between layers. Frost cake with reserved sour cream mixture. Seal in an airtight container. Refrigerate for three days before serving. Serves 10 to 12.
Saltus River Grill
802 Bay Street, Beaufort SC
843.379.3474 www.saltusrivergrill.org
Chef Brian Waters' Homemade Eggnog
I discovered this recipe a few years ago in Southern Cooking by the late great Bill Neal of Crook's Corner restaurant in Chapel Hill, NC. Store bought versions are quickly put to shame with this simple recipe.
An introduction from The Carolina Housewife (by Sarah Rutledge, 1847) quotes a woman writing home in1842: "Before breakfast at Christmas time everyone takes a glass of eggnog and a slice of cake. It is universal custom and was not on this occasion omitted by anyone." Throughout the Christmas celebration eggnog was a daily holiday ritual. Hopefully the simplicity of this recipe will help you create a holiday tradition of your own.
– Chef Brian Waters
Eggnog (yields 16 cups)
6 egg yolks
1/3 cup of sugar
1 cup rum
1 cup bourbon
1 cup brandy
2 cups milk
2 cups heavy cream
Nutmeg for grating
The day before serving beat the eggs with the sugar until very light and tripled in volume. Slowly whisk in the liquors. Store in a cool place or refrigerate overnight. Before serving, stir in the milk, beat the heavy cream to light peaks and fold in. Grate a little nutmeg over each cup before serving.