Mark Shaffer & Co. take in dinner & a show…
Editor's note: each month The Lowcountry invites you to dinner. Or lunch. Maybe even breakfast. This is not a restaurant review. The Big Idea (with apologies to Ernest Hemingway) is to provide you, dear reader, with a vicarious culinary experience, to share something of our rich and diverse food culture and the individuals who labor so hard to put it on the plate. Our "moveable feast" is a sort of loosely organized, roving dinner party seeking out the best eating experiences the Lowcountry has to offer – high end, low end and every end between. We are dedicated, we are hungry and the food is out there.
It is better to travel hopefully than to arrive disenchanted.
– Japanese proverb


Prologue:
It is said that to truly understand a culture, one must first eat the food. Not to go all Anthony Bourdain on you, dear reader, but while there is still diversity enough left on the planet to taste something that didn't have its genesis in a corporate focus group, I'll be glad to give it a try – as long as it's not moving. I may not be Anthony Bourdain, but I'm no Andrew Zimmern either. That being said, the culinary waters we set out to navigate in this particular Moveable Feast are not uncharted, nor are they entirely familiar. Most of my own experience with Japanese cuisine has been limited to various sushi bars sprinkled about this country. There is a very Western saying most often attributed to Gustave Flaubert that "God is in the details." This seems appropriate in any discussion of the art of sushi for there are few culinary disciplines as delicately executed as this when executed properly.
In major cities the neighborhood sushi bar is now nearly as ubiquitous as Starbucks and the high-end concepts glitter with star power. On any given night a table at any of Nobu Matsuhisa's three Manhattan restaurants is one of the toughest tickets in town. It's no easier to find a seat in any of his other eighteen locations scattered across the grand metropolises of the world. Luckily, here in Beaufort you don't have to be Robert DeNiro to get a table at a great sushi bar – or a front row seat for an entirely different kind of show.
Sake House – The Lowdown:
Location: 274 Robert Smalls Parkway (next door to the IHOP)
Atmosphere: Casual with an organic sense of Asian minimalism
Cuisine: Japanese Sushi and Steakhouse
Alcohol: Full bar with a good selection of Sake and Asian beer
Hours: Monday through Thursday 11:30 am – 10:00 pm, Friday and Saturday11:30 am – 10:30 pm, Sunday 3:30 pm – 10 pm
Reservations: 843.379.5888
Etcetera: By mid-June Sake House will expand into the space next door, adding three more hibachi stations (six grill tops) and greatly expanding the bar.
Website: Not yet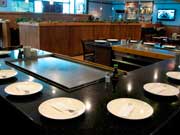 The first thing to strike me about Sake House is its clean lines. There is no Asian kitsch, no inundation of Japanese lanterns or fake Samurai armor or murals of Mount Fuji. Instead the restaurant exudes a sort of minimalist feng shui (although that's probably not the right term). The space is open and yet intimate, casual but not too casual – a space that will look vastly different from day to night. A water feature, meant to evoke a traditional Japanese garden, greets patrons with a pleasing, relaxing cascade adjacent to the bar and waiting area. The main room is light and airy with four distinct sections (apart from the bar), each offering it's own dining experience. Sushi enthusiasts will head immediately to the rear for a seat at the sushi bar to personally select delicacies from the cold case and watch their orders prepared and offered up first hand by Sake's highly-trained chefs.
To the left an elevated section of intimate booths offer a cozy setting for a romantic dinner while the center section of four-tops is more wide open and conversational. But the main attraction, indeed the main stage, so to speak, is on the right where The Moveable Feast convenes for the literal equivalent of culinary theater.
Dinner and a Show
Teppanyaki. This is not a word most Americans are familiar with. It references a style of Japanese cooking done on a traditional teppan or iron griddle. Hibachi, on the other hand, we're familiar with – and I'm not referring to the tiny little grill you bought to fit on the microscopic terrace of that first post-collegiate apartment. Hibachi, as we've come to know it, is the creation of one Hiroaki "Rocky" Aoki. In 1964 Aoki opened a miniscule restaurant on West 56th Street in Manhattan with money he'd saved driving a truck in Harlem. The idea was simple: dinner and a show combining traditional Japanese cuisine with a unique theatrical flair. The restaurant initially sputtered, but one evening all four seats were occupied by a quartet of mop-topped kids from Liverpool in search of refuge from riotous fans and maybe a cultural experience in the bargain. The Beatles helped put Benihana on the map and Rocky Aoki turned it into a household name and a multi-million dollar, global empire. Rocky's gone now, and while the battle over his estate mirrors the plotline of Akira Kurosawa's "Ran," his legacy lives on beyond his empire.
Tip: The proper Japanese name for what we call chopsticks is hoshi. Get a lesson in how to use them on youtube (you'll still have to search for "chopsticks").
Although our host and hostess, Hui and Joanne Lin, are not Japanese (the family originally hails from Fujian, China) the brother and sister are dedicated to providing Lowcountry diners with quality Japanese cuisine with the emphasis on top grade sushi and, of course, the hibachi experience – the first of its kind in the Beaufort area. And there's more to come. Joanne tells me that by mid-June Beaufort's Sake House will expand into the space next door adding three more hibachi stations and more than doubling the size of the bar. She also says another Sake House is slated to open up in Bluffton, as well.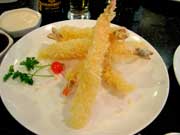 The five feasters take seats around the corner of one of Sake House's two massive hibachi stations. Each features two metal cook tops, back-to-back, with seating for more than 20 around the entire "u" shaped table. While the teppan is prepped we begin with traditional miso soup, salad and – naturally – some sushi.
Sushi Tip: Flip and dip. Pick up a piece of sushi, flip it over and dip it fish side down into the sauce (mix your own soy and wasabe), then set the fish on your tongue and chew slowly, taking time to enjoy all the nuances. Single pieces of sushi are meant to be eaten in one bite.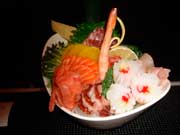 The miso is as it should be, light and delicate, a palate cleanser with just enough subtlety to whet the appetite for what's to come. The salad is a bit superfluous considering all the food headed our way, and I don't want to spoil my appetite, but the ginger dressing is too good to pass up. Meanwhile, Number One Sushi Chef Ricky's put together a few special treats for us. The Chef comes to Sake House from Manhattan where he spent years honing his craft for New Yorkers notoriously picky about their food, sushi in particular.
Sushi Tip: There are many different kinds of sushi, the common ingredient being sticky rice. Sashimi, however, is fresh thinly sliced raw fish of very high quality, tuna (maguro) being among the most popular.
While we've requested a more or less typical meal combining both sushi and hibachi, Sake House also offers an impressive list of entrees from the kitchen. The menu is exhaustive, even a little daunting to the novice. So if the sound and fury of the hibachi table isn't quite what you had in mind, choose a booth and enjoy a bottle of wine or sake and leave the flames and theater to the rest of us.
While we pass around Chef Ricky's creations our Hibachi Master, Chef Bingo – yes, Bingo – rolls his prep cart of ingredients, knives and tools and begins to fire up the teppan, smiling and joking – setting the mood.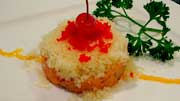 We dive into the appetizers including a platter of Tempura Shrimp, Dancing Eel Roll and Chef's own Spicy Tuna Tartar. We're all briefly baffled by the appearance of the latter – a bright pink creation with crimson sprinkles and topped with a cherry. It looks more like a desert (a sorbet, perhaps). But the cherry is pure garnish, the brilliant sprinkles are pungent, salty masago (flying fish roe) which melts exquisitely with the rich, finely minced tuna blended with wasabe and spice. The Tempura Prawns are large, lightly battered and fried, beautifully crunchy and crisp on the outside while the shrimp is tender and sweet on the inside. The dipping sauce is a nice blend of salty and sweet, highlighting the seasonings in the tempura batter and flattering the shrimp. The Dancing Eel Roll features tempura shrimp and cucumber layered with grilled eel and sliced avocado.

Sushi Tip: The thinly sliced pink garnish is pickled ginger or gari. Eat a piece between bites to reinvigorate your palate.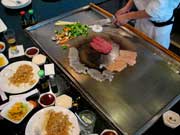 Ladies and Gentlemen: Bingo
Now comes Chef Bingo's turn. Equal parts cook, juggler and comedian, the hibachi chef is kind of a Samurai Vaudevillian, a strange and wonderful sort of hybrid. Hibachi chefs come with a standard set of tricks and skills – all of which our Chef Bingo displayed with great energy, enthusiasm, and humor even when something didn't quite work the way it was supposed to. It's all about fun. The basic idea is to wow the patronage with a display of dexterity to rival a ninja while making a meal – or many meals – and keeping the audience/diners entertained with a series of jokes, tricks and gags. You are urged to participate, to join in the fun. There is absolutely nothing – I repeat – nothing stuffy about this.
A word to parents: an hibachi dinner for the family is something the kids – particularly young children – won't soon forget. Just prepare them for what's coming. This is a show and there's plenty of noise and flame. And that's just for starters. The initial flaming of the teppan is just that. The oil goes on the grill top (in our case Chef Bingo made a giant smoking Happy Face) and then Whoosh, a wall of flames leap up just inches away. The chef disappears for a split second like the Wizard of Oz, the blast of heat blows back your hair and you instinctively check to see if your eyebrows are still there (yep!). A little boy at the table behind us nearly left his clothes hanging in mid-air like a cartoon when the chef flamed the teppan. He managed somehow to resist the instinctive urge to flee and with a little encouragement from his dad, sat mesmerized for the rest of the meal, eyes big as pie plates.
Chef Bingo runs the gamut for us. He begins the Sake House Special (steak, shrimp, and chicken) with the fried rice, first balancing, juggling and tossing an egg into his hat with his spatula, then neatly halving it to fry as a base for the rice. A mix of fresh vegetables hit the grill along with the protein: beautiful cuts of steak, chicken breast, and jumbo shrimp. He is in constant motion, paying close attention to the meat and veggies, cracking a joke, pulling out a prop for a gag, bringing the famous "onion volcano" to life (always a crowd pleaser). It is a mind-boggling exercise. Each component of the meal is prepared on the same cook top, but each demands different levels of heat, more or less time and individual seasonings and sauces. He serves it up around the table with flare, and wraps up the show with by dicing up a shrimp and egging each of us on as he attempts to toss a piece into our mouths, the final audience participation portion of the evening. Chef Bingo packs up his cart leaving us in his wake still a little mesmerized, but not the least bit hungry. Rocky Aoki would approve.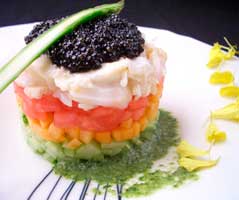 Notes: Sake House also offers catering and special accommodations for groups as well as a full takeout menu. The Lunch Box is a steal featuring the appetizer of the day, soup, salad, and a California roll with your choice of an entrée like Salmon Teriyaki for just $10.95. Vegetarian is also available.
Get more online at www.lcweekly.com and contact Mark Shaffer at backyardtourist@gmail.com