Springtime Showcase to Feature Area Musicians, Dancers and Creative Characters
Laizee Rivers Productions, coordinated by Beaufort resident and area artist Bonita Wreden, will present "An Evening of Art and Soul" at the Arts Council of Beaufort County (ARTworks) at 7 p.m.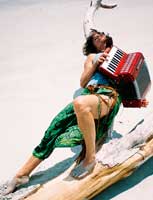 Performers include musicians, dancers and songwriters, ages 8 – 60 years old.
Wreden, an accomplished musician, singer and songwriter, through her various teaching and performing efforts, has gathered a group of talented artists which she showcases to the community several times a year.
"People don't have to travel miles for a fun evening of talent, creativity and inspiration – there is so much right here in Beaufort, and the number of performers in each showcase continues to increase – very exciting," Wreden said.
In addition to a variety of bluegrass musicians and original works by area youth, performers include Irene Goodnight, a Nashville recording artist, Joy Patterson, a well-known Beaufort artist and teacher, The Warsaw Island Boys, a band known for its performance of old favorites, and Logan Gannen, Wreden's piano student who received an award at the 2008 Beaufort Water Festival Talent Show.
Wreden will perform selections from Sky Songs, her recently released CD with Razor Sharp Records.
Sky Songs is a compilation of original works about motherhood and a cleaner environment with a progressive jazz flare. Instruments, all played by Wreden, include piano, violin, accordion and guitar.
Reservations may be made in advance for $15 per person by calling 843.470.0145 or emailing musicbft@islc.net. Seats will be available for purchase at the door the evening of, and patrons are invited to arrive early to mingle and enjoy refreshments.