As an assistant to a well known photographer on Hilton Head Island, Fran Doggrell thought she was the coolest person around after being assigned to photograph Henry Kissinger who was visiting the island to speak to the American Bar Association meeting being held there in the mid 70's.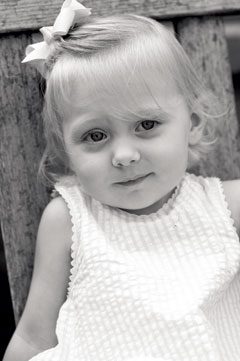 Self assured and cocky, the 22 year old Fran strode up to the doors of the meeting and informed the secret service detail "Hello, my name is Fran Doggrell, and I am here to shoot Henry Kissinger." The big camera bag was stripped from her shoulder and she was brusquely ushered into a small room and questioned repeatedly about her intention to do harm to the Secretary of State. Fran never saw Henry Kissinger that day, but learned a valuable lesson about protocol, humility and plain old common sense.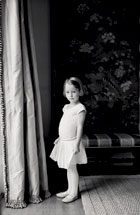 As her career progressed, Fran moved back to her hometown of Memphis and opened her own studio. With past lessons learned, she has had the opportunity to photograph several notable politicos, including Lady Margaret Thatcher and Hillary Clinton, with much better results. She has also photographed a host of celebrities: Tiger Woods with his father, Earl; Courtney Love for the director Milos Foreman; and even Kelloggs' own Tony the Tiger (along with Snap, Crackle and Pop!); and a long list of southern
based musicians for whom she created album covers as well as personal portraits. Fran's classic black and white portraits gained national attention as she was included in the Memphis Brooks Museum's Biennale of Photography as well as a Traveling Exhibition of Tennessee Women Artists.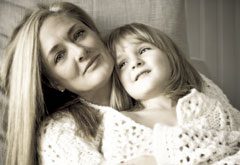 Fran will be the featured artist at The Charles Street Gallery in downtown Beaufort, October 2 – 17. A reception with this fascinating artist will happen on Friday, October 2, from 5:30-9pm.
Now a resident of Ulmer SC, photographer Fran Doggrell will show the amazing portraits that she takes, most in black & white, of children in thoughtfully playful arrangements – looking at the camera or out the window, under a plaid umbrella, drifting on a porch swing, reading, playing, and growing. Each portrait will be accompanied by outtakes from the photo session, in order to engage the viewer in the process of "getting the jewel."
"Most of the famous people that I have photographed have been enormously generous and candid, making my short time with them quite rewarding. I have been flattered to be included in museum shows and their collections and proud to be part of the invitational art exhibits with women artists that I admire. I am, however, most fond of my smallest subject – the child. In every family, the child IS the celebrity in his or hers own right. I especially love interacting with children one on one, not necessarily looking for the big cheesy grin in my images. I look for the true personality to appear through conversation and play – a laugh, a goofy nuance, or just the lovely pensive expression that makes us who we are. When I get what I think is that image and the parents respond with tears in their eyes, then I know….well, I found the art of that child in a photograph. It is a true portrait."
Parents who are interested in art-portraiture can contact Fran at 803-300-3344 and doggrell.com.
An opening reception for the artist will happen on Friday, October 2, from 5:30 – 9pm, at Charles Street Gallery, an established source for Lowcountry and international art… not to mention great food, music, and company. For more information, call 843-521-9054 or visit http://www.thecharlesstreetgallery.com.