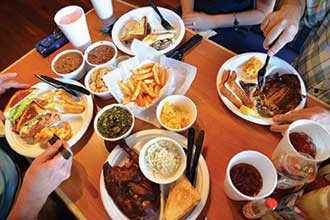 "Glory is fleeting, but barbecue is forever."
– Napoleon Bonaparte (rumored)
It hits you even before you open the door – the sweet aroma of wood smoke mingled with pork fat whispering promises of tasty things to come. It doesn't take much to pique our appetites, having waited long past the lunch rush to invade Smokin' Planks in the heart of Port Royal.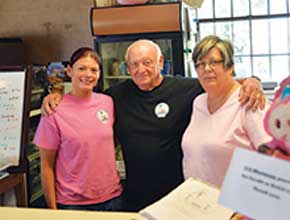 In the relatively short time since Larry and Nancy Plank joined daughter Brooke to re-purpose this former coffee house, Smokin' Planks has built a loyal following mostly on word of mouth and the air borne temptation drifting through the streets of Port Royal. In fact, one of our party – local photographer, Paul Nurnberg – eats here so often he gets a hug from Brooke and credit for a couple of menu items. The kicker? Paul doesn't eat meat. And that's one of the things that sets Smokin' Planks apart from the usual barbecue joint – it's not just about the barbecue. Smoked fish and seafood is offered according to what's fresh and available. Paul is a big fan of the smoked salmon.
"To be in this business you really have to love it," says Larry Plank. "If you don't have a passion for it, there's no sense in doing it."
Larry grew up on the southern gulf coast of Florida when "there were about 250 people in Ft.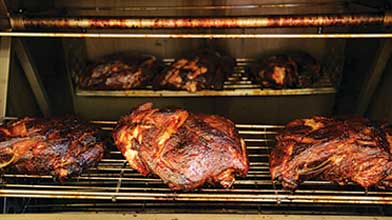 Myers." His dad had a marina and restaurant and smoked his own meat and fish. Larry learned to master the subtle nuances of smoke and heat at an early age and eventually ran the business for years before he and Nancy decide to follow Brooke to South Carolina. "We can have a restaurant anywhere," he says. "Why not Port Royal?"
Sometimes it's the little things that draw your attention to the way a restaurant is run. There are four of us today: Paul, myself, Lowcountry Weekly Publisher Jeff Evans and caterer/cookbook author/Everyday Gourmet Debbi Covington. We fill our glasses and slide into a booth by the front window.
Twenty minutes ago the room was packed but no evidence of this remains. The tabletops are spotless; there's not so much as a crumb on the floor.
"This tea's really fresh and good," says Debbi taking another sip. "Usually in a lot of places this time of day after the rush you'd get the dregs."
Jeff is endlessly delighted that Cheerwine is available on the self-serve beverage station. On the wall behind us hang Larry and Brooke's framed credentials as certified judges for the North Carolina Barbecue Association.
Our tasting menu is Chef's choice and Brooke starts us off with what has come to be known as "Paul's Seafood Nachos."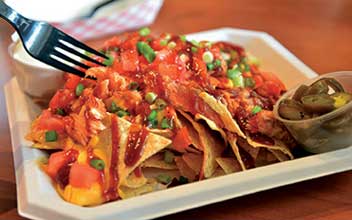 "Today we've got smoked salmon, melted cheese, fresh tomato and scallions with sour cream and jalapeno peppers. "
I used to live in the Northwest, where everyone from street cart venders to celebrity chefs has a signature twist on seasonal salmon. I never saw anyone even attempt to pull off something like this. The fish is moist on the inside with a slight smoky crust to seal in the flavor, blending nicely with the chips and other ingredients. It's fresh and bright with the full flavor of the salmon front and center.
"You really get the salmon," says Jeff. "It's not over-seasoned or masked with something."
"From a chef's perspective," says Debbi, "I don't really go to restaurants where I can get things that I make myself. I don't smoke things, so this is a real attraction for me. And it's really good."
Salmon leads off the rest of the line-up with Paul's Salmon Lettuce & Tomato Sandwich ("It's a BLT with the S instead of the B") along with the Brisket, the Half Chicken, Smoked Trout and a slew of side dishes served up to share, family style. There's not an inch to spare on the table.
The trout – a whole butterflied fish – gets special attention. It's a first for Debbi.
"That is freaking amazing," she says. "That's one of the best things I've ever tried. I love trying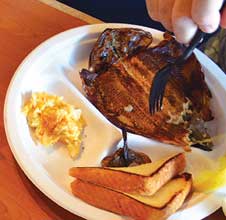 something new and liking it. That doesn't happen very often, but that was wonderful."
I start in on the chicken, a perfectly bronzed half bird that's fall-off-the-bone tender yet somehow still moist on the inside. There is no hint of fat. Once again, just an abundance of rich flavor. The brisket raises the bar once again.
"Our brisket's smoked between 24 and 26 hours," says Brooke, " It's very, very tender. And we take off all the fat."
Larry adds that he's done the math and figures each brisket loses about 62 percent of its pre-smoked weight. The result literally melts in your mouth. In my experience good, even decent, brisket is hard to come by where pork rules. Larry Plank's is the best brisket I've ever had. It's candy for carnivores.
The side dishes are standouts, as well. The Mac & Cheese is some of the best we've sampled on these outings. The same goes for the heavenly baked beans seasoned with smoky pulled pork and brown sugar. The hash and rice actually got two thumbs up from our North Carolina born, self-proclaimed "barbecue snob." I was raised in the heart of Hash Country and never cared for it. Like Debbi's first bite of the smoked trout, it opened my eyes (and taste buds) to what lowly hash & rice could aspire to be. I'll take a quart to go next time.
We're nearly through before Debbi points out that no one's reached for any sauce or seasoning.
"There's no need for it. Everything's too full of its own flavor."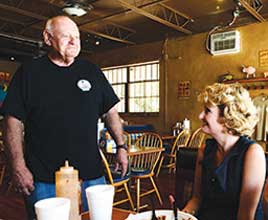 The Planks definitely believe in the old "less is more" rule when it comes to seasoning. Larry says he uses a bare minimum in preparing anything that's going in the smoker. The real flavor is coaxed out of the meat, fish and poultry with the right combination of smoke, heat and time. But the basic, most absolute rule Smokin' Planks observes is consistency.
"I try to make everything the same," says Larry. "I've gone to so many places and thought it was fantastic. Then I recommend it to a friend and he goes there and thinks it's terrible and he had the same thing I did. That's about inconsistency.
I tell 'em in the kitchen that I don't care if you think it's bad. I developed this thing over the years and the people get to judge. You don't. If the recipe says one tablespoon, use one tablespoon. Keep it consistent. Keep it good."
EXTRA SAUCE
They do indeed have outstanding house made sauces right on the table including their own Original,
Golden for mustard lovers, Citrus Chayote, and North Carolina style spicy vinegar. Alabama White Sauce is available upon request.
Everything's available by the pound, including a large variety of Family Packs featuring complete meals right down to tea and dessert for up to eight people. Smokin' Planks also offers catering for weddings and events. Call for info.
Smokin' Planks is open Wednesday through Saturday with plenty of kid and dog friendly outdoor seating.
Check out the menu at www.smokinplanks.com.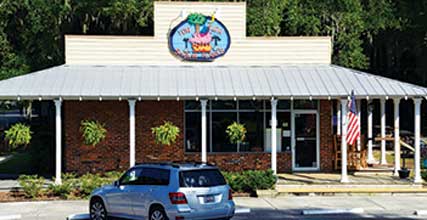 SMOKIN' PLANKS
914 Paris Ave.
Port Royal, SC
843.522.0322
smokinplanks@gmail.com
Dine In/Take Out/Catering
Active Military & First Responders get 10% discount with ID
Mark Shaffer's email is backyardtourist@gmail.com