The Met: Live in HD's 2013-2014 season brings these colorful characters and more to the USCB Center for the Arts.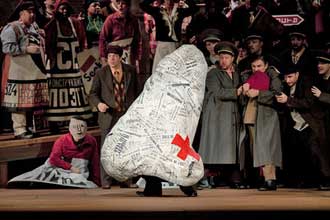 The Met:Live in HD, the Metropolitan Opera's award-winning series of live transmissions to theatres around the world, features 10 productions in the 2013-2014 season which began on Oct. 5 at USCB Center for the Arts.
Met opera stars serve as hosts for the HD series, conducting live interviews with cast, crew, and production teams, and introducing popular behind-the-scenes features. Audiences are given an unprecedented look at what goes into the staging of an opera at one of the world's great houses. Here's what's coming . . .
The Nose on Oct. 26
William Kentridge stormed the Met with his shocking and unconventional production of The Nose by Shostakovich, dazzling opera and art lovers alike in its inaugural run in 2010. Paulo Szot reprises his acclaimed performance of a beleaguered Russian bureaucrat and his satirical misadventures in search of his runaway nose, which is a separate character played by Alexander Lewis.
Tosca on Nov. 9
Tosca, Puccini's dramatic tale of murder, lust and political intrigue features an exceptional cast led by Patricia Racette as the jealous diva Floria Tosca. Roberto Alagna sings her lover, the painter Cavaradossi, and George Gagnidze is the corrupt, lustful Scarpia.
Falstaff on Dec. 14
Verdi's brilliant final masterpiece Falstaff has its first new Met production in nearly 50 years and is set in the English countryside in the mid-20th century. Ambrogio Maestri sings the iconic basso buffo role of Sir John Falstaff, the boorish, blustery character originally seen in Shakespeare's Henry IV and Merry Wives of Windsor. Angela Meade is Alice Ford, one of many objects of Falstaff's affection, and Stephanie Blythe is the sharp-tongued Mistress Quickly.
Rusalka on Feb. 8
Renee Fleming sings her first Live in HD performance of one of her signature roles, the lovelorn mermaid Rusalka, in Dvorak's sumptuously melodic opera Rusalka. Piotr Beczala is the handsome prince she yearns to love, Dolora Zajick plays the cackling swamp witch Jezibaba, Emily Magee is the Foreign Princess and Rusalka's rival, and John Relyea is her father, the Water Sprite.
Prince Igor on Mar. 1
Alexander Borodin's epic Prince Igor has its first Met performances since 1917, in a new production staged by noted Russian opera director Dmitri Tcherniakov in his Met debut. Gianandrea Noseda conducts the lush score, famous for its celebrated "Polovtsian Dances," and Ildar Abdrazakov sings the title role of a 12th century Russian hero. Oksana Dyka makes her Met debut as Yaroslavna, Igor's emotionally fragile second wife.
Werther on Mar. 15
Two of opera's greatest stars, Jonas Kaufmann and Elina Garanca, appear together for the first time at the Met as the brooding poet Werther and his unattainable love, Charlotte in Massenet's Werther. The adaptation of Goethe's revolutionary and tragic romance is directed and designed by Richard Eyre and Rob Howell. Rising young maestro Alain Altinoglu conducts.
La Boheme on Apr. 5
An exciting young cast will star in Franco Zeffirelli's classic production of La Boheme, the most performed opera in Met history. Italian tenor Vittorio Grigolo stars as the passionate writer Rodolfo, and Romanian soprano Anita Hartig makes her Met debut as his consumptive lover, Mimi.
Cosi fan tutte on Apr. 26
Music Conductor James Levine makes his long-awaited return to the Met podium to conduct Mozart's beloved opera about testing the ties of love, Cosi fan tutte. The cast is filled with youthful Met stars Susanna Phillips and Isabel Leonard as the sisters Fiordiligi and Dorabella, and Matthew Polenzni and Rodion Pogossov as their lovers, Ferrando and Guglielmo.
La Cenerentola on May 10
The season will conclude when a peerless pair of Rossini virtuosos joins forces in La Cenerentola – a vocal tour de force for mezzo-soprano Joyce DiDonato singing her first Met performances of the Cinderella title role, and bel canto master Juan Diego Florez as her dashing Prince Charming. Met Principal Conductor Fabio Luisi leads the effervescent score.
All performances are on Saturday afternoons, with curtain at 12:55 p.m. unless noted on individual schedules. Go to USCB Center for the Arts website at www.uscbcenterforthearts.com to purchase online tickets. Adults $22 and OLLI Members $18. Tickets also available at the Box Office one hour prior to curtain.