"A dog may be man's best friend, but the horse wrote history."
– Author Unknown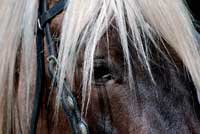 We don't know exactly when human and equine history became inexorably linked. One current theory flags the most likely place and time at about five thousand years ago on the steppes of present-day eastern Russia and Kazakhstan where the animal made the transition from a domesticated source of meat, milk and fuel to a mode of transportation and engine of labor. The next step was an engine of war. For more than three thousand years horse-drawn chariots and mounted cavalry tipped the scale of warfare and literally chiseled human history with the thunderous beating of hooves.
An old Arabian proverb says, "The wind of heaven is that which blows between a horse's ears." The winds of change blew forth from the animal, as well. No culture, civilization or place has been the same once trod upon by the horse. Arguably, no continent has experienced such a rapid (and violent) transition as North America, and much of that can be attributed to the horse. A handful of Spanish Conquistadors brought down the entire Aztec empire largely due to their mounts. Animals that escaped or were abandoned in the New World formed the backbone of the great Native American horse cultures of the American West. And ironically, the horse would bear the burden of Manifest Destiny and its brutal subjugations of those cultures.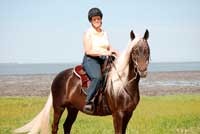 But as we all know, a horse is a horse, of course, and as much as the horse has changed us, so have we changed the horse. We've bred them for speed, strength, size, shape, endurance and color. But in an age where most horsepower lies beneath the hood of a car, some of us long for a reconnection to the equine, or as the Australian poet, Pam Brown, writes, "A horse is the projection of peoples' dreams about themselves – strong, powerful, beautiful – and it has the capability of giving us escape from our mundane existence."
It's true. Of course, there are many reasons to own horses, but as I watch Anne Kennedy put her stunning chocolate-colored mare through her paces, I can think of no better reason than escape. And is any place better suited for an escape than that which is called Camelot? To paraphrase the old Lerner and Leowe musical, in short, there's simply not a more congenial spot for happily-ever-aftering than Camelot. Although, this actually didn't work out very well for Arthur – or anyone else involved. There was that whole Lancelot and Guinevere thing, then quests, wars, epic tragedy. In the end everyone's dead or in a convent, and that's no fun. On the other hand there's the Lowcountry namesake of Arthur's mythic paradise, but who knew Camelot came with so much poop?


"Horse poop. Lots and lots of poop," says Mark Kennedy. "Lots."
He says this with the conviction of a man who, as self-appointed Head of Maintenance for Camelot Farms, has shoveled his share of it both literally and figuratively. He's also couching his language for tiny ears. With an average of about 45 horses on the property at any given time there's a lot of shoveling to be done. In fact, it's a never-ending task.
"We never really intended this to be a business," explains Anne Kennedy, Mark's wife and award-winning horsewoman. I'm sitting with the Kennedys in the tack room of their sixty-acre spread on Saint Helena Island. An artist and former cytologist, she sits at the big desk behind a cluster of trophies. Above her the wall is a riot of competition ribbons. The Kennedy's two year-old granddaughter, Addison, busies herself about the room as only a two year-old can.
It's been a busy week on the farm. A television production crew's shooting half a dozen episodes of Horse Master TV with the internationally known trainer and equine clinician, Julie Goodnight. According to Goodnight the popular series is sort of a horse version of The Dog Whisperer (which, come to think of it, is a direct rip-off of The Horse Whisperer, anyway) and Super Nanny. "The horse may have issues," she says, "but a lot of what we do is straightening out the rider: getting them to handle the horse correctly, learning the skills to have more success." The show airs on DirecTV's rural-themed RFD-TV. Each episode features Goodnight solving a problem between horse and rider. "But nothing too extreme," she cautions. "If my advice to someone is 'get rid of the horse,' then I don't want to do that episode." That would make for a very short piece of television, indeed – perhaps an idea for YouTube? (then again, maybe not).

Producer/Director Heidi Nyland tells me that the Colorado-based program put about four months of research into finding the ideal spot – a warm, sunny alternative to the Rocky Mountain winter. "We decided on the Carolinas and I put out a call to the various horse associations and councils," she says. "The South Carolina Horse Council was the first to respond and they put us in touch with a few people, including Anne." Camelot Farms was eventually chosen for its scenic Lowcountry backdrop as well as its top-notch facilities and the Kennedy's eagerness, according to Goodnight. "They had a real can-do attitude and really wanted us to be here," she says. "And we like to go where we're wanted." She laughs.
The farm also gets to figure prominently in six episodes of a nationally televised program that appeals to the exact demographic Mark and Anne want to attract in these tough times. And then there is a small irony I find interesting in that a Rocky Mountain based operation like Goodnight's would end up at a South Carolina ranch known for its prize-winning Rocky Mountain Horses.
"Gypsy gold does not chink and glitter. It gleams in the sun and neighs in the dark." Attributed to the Claddagh Gypsies of Galway
Camelot's Cocoa Confection has something vaguely Gypsy about her. On second thought it's not vague at all, just exotic. Her deep bronze coat does indeed gleam and shine in the sun. Her luxurious white mane and tail make for an astonishing contrast – a trait for which the Rocky Mountain Horse is known. Rockies are a gaited breed, meaning they're bred and trained for a smooth ride. The Tennessee Walking Horse (Camelot's other specialty), the Paso Fino, the Racking Horse and many others (including gaited Mules) were much prized by plantation owners and overseers who spent long days in the saddle covering great distances. "They're smart and smooth," says Anne, "and they're quick learners. They train well plus they tend to have gentle personalities, and they're sensible."

Cocoa certainly seems sensible. The gentle five year-old mare is also part of the championship bloodline the Kennedy's are building at Camelot, having won the RMHA International Championship as a three year-old. She is also the equine apple of Anne's eye. One of the Julie Goodnight's producers offered to buy the animal. Anne turned her down flat.
"She said, 'wait, you haven't even heard the offer," Anne says. "I told her I didn't care about the price, she (Cocoa) wasn't for sale."
Of course, there are horses for sale. This is a horse farm, and most horse farms buy, sell, raise, train and board horses. According to the Head of Maintenance this one also offers free ducks and manure, but that is another story.
On the edge of Saint Helena Sound, in the midst of some of the Lowcountry's most breathtaking scenery, the Kennedys have built a fully functioning equine center complete with state-of-the-art training facilities and a huge covered arena, the only one of its kind convenient to Beaufort. "It's an all-weather facility for the lessons, too," Anne points out. Barring anything short of a hurricane, there's virtually no chance of a rain out. The facility's also available to lease for special events. And when the relentless summer sun gets to be too much Anne and Farm Manager, Crystal McClaren, move the lessons in the shade.
Camelot also boards and leases horses. For prospective first time owners – particularly parents looking to buy for a child – Anne recommends leasing an animal first. Horses are work (just ask Mark Kennedy) and teenagers have short attention spans. The horse your daughter simply can't live without one day may be turn out to be an expensive, neglected diversion before all is said and done. Leasing is a great way to test the waters of commitment and responsibility.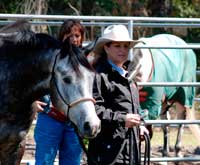 "The trail rides are what keep the business afloat," says Anne. Camelot offers two rides, the hour-long "Plantation Ride" and a two-hour "Coastline Ride." Both include a mini lesson but Anne's quick to point out that the two-hour ride's not for beginners. "You need to be more of a rider for that one," she says. Camelot takes a "less is more" approach to its rides, running an unusually small string of just six or seven animals (often less depending on the group) and doing their best to match horse to rider. "Comfort level's very important for both the horse and rider," says Anne. "We provide a more personal experience, a real Lowcountry experience."
"A horse is worth more than riches."
– Spanish Proverb
The Kennedy's Lowcountry experience began as what Mark Kennedy refers to as "an accident of phenomenal proportions." The couple fled Atlanta some years back, burned out on endless commutes and unchecked urban sprawl. Mark, a former Manufacture's Representative and Contractor, had visited Beaufort on business once, and being an avid boater, fallen hard for the Lowcountry's natural charms. With the kids grown and gone, Anne had once again immersed herself in the passion of her youth, horses. Beaufort seemed like a good place for the both of them to ease into a kind of idyllic life of semi-retirement. "We had no intention of working this hard," Mark confesses with a sardonic grin. He then sums things up with typical humor-tinged frankness. "I was a boater, she was a [horsewoman]. I don't boat that much anymore, but Anne loves the horses and I love Anne."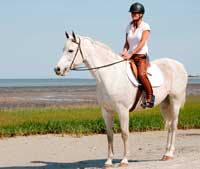 "It's a labor of love," Anne echoes.
"When I bestride him, I soar, I am a hawk: he trots the air; the earth sings when he touches it; the basest horn of his hoof is more musical than the pipe of Hermes."
– William Shakespeare, Henry V
Horses are living, breathing portals into the past, flesh and blood time machines. On horseback it is easier to reconnect to a forgotten time, to a place in our history when such a sensation was neither strange nor uncommon, but essential and often second nature. Here in the thick, dappled shade of the live oaks Anne leads a small group of riders, including her friend and boarder, Sam Shellnut. Sam is recently reunited with her big grey Appaloosa/Arabian gelding, Tashu. That, too, is another story, perhaps best told by Sam. Today she and Tashu are a study in serenity as Anne guides us on the Coastline Ride. The camera crew follows in golf carts, down the canopied Avenue of Oaks toward Coffin Point Plantation and eventually a thin slip of beach on Saint Helena Sound. The old house, now a meticulously restored private residence, gleams white as a ghost at the end of what was once her grand entry way – a lush foyer of resurrection ferns, Spanish moss and azalea. There is a moment when the horses and riders are juxtaposed against this scene that time does seem to spin backward, a sense made possible somehow only by the presence of the horses. Indeed, Winston Churchill was right that "no hour of life is wasted that is spent in the saddle."
Check out Camelot Farms online at http://www.camelotfarmshorses.com or call 843.838.3938. Find out more about Julie Goodnight and Horse Master TV at http://www.juliegoodnight.com Email the author Mark Shaffer at backyardtourist@gmail.com