"The problem with the world is that everyone is a few drinks behind." – Humphrey Bogart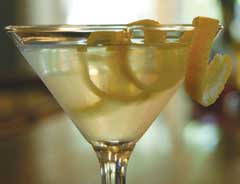 Vintage. That's definitely the vibe here. The place feels like a beach house resurrected from a family vacation of the long, long ago days of wood paneled station wagons packed to the roof with a summer's worth of promise. Right through the door there's a classic feel, a definite island vibe but without the usual kitschy accoutrements, just a few well-placed, well-chosen touches, as if left by a succession of summer visitors. An old camera and super-8 projector adorn a side table.
Old black and white snapshots of someone else's summer vacations hang here and there. A nifty '50's Westinghouse radio sits on a shelf behind the bar waiting to break into Sinatra's "Summer Wind."
The throw-back aluminum bar stools beckon. So does the list of specialty cocktails. The names may look a little familiar if you've cruised the Marina. The Sweet Thing, Adagio and Last Fling are all boats. All of the bars specialty beverages are named for marina occupants and regular, including the bar's best seller (and my new favorite summer beverage), the Dance Aweigh.
Co-owner Jeff Tillapaugh knows both the beverage and the boat well. The boat belongs to his in-laws.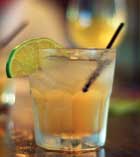 "It's fresh squeezed lime juice, mango rum and ginger ale," he says. "Pretty simple but very good."
"They go down really easy," says wife and co-owner Jill Tillapaugh.
The idea's generated a bit of a buzz around the marina. "We have people vying to get their boats on the list," she says. "So we keep things on a rotating schedule."
"We also scan the names for something to play off of," says Jeff, "The Sweet Thing was a good fit." The namesake drink is made with lemonade and Firefly Sweet Tea Vodka, distilled a short boat ride up the coast on Wadmalaw Island.
The Tillapaughs are still tweaking the fine details of running the bar and restaurant, a little like taking a new boat out on a shakedown cruise. Happy hour is currently geared to "island time" on Dataw and runs 3:30 to 5:30, although that's likely to change. "We do a dollar off draught beer, two dollars off house wine and it's bartender's choice for a three dollar specialty cocktail," says Lauren. "Appetizers and snacks are half price on weekdays."
For some reason I can picture Ernest Hemingway and John Dos Passos holding down a couple of these bar stools working on fish stories and gins after a long day on the water. Captain Fuentes refuels the Papa's prize possession down at the docks. Perhaps another Dance Aweigh while I ponder the makings of a Pilar…
Full drink menus and wine list are available at www.sweetgrassdataw.com