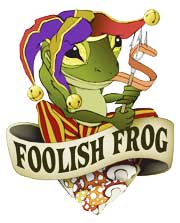 Old friends, secret recipes, good music and a decades long dream make for something special in Frogmore. Story and photos by Mark Shaffer
The Lowdown
Location: 846 Sea Island Parkway, St. Helena Island (on the marsh directly across from What's In Store)
Atmosphere: "Ambient, folky charm" inside and fantastic marsh views from the deck.
Cuisine: Seafood, Ribs & Steaks with an emphasis on fresh and local seasonal seafood and produce.
Alcohol: Full bar, unique and eclectic selection of beer and wine (get details in Life Behind Bars at www.lcweekly.com)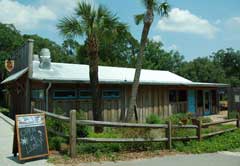 Hours: Lunch served Monday through Saturday, 11:30am – 2:30pm, Dinner served 5pm – 10pm Monday through Saturday
Reservations: Phone 843-838-9300
Etcetera: Co-owner Beekman Webb plays fiddle, banjo, guitar, and mandolin (in the Beekman Webb Band). Tuesday night is Jam Night on the deck.
Website: www.thefoolishfrog.com
"I come in early in the morning and do some prep cooking, and then I get out of the way before the important people get here."
– Foolish Frog Co-owner, Beekman Webb
"I don't really do a lot of stuff unless I have fun at it. Life's too short, man. Have a good time."
– Foolish Frog Chef & Co-owner, Bob Roderer
Gone Green in Frogmore
Beekman Webb and Bob Roderer go back – way back. The two first met 35 years ago on the North Carolina coast when Ohio native Roderer was charter fishing and Webb was restoring old wooden boats (see the accompanying interview). That's almost as long as they've been talking about opening a restaurant together. The two moved around – mostly up and down the coast – but the friendship always endured as did talk of a restaurant. Roderer (as he prefers to be called) opened his own restaurant in Nag's Head, transforming an old grocery into Jockey's Ribs, an institution on the Outer Banks since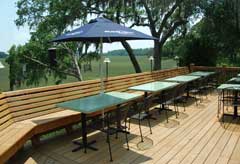 1985. Beek eventually settled back in his native Beaufort and built a reputation as a consummate restorer of old homes and buildings as well as an ace bluegrass musician. It just goes to follow that when their restaurant opportunity finally materialized, another old building – in this case the old Frogmore Post Office – would undergo a similar transformation. Neither man is likely to give up on a building for want of a little wear.
"You know the core of Beek's house comes from an old barn in Englehard, North Carolina," says Roderer. "He took a barn apart, bought an old school bus, put the barn inside the bus and drove down here. Which is really cool."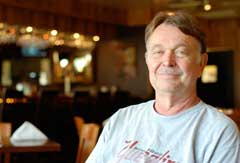 So is the "Gone Green" concept behind the Foolish Frog, which Beek recalls "was a weekend project for about three years until we had so much invested in it we couldn't just do it on the weekends anymore. We had to push it on through." The end result is very much a reflection of the two partners: honest, unpretentious and very laid back. No major trees we cut to clear out the deck area or the parking lot and recycling is evident from the ground up. Literally. In place of blacktop patrons park on crushed shell in the shade and walk past the kitchen herb garden to the front door, a bright blue century-old piece of pine from Beek's warehouse of rescued treasures.
There are more, as Beek points out. "All of this Cyprus (he motions to the deeply grained wood lining the walls) came out of a packing shed in Burton. I've had it about 20 years and moved it three or four times." The tin on the bar front came from the roof of the brick shed behind the historic old house on The Point known to Beaufortonians as The Castle. Evan a recycled piece of tin carries a patina of history. The building it sheltered was used as a morgue during the Civil War. Beek believes the metal itself dates back a bit more than a century when the town was nearly razed by a terrible fire that leapt across the wood-shingled rooftops. In the aftermath tin roofs were a requirement by law.
First Course: Starters
Roderer's in the kitchen, Beek joins us at the Feasters' table to provide color commentary and House Manager Jessica Hill circles us dispensing food, drink and information with a skill level frankly uncommon in these parts. She's concentrating a lot of effort into the bar and the quality of selection. She's proud of the fact that she's managed to wrangle a supply of Anchor Steam's rare Summer Beer. This is practically ambrosia for one of our number who apparently misspent a significant portion of his youth in and around the San Francisco brewery.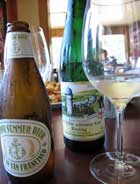 "Nobody has this. Not even on Hilton Head. I had to cajole and threaten and twist to get this. But," she pauses for effect, "I got it." She pours each of us a sample of the coveted brew. "This stands out from the rest of the seasonal crafts as a clean, crisp summer beer. And nothing goes better with it than fried oysters." Of course she's right. In fact she's spot on. The platter of shellfish also come with a plate of fresh calamari, both crusted with matsa flour and deep fried to crispy, golden perfection with Roderer's own aoli on the side. "It's a secret," says Jessica, "but it does have mayo, sour cream, lemon and garlic."
I come from a long line of oyster aficionados. My Dad grew up on a farm in southern Minnesota. He remembers a traveling fishmonger from back east who packed a cold truck with ice and fresh seafood on the coast of Maine and sold it off across the Midwest once a year. My grandfather had a standing order for all the oysters he could carry. It was the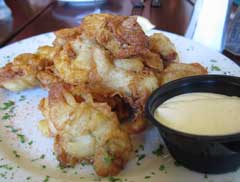 rarest of feasts: an orgy of Atlantic shellfish cracked open and consumed on a midwestern prairie.
These are crisp, the breading is light and the full flavor of the oysters comes through nicely with Roderer's dipping sauce.
A cork pops. Glasses clink. Forks stab eagerly at oysters and crispy squid. Let the feast begin…
Second Course: The Entrees
Pan-seared Cobia Steak in vermouth & beurre blanc sauce with cider glazed carrots & buttermilk mashed potatoes.
Pan-seared New York Strip sliced and served over buttermilk mashed potatoes with red wine, Portobello reduction with fried red onion stack and farm fresh green beans.
Pork Babyback Ribs, grilled and smoked with Roderer's homemade barbecue sauce.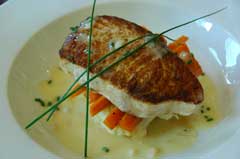 All of the plates are greeted with the appropriate "oohs" and "ahs." It's just not everyday that someone sets down such a gorgeously prepared piece of Cobia on the table. The sliced beef is decadent on a bed of creamy mashed potatoes drizzled liberally with an obscenely rich gravy. The ribs look like paradise on a plate, just don't turn your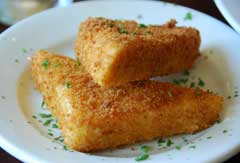 back on them. But the biggest reaction is prompted from several side plates of curious golden wedges: fried grits.
"They're homemade," explains Jessica. "Egg whites are added, they're laid out on a sheet pan, cut into triangles and allowed to set, rolled in panko and deep fried." Shear mad genius. And Roderer's not even southern. He's from Dayton, for cryin' out loud. Grits you can pick up and eat with your fingers – crunchy on the outside, creamy, gritty stone-ground goodness on the inside. "We sell a lot of Fried Grits," Beek observes matter-of-factly.
Jessica's selected a pair of wines to accompany the entrees. The white is a J&H Selbach Riesling which she says "Is not too sweet, very floral – a really refreshing summer wine." The red is a surprising merlot – surprising because it doesn't really behave like a one, or as Roderer calls merlot, "red wine with training wheels."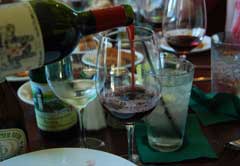 "It's Independent Merlot from Destiny Vineyards in Washington State." Jessica tells us. "They're trying to shake things up with this wine. It's got a very nice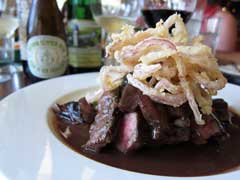 blackberry finish." Indeed it does. This is a wine with a purpose and that purpose is to make you cheat on your cabernet and never once feel guilty about it. Every sip reveals another hint of complex character. It's a perfect choice to take on the richness of the beef dish and still stand up to the ribs' explosion of flavor. The crisp Selbach pairs nicely with both the oysters and the fish. Cobia is one of Roderer's favorite fish (see the accompanying interview) and it's easy to see and taste why. Flash-seared to a golden brown, it's moist, tender on the inside and decidedly un-fishy. This might just be the fish for people who don't like fish.
Table Talk (random comments between bites):
"These ribs are like a dream come true. The sauce is amazing"
"So is the mushroom sauce on the beef – which is fabulous."
"The cobia's local?"
"It sure is."
"Getting cobia around here is a real treat and this is really special."
"It's my new favorite fish."
"This is cobia country but you don't see a lot of restaurants serving it."
"The rub on the ribs makes a big difference. You can really taste it."
"Powerfully good ribs. They're almost too pretty to eat."
"That's not stopping me."
The ribs are a Roderer specialty and the star of the show back in his Nag's Head restaurant. "I've been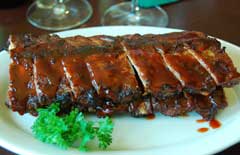 doing that for about 25 years," he says. It all starts with a good slab of babybacks and his secret dry rub. "I usually let that set for a day," he explains, "and then I put 'em in the smoker with apple wood and hickory for about an hour and a half." He prefers not to cook with the smoke to avoid drying the meat out. Instead he finishes them off in a two-step process giving the meat time to rest between the oven and the broiler. The thick, tangy homemade – and, yep, secret – sauce is the finishing touch on the signature dish that's made Jockey's Ribs a prime Outer Banks barbecue destination for a quarter century. "I go through about 175 slabs a day up there," he says. "And we're only open from 5 to 10." The bones on the platter serve as testament to this. Wild dogs leave more scraps.
Third Course: Dessert
Peanut Butter Pie
Key Lime Cheesecake
Chocolate Mousse with Strawberries
Crème Brulee
Along with the love of all things pork and the prose of Jim Harrison, I also share the opinion with Tony Bourdain that desserts are almost always vastly overrated and anti-climatic. Hey, I'm just not that into sweets. So trust
me, dear reader, when I tell you there is nothing overrated or anti-climactic here. All are scratch-made on premises, allegedly under cover of night under armed guard. The Key Lime Cheesecake is beautifully tangy and not overly sweet or heavy. The Chocolate Mousse is rich and creamy and topped with a luscious red local strawberry. The Crème Brulee is simply classic and classy. But if Roderer's Peanut Butter Pie recipe ever falls into the wrong hands it could shift the balance of world order and change the course of history as we know it. And it's not even the most popular.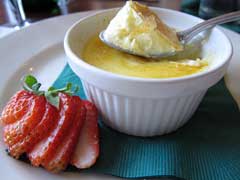 "I ran out of the Pecan Pie," he confesses.
"He makes the best Pecan Pie," says Beek (with more than a hint of conviction). "And it doesn't stay around for long."
"Everything's good, everything's homemade," says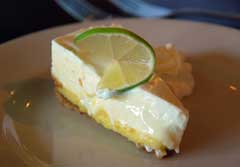 Jessica Hill. She should know. Her Dad and Roderer are childhood friends and Hill made her bones in the restaurant business working summers in Nag's Head. "I grew up with Roderer cooking. You can't go wrong." Just don't ask for the recipes.
Digestifs: Online Extras
Get full menus and directions online at www.thefoolishfrog.com and watch Beek perform "The Foolish Frog." Email Mark Shaffer at backyardtourist@gmail.com