MARK SHAFFER descends on BATEAUX in Port Royal.
Editor's note: each month Lowcountry Weekly invites you to dinner. Or lunch. Maybe even breakfast. This is not a restaurant review. The Big Idea (with apologies to Ernest Hemingway) is to provide you, dear reader, with a vicarious culinary experience, to share something of our rich and diverse food culture and the individuals who labor so hard to put it on the plate. Our "moveable feast" is a sort of loosely organized, roving dinner party seeking out the best eating experiences the Lowcountry has to offer – high end, low end and every end between. We are dedicated, we are hungry and the food is out there.
"Everything in your environment, in your personal life – everything – helps form the type of food you produce."
– Chef Michael Gottlieb, Bateaux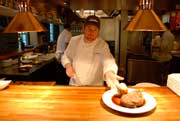 Prologue
With each edition of this ongoing culinary adventure a line from the 1989 film, When Harry Met Sally inevitably springs to mind, "Restaurants are to people in the '80s what theaters were to people in the '60s." Nearly twenty years later that's more than literally true. This is the age of the superstar chef, The Food Network, gastro-tourism and Hell's Kitchen . I wouldn't venture into the latter without full body armor and at least two automatic weapons. I want a backup handy if I have to put Gordon Ramsay down.
In the midst of all this "edi-tainment" (I made that up) where does "fine dining" fit in and how do we define it? In my experience fine dining is an alchemic distillation of food, wine, service, atmosphere and presentation all forming into something extraordinary for which I am willing to pay. For others it's less about food and more about the accoutrements and size of the check. I've dined with people who wouldn't notice a juggling armadillo on their plate as long as the table linens were spotless, the flatware gleaming, the stemware sparkling and a bevy of crisply attired servers hovering about like clairvoyant hummingbirds, anticipating every desire.
Someone once described "fine dining" as a two hour vacation from life. Not bad. We humbly offer up one more definition.
bat·teaux n. Nautical. [Canadian and Louisiana French]
1. South Atlantic & Gulf States. A small, light, flat bottom boat.
2. South Carolina Lowcountry. A restaurant known for exquisite local fare.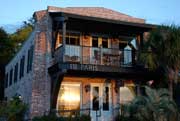 The Lowdown
Location: 610 Paris Avenue, Port Royal SC
Atmosphere: Lowcountry elegance in the historic Customs House
Cuisine: Local ingredient-driven Lowcountry with modern day influences
Alcohol: Full bar, extensive wine list, craft cocktails
Hours: Tuesday through Saturday, 5pm-9:30pm
Reservations: 843-379-0777 and online
Etcetera: Casual dining is in the works for downstairs as well as a year round patio and outdoor kitchen
Website: www.bateauxrestaurant.net

1st Course: Chicken Biscuits in the Customs House
"We have a little treat from the kitchen." Bateaux's new master has a twinkle in his eye. We're early and have the upstairs dining room to ourselves (for now) with a view of Paris Island and the sunset to our right, the wide open kitchen to our left. The chef's treat doesn't appear to be one of the "snacks" we're expecting off the restaurant's new menu. And there's a stick poking out of it. The chef grins a little, "It's a southern fried chicken biscuit with country gravy." The four attendant members of The Moveable Feast pause in examination.
On Tape:
Feaster3: That's a nifty little thing.
Feaster2: I have a theory that anything food-related on a stick –
Feaster4: – is better?
Feaster2: – is better.
Feaster1: Cheers.
(Wine glasses clink together)
When word first circulated that chef and restaurateur, Richard Wilson was selling his beloved Bateaux a chill raced down the collective spine of Lowcountry gastronomes. The award winning restaurant in Port Royal's old Customs House was practically a place of worship transcending limitations, exceeding expectations, bearing the standard as the flagship for the region's locavore movement . This would be a tough act to follow, a daunting task for most.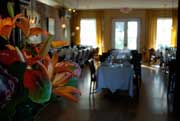 "I didn't really think too much about it, I just did it," says Michael Gottlieb, Bateaux's new Executive Chef. "I thought about what we can do to carry it on, but also give it my own flair."
The Gottlieb flair, if you will, seems to work pretty well. The family's eponymous bakery was a Savannah fixture for more than a century. "It started with a horse and carriage that went around downtown Savannah selling treats," says Michael, "and it grew into a large bakery on 32nd and Bull Street in Savannah. It had a great run…from 1884 to 1994." Michael literally grew up in the kitchen, but knew from an early age that he'd somehow missed out on the baking gene. "I grew up doing it ever since I was five, everything from scooping cookies to learning how to decorate cakes – you name it, I did it," he recalls. "When the time came for me to make a career decision I knew I was more interested in savory foods."
Savory: quite possibly my favorite culinary descriptive. Something tells me the word's in for a workout.
2nd Course: The Snacks
• Asian Spiced Tuna Tartar with Avocado and Sesame Chips
• Braised Pork Belly with Caramel Sauce and Southern Comfort Soaked Apple
• Roasted Maine Lobster with Potato Gnocchi and Lemon Butter
• Pan Fried Chicken Livers with Grit Tots and Sherry Pan Jus
On Tape:
Feaster1: Okay. I'm going to try real hard to stick to my "no carb" thing.
Feaster2: I'm sorry, but you must suspend this vile practice.
(laughter)
The Chef's obsession with presentation is immediately and gloriously apparent. The appetizers – or snacks, as Chef Gottlieb prefers – come out in a procession of style and approach, each dish a meticulously sculpted study in color, texture and flavor. It's practically an act of desecration to apply knife and fork. Then again, that's why we're here.
On Tape:
Feaster1: I'm a big fan of chicken liver and this is a thing of beauty.
Feaster3: That might be the best chicken liver I've ever put in my mouth.
Feaster2: This from a woman who haunts the dreams of poultry.


The table is unanimously awed, not just with the phenomenal presentation, but by the follow through on the promise of flavor. This is what presentation should be: the gastronomic equivalent to erotica. Phrases like "to die for" mingle freely and often with intermittent moans of delight and surprise along with the occasional, reliable "wow." The tuna tartar scooped up on the – here we go – savory sesame chips with the velvety avocado "just melts in your mouth." The delicate coral pink lobster, luxuriates on a rich bed of lemon butter festooned with a bright red antenna spiraled like a tiny unicorn's horn. It's arresting. The pork belly and chicken liver plates are less flamboyant, but still inspire a delicious Pavlovian response. They generate the most buzz around the table. Every bit of it is personally assembled by Michael. He is literally the conduit through which all plates flow. "Not everyone can look at the same plate of food and see the same thing," says Chef Gottlieb. "To the diner it may look nice, no matter what, but to the person who wrote the menu, designed the plate presentations you notice every little thing when it's not done properly. It's part of what the guests are paying for, the way things are supposed to look."
3rd Course: Salad
* A Head of Butter Lettuce Salad Stuffed with Roquefort Dressing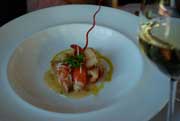 Each individual salad is evocative of some exotic flower, a single, delicate head of lettuce dressed with shaved carrot, egg and crispy bits of bacon. Is it an edible corsage or a lilting interlude before the main event? Or both?
On Tape:
Feaster3: Wow, the dressing's really creamy, not overpowering. Bacon's perfect.
Feaster1: This lettuce tastes like it just came out of the ground.
Feaster4: So fresh. Everything works so well together.
Feaster1: Very refreshing. This is balanced very nicely.
The freshness is on the palate, homage to the chef's other obsession. "We definitely search out the best quality ingredients we can get our hands on," he says. "I just try to take good, quality ingredients treat them really well and try not to dress them up too much, let the natural flavors show through."

Main Courses:
• Long Island Peking Duck Confit with Roasted Winter Squash
• Seared Ahi Tuna with Pan Seared Bok Choy and Sesame Syrup
• Grilled Bone-in Rib Eye with Double Baked Potato and Sugar Snaps
• Jumbo Lump Crab and Spiced Cream Cheese Encrusted Grouper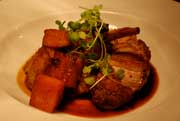 Anthony, our excellent server, sets the table with steak knives – knives with a serious heft. This can mean only one thing. Meat's coming. "Must be a lot of meat," someone deadpans. The Rib Eye will later be referred to with reverence as "The Flintstone Cut."
There are moments during these gatherings when I'm pretty sure a door is going to smash in and a bunch of big stone-faced guys in black suits sporting ear pieces, mirrored shades and Uzis will surround the table screaming "Gastro Squad! Everybody freeze!" And we're all trundled off to the culinary equivalent of Guantanamo Bay to discover the true meaning of Soylent Green . This is one of those moments.
On Tape:
Feaster1: Oh, man, that duck is fabulous. Unlike a lot of duck that's cooked with a sweet sauce, this is very savory.
Feaster2: It's extremely savory and I'm not usually a fan of duck.
Feaster1: This rib eye is wonderful. It's fork tender. And these peas – amazingly sweet and fresh.
Feaster2: That double stuffed potato looks pretty good.
Feaster1: It's phenomenal.
Again the presentation is stunning, each plate deserving of its own close-up, showcasing the Chef's simple yet elegant approach to food. The steak is a clear favorite and perhaps the least complex. "It's very simple," explains the Chef, "it's just salted and peppered and grilled over a wood fire served on a natural veal reduction." Of course, it takes four days to get that veal reduction. The consensus opinion at the table votes "The Flintstone Cut" into the Steak Hall of Fame. We're pretty sure it's in Omaha.

The grouper and crab dish is rich, deep and layered – the most complex of the four. Each bite reveals something new. Surprisingly, none of the flavors overwhelm the others. The Ahi rivals anything similar I've had on either coast in places known for such things, flash seared on the outside, a beautiful ruby red on the inside. The flavor is as luxurious as the color. The vegetables accompanying each dish are all standouts, perfectly chosen not as mere garnish, but as working members of the ensemble. The slight bitterness of the seared bok choy harmonizes with the buttery texture of the tuna. The golden roasted butternut and acorn squash match all of the duck's savory notes.
On Tape:
Feaster2: The thing we're seeing in so many of these dishes is a lot of different flavors at work that really, really compliment each other and it's not being over-thought. It's not pretentious, it's just…tasty.
Feaster1: So many high-end restaurants tend to over theorize.
Feaster4: Too much fusion happening. They miss something.
Feaster1: Less is more.


The same holds for Chef Gottlieb's food philosophy. "Make it taste good," he says. "I want you to want everything on the menu." This is a philosophy I can get behind.
Dessert
• Coeur a La Crème with Seasonal Fruit
• Traditional Chocolate Soufflé
• Assorted Gottlieb's Doughnuts with a Vanilla Bean Milkshake
• Sampler of Gottlieb's Cakes: Carrot, Chocolate Mousse & Red Velvet
So how does a chef who hates to bake approach a desert menu loaded with goodies from the legendary family bakery? He hires a pastry chef – in this case, Brett Gauthier. "Working with Brett," says Michael, "I'm able to throw an idea at him and say 'run with this and come back with a couple [variations]' and that works out great for me. I don't have to make it, but I get the benefits of tasting it and having the creative edge on it."
The desserts suddenly transform a table of reasonably coherent adults into four year olds at a birthday party. The air is thick with spoons and forks. The chocolate soufflé is an airy, elegant delight. We take Chef's advice and drop the scoop of vanilla bean ice cream into the center. The bite-sized doughnuts disappear in short order along with a fun, petite milkshake. The carrot cake aficionado among us proclaims this "the best I've ever had." It's clear to me that in the wrong hands the cognac-laced chocolate mousse cheese cake might mean global domination. Each mouthful of the mascarpone coeur a la crème is like eating a cloud, not too sweet, not too rich, somewhere in between.
As another edition of The Moveable Feast comes to a sweet conclusion I find myself thinking that Bateaux is in fine trim under Chef Gottlieb. Now, I wonder if I can talk him into an order of chicken livers to go?
Visit The Chef's Table to read more about Chef Gottlieb and his plans for Bateaux.