How many times had we driven past the big WINE banner on Route 170 heading south near the turnoff for Callawassie and asked, "Why haven't we stopped in there yet?" Honestly, too many to count. But it wasn't until our friends Gene Rugala and Edie Smith bid on and won a Tacarón wine tasting at a fundraiser that we were finally (and thankfully) exposed to this boutique wine shop that has been hiding under our noses since we arrived in Beaufort.
Selling unique wines from South America, Europe, New Zealand, Australia, South Africa, the United States (although you won't find many California wines—more on that later), freshly roasted coffee from the Dominican Republic, and their own cigars that they manufacture in the Dominican, as well, Tacarón combines many passions of owners Juan Carlos and Isabella Jiménez.
The story of how Tacarón came about is interesting in its own right. Juan Carlos came to Miami as a seven-year-old from
Cuba in 1960 as part of Operation Peter Pan, a clandestine exodus of thousands of Cuban minors during the rise of Castro and the Communist party. It would be eight years before Juan Carlos and his younger sister would see their parents again and relocate from Miami to Puerto Rico.
After attending the University of Puerto Rico, Juan Carlos transferred to the University of Massachusetts, where he earned his bachelor's, master's, and doctoral degrees in marine biology, along with bachelor's and master's degrees in mathematics. After a career studying and researching whales and manatees and then teaching collegiate mathematics, he was ready for a change.
Having been exposed to the import/export business, along with the hotel and restaurant industry, through his father, Juan Carlos had been introduced to the finer things in life. Including good wine—which he started drinking at the tender age of five, strong coffee, and smooth cigars (he tried his first puff at five as well). So, a retail shop made sense. The question was, "Where?"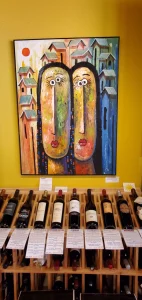 After finishing his teaching career at Arizona State University, Juan Carlos found himself traveling to and from the Dominican Republic seven or eight times per year to tend to the cigar factory that he and his Cuban partner had started in 1997 (more about that later as well). From Arizona, it was an all-day affair to get there. So, Juan Carlos and Isabella decided that they wanted to be closer to the Dominican for easier travel. They thus embarked on a 30-day road trip and planned to stop when they found a place they fell in love with. Fortunately for us, they found the Beaufort area and moved here in 2012.
With initial plans to open a store in downtown Beaufort, they couldn't seem to find the right space. However, they found a perfect storefront with plenty of parking in northern Okatie and opened in December 2012. Drawing customers from Beaufort, Bluffton, Hilton Head, Sun City and Margaritaville, as well as tourists from further afield that are driving from the Eastern seaboard to the Lowcountry or Florida, Tacarón has been a success story since the beginning.
"We've never advertised. It's all been word of mouth," says Juan Carlos. "In addition to the big wine sign along the highway, my car is the other 'We Are Open' sign," referring to his red BMW convertible with the license plate CIGARRR. "If my clients don't see that car, they don't stop."
Once inside the intimate shop, we were thrilled to see an impressive selection of reds, whites, rosés, sparkling, ports and more. When we asked Juan Carlos about his wine philosophy, he said, "I have many. Every wine has a story to tell."
From the beginning, the Jiménezes decided they weren't going to carry California wines because they find them to be over-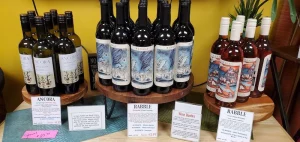 hyped, over-priced, over-oaked, and available everywhere. Although they have relaxed their opinion on that, and you'll find some delicious wines from Paso
Robles (our fave California region), the majority of their wines are from South America (Juan Carlos is particularly fond of wines from Argentina, Chile and Uruguay); Europe (French, Italian, Spanish, Portuguese and a burgeoning Eastern European selection from Hungary, Bulgaria and Slovenia); New Zealand; Australia; South Africa (where Juan Carlos thinks they are making some of the best wines in the world currently); and the United States, including pinot noir and pinot gris wine from Oregon, very clean wines from Washington State and even some from New York's Finger Lakes.
Tacarón is also known for the variety of grapes that they carry. They love to introduce people to ones they might not be as familiar with like tannat from Uruguay, bobal from Spain, and carménère from Chile. According to Juan Carlos, they typically sell 60 to 65 percent red wines and 35 to 40 percent white wines.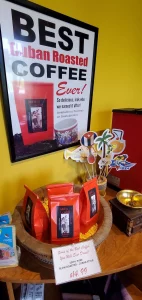 Being big wine drinkers and buyers ourselves, we have found the prices at Tacarón very reasonable. Especially for the vast variety of wines that you won't find anywhere else in northern Beaufort County. They don't put any wines on the shelf that they haven't sampled themselves, so we really trust their curation. Juan Carlos and his friendly and knowledgeable staff obviously enjoy what they do and that comes across when you chat with them about the wines or ask them what to pair with a certain dish or theme.
Juan Carlos's second love—actually his third if you count Isabella and wine—is cigars. While he was working in Massachusetts, he met a fellow Cuban in the Dominican whose family had been producing cigars for more than a century in Cuba. The two of them and their wives partnered together and started a new line of Cuban seed cigars called Juanito's Premium Cigarros, the name being an homage to Juan Carlos's father, Juanito. With more than 100 rollers and customers around the world, the two couples have created somewhat of a boutique cigar empire producing private label stogies for casinos, golf courses, the White House Historical Association, Mount Vernon, the United States Navy, Lexus, Harley Davidson and more, along with a robust mail-order business. They also offer their cigars in the shop at wholesale prices to
the public.
In addition to their expansive wine and cigar selection, they also sell Juanito's Conchita freshly roasted coffee, thanks to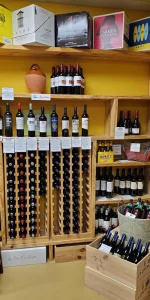 their love of a good cup of brew. Roasted by a Dominican coffee maker specifically for Tacarón and flown straight to the store, the über-fresh café robusto features a photo of his parents—Juanito and Conchita—on the label.
And if that wasn't enough, Juan Carlos and Isabella created a non-profit organization to help provide clothing, health care, medicines and medical equipment to some of the poorest communities in the Dominican. Contributing a percentage of proceeds from wine tastings and every bottle of wine sold at Tacarón, they've also helped the town of Oviedo, near the Haitian border, excavate water wells and bring clean running water to the town for the first time. They are also avid supporters of several organizations and charities in the Lowcountry.
Visiting Tacarón is like stepping into a shop in the Caribbean. The walls are filled with vibrant and colorful works of art, many from the Dominican Republic, as well as the work of Cuban artist Alberto Godoy, whose artwork is reminiscent of acclaimed Columbian artist Fernando Botero. The walls are painted rich colors and the smells of cigars and coffee intermingle for an authentic experience.
Tacarón offers complimentary monthly wine tastings, often hosting winemakers and importers as guests. However, reservations are a must, as they always fill to capacity. They also offer a very reasonable Wine Club—which we joined on our first visit to the store, natch. The popular club features two bottles of select premium wines every month, plus tasting notes, pairing recommendations, and discounts on bottles and cases throughout the store.
They are also available for private tasting events that can be held at the shop or at your home, business or private venue to introduce Tacarón and their delicious wines and more to your friends (thanks again to Gene and Edie!). And, of course, there is the retail shop. But be forewarned, Juan Carlos keeps Cuban hours. According to their website and an irreverent sign on their door: Tacarón is open Friday and Saturday (and most Thursday afternoons) noonish to 4pm. Or anytime you spot the red convertible out front with the license plate 'CIGARRR,' you are always welcome to stop in!
Tacarón
6983 North Okatie Hwy 170, Suites H&K
Ridgeland, SC 29936
(843) 812-9938
Open Friday and Saturday (and most Thursday afternoons)
Noonish to 4pm.