We Southerners revere our mothers. Since 1912, the second Sunday in May has been set aside to commemorate motherhood. The mid-spring celebration comes when days are long, gardens are lush with flowers and the promise of summer is in the air. This meal is for the very special women in our lives, created from the heart to be served with love.Cooler morning temperatures have been an inspiration for al fresco dining. These recipes are perfect for a Mother's Day brunch on the porch. Jumbo lump crab meat, fresh tomatoes and crispy bacon give a new twist to an old favorite. Your mom will love the zing of freshly squeezed lemon in the hollandaise sauce for the Crab Benedict. Take advantage of the ripe spring berries to make Berry Parfaits. Granola offers an added crunch. If your mom is a coffee drinker, Plantation Coffee is wonderful any time of the year. All of these dishes are easy to prepare so that you'll be able to spend some quality time with your Mama on her special day. Happy Mother's Day! (Thank you to my friends who continue to help me Celebrate Everything! Photography by Susan DeLoach. Tablescape by Plum Productions.)
Crab Benedict
This easy step-by-step recipe yields a creamy hollandaise sauce with a bright lemony zing. Put the sauce to good use over scrumptious layers of toasted English muffins, tomatoes, lump crab meat, bacon and poached eggs for a new twist on a classic brunch favorite.
4 English muffins, split, lightly buttered and toasted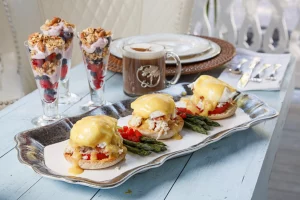 1 large tomato, cut into 8 slices
1 pound lump crab meat, picked free of shells
8 slices bacon, cooked
Diced tomato, to garnish
For the hollandaise sauce:
4 egg yolks
1 tablespoon freshly squeezed lemon juice|
½ cup butter, melted
Pinch cayenne
Pinch salt
For the poached eggs:
6 cups water
2 tablespoons white vinegar
2 teaspoons salt
8 large eggs
To make the hollandaise sauce: Vigorously whisk the egg yolks and lemon juice together in a stainless steel bowl until the mixture is thickened and doubled in volume. Place the bowl over simmering water (or in a double boiler); continue to whisk rapidly. (Be careful not to let the eggs get too hot or they will scramble.) Slowly drizzle in the melted butter and continue to whisk until the sauce is thickened and doubled in volume. Remove from heat, whisk in cayenne and salt. Cover and place in a warm spot until ready to serve. If the sauce gets too thick, whisk in a few drops of warm water before serving. To poach the eggs: Bring the water, vinegar and salt to a low simmer in a medium saucepan. Break an egg into a small ramekin and gently slide the egg into the water. Break another egg in the same ramekin and while the water returns to a simmer, gently slide the second egg into the water, Repeat. Let eggs simmer until they are set; about 3 to 5 minutes. Remove with a slotted spoon onto a paper towel-lined plate. To plate: Top a toasted English muffin half with a slice of tomato. Add about 1/3 cup lump crab meat and a piece of bacon. Top with a poached egg. Spoon the hollandaise over the egg and garnish with diced tomatoes. Serve immediately. Serves 4.
Berry Parfaits
Greek yogurt is creamier than regular yogurt. It's high in protein and low in carbohydrates.
1 cup fresh raspberries

1 cup fresh blackberries
1 cup fresh blueberries
2 cups fresh strawberries, sliced
1 (16-ounce) container Greek vanilla-flavored yogurt
2 cups granola with nuts
Gently combine berries in a bowl. In parfait glasses, layer 2 tablespoons fruit mixture, 2 tablespoons yogurt and 2 tablespoons granola. Repeat; ending with granola on top. Serves 6.
Plantation Coffee
Brandy and Kahlua make this a fine morning coffee cocktail to wake you up!
6 cups hot coffee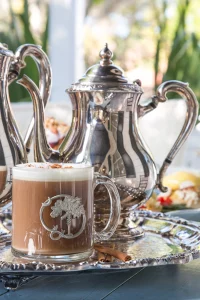 ¾ cup Kahlua
½ cup brandy
Whipped cream
Cinnamon, ground
Blend the coffee and liqueurs together and pour into 8 mugs. Top with whipped cream and a sprinkle of cinnamon. Serves 6.
The writer owns Catering by Debbi Covington and is the author of three cookbooks, Celebrate Beaufort, Celebrate Everything! and Dining Under the Carolina Moon. For more great recipes and to view her cooking demonstrations, visit and subscribe to Debbi's YouTube channel. Debbi's website address is www.cateringbydebbicovington.com. She may be reached at 843-525-0350 or by email at dbc@cateringbydebbicovington.com.