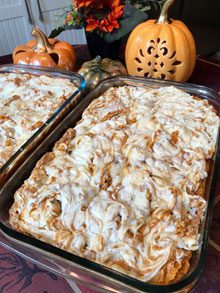 It's always a happy time when the pumpkin patch comes to Carteret Street United Methodist Church. Those beautiful pumpkins are the first sign of fall in Beaufort. Shortly after the pumpkins arrive, the leaves begin to change color, cooler weather starts coming in and we get to start nesting for the upcoming holidays.
This is the time of year to plan for Thanksgiving, Christmas and New Year's dinners and parties. Don't you just love the smell of your home when you're baking something spiced with nutmeg, cloves and ginger? Pumpkin dishes are homey and comforting. They're just what's needed after a long and hot Lowcountry summer. For the next two months, I'll be dishing out all kinds of holiday recipes and ideas. Be sure to check out the LCW Holiday Guide in this issue and the next three for even more recipes. Happy Holidays!
Pumpkin Lasagna
Use no-boil lasagna noodles (I used Barilla) which will soak up moisture from the pumpkin and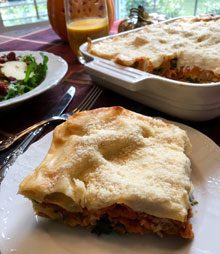 Bechamel sauce. You may have some sauce left over. If you do, you can serve it on the side.
20 ounces mild Italian sausage, casings removed
8 tablespoons butter, divided
2 cloves garlic, minced
1 (6-ounce) package baby spinach
1¾ teaspoons salt, divided
6 tablespoons all-purpose flour
6 cups whole milk, heated in microwave
½ teaspoon dry mustard
½ teaspoon ground nutmeg, divided
2¼ cups grated Parmesan cheese, divided
½ teaspoon black pepper
1 (29-ounce) can pumpkin
1 (9-ounce) package no-boil lasagna noodles
Cook sausage in a large skillet over medium-high heat, 4 to 5 minutes or until meat crumbles and is no longer pink. Remove sausage to a paper towel-lined plate. Melt 2 tablespoons of butter in a large saucepan over medium heat. Stir in garlic, spinach and ¼ teaspoon salt. Cook for about 1 minute or until spinach is just wilted. Remove spinach and set aside. In the same saucepan, melt remaining 6 tablespoons butter. Whisk in 6 tablespoons all-purpose flour. Cook, stirring constantly for 1 minute. Gradually whisk in warm milk, whisking often for 15 to 18 minutes or until mixture thickens and comes to a low boil. Remove from heat and whisk in ½ teaspoon dry mustard, ¼ teaspoon ground nutmeg, 1 cup Parmesan cheese and 1 teaspoon salt. In a large bowl, mix together pumpkin with 1 cup Parmesan cheese, ¼ teaspoon ground nutmeg, ½ teaspoon salt and ½ teaspoon black pepper. Add cooked Italian sausage and cooked spinach. Mix well to combine. Preheat oven to 350 degrees. Lightly grease a 9×13-inch with cooking spray. Spread a thin layer of the sauce in the bottom of the dish. Place 1 layer of lasagna noodles on top, covering the bottom completely. (Break noodles and use pieces to fill in any gaps.) Spread ½ of pumpkin-sausage mixture over the noodles. Add another layer of noodles. Add another layer of sauce. Spread remaining pumpkin-sausage mixture over the top. Top with remaining pasta. Pour remaining sauce over the top and spread to cover the noodles. Bake, uncovered, in preheated oven for 50 to 60 minutes or until top is golden brown. Sprinkle with remaining ¼ cup Parmesan cheese. Let stand 15 minutes before serving. Serves 6 to 8.
Autumn Salad with Pumpkin Vinaigrette
I didn't want to waste ¾ of a can of pumpkin, so I used pumpkin baby food for this recipe. One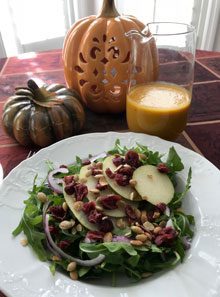 container is exactly ½ cup and it's a little thinner in consistency than canned pumpkin. It's perfect for a vinaigrette. If you use canned pumpkin, you will need to add a couple of tablespoons of water to thin out the vinaigrette. Pepitas are pumpkin seeds that have been shelled, roasted and salted. Look for them in the nut section of your local grocery store.
For the vinaigrette:
½ cup pumpkin
¼ cup cider vinegar
¼ cup vegetable oil
1 clove garlic, minced
1 teaspoon fresh minced ginger
1 tablespoon honey
Salt and pepper, to taste
2 to 3 tablespoons water, if needed
For the salad:
Arugula
Boch pears, sliced with skin on
Red onion, thinly sliced
Dried cranberries
Pepitas
Place all vinaigrette ingredients, except water, in a blender. Blend until combined. Add water if needed, to thin the vinaigrette to desired consistency. Makes 1 cup. Place salad ingredients on a large platter. Drizzle with prepared vinaigrette.
Pumpkin Earthquake Cake (top photo)
I tested this sweet dessert on my AAUW (American Association of University Women) ladies earlier this month at their dinner meeting. It was met with much approval and permission to use their endorsement. Like I mentioned earlier, this dessert is very rich and very sweet. I suggest cutting the servings into 20 pieces instead of 12.

4 tablespoons butter, melted
1 (8-ounce) package cream cheese, softened
1 cups confectioner's sugar
1 teaspoon vanilla extract
1 cup butterscotch chips
1 (15.25-ounce) box yellow cake mix
1 (15-ounce) can pumpkin
1 teaspoon pumpkin pie spice
Preheat oven to 350 degrees. Grease a 9×13-inch baking dish with cooking spray. Place melted butter in a mixing bowl. Add cream cheese, confectioner's sugar and vanilla extract. Mix well to combine. Stir in butterscotch chips; set aside. In another mixing bowl, mix cake mix with pumpkin and pumpkin pie spice. Spread pumpkin-cake mixture into prepared pan. Spoon dollops of the cream cheese mixture onto the batter. Use a butter knife to cut and swirl the cream cheese into the batter. Bake, uncovered, for 40 to 45 minutes. Cool completely on a cake rack. Refrigerate any unused portions. Serves 12.
The writer owns Catering by Debbi Covington and is the author of three cookbooks, Celebrate Beaufort, Celebrate Everything! and Dining Under the Carolina Moon. Debbi's website address is www.cateringbydebbicovington.com. She may be reached at 525-0350 or by email at dbc@cateringbydebbicovington.com.