It's gotten almost comical. Friends who come to our house for dinner or a party know not to dare eat anything until I've taken a photograph. I even carry my cell phone in the pocket of my chef's coat at catering events to snap quick pictures of the food we're serving before it's scarfed up by hungry party guests. I believe that you eat with your eyes before you taste with your mouth. It's so much fun to try new recipes and test new ideas. It's just hard to keep up with them all. A photo food diary is a great way to categorize recipes and remember menus. It's too easy to get in a rut and keep repeating the same dishes over and over again. I love it when I come across a recipe or photo of a tasty dish that I had forgotten about. Which brings me back to this week's recipes – I had almost forgotten about these three recipes until I looked back at some of my old blogs. Not only are they quick and easy, they're also delicious and perfect for a weeknight dinner. For more delicious menu ideas (with photos!) please visit the recipe page on my website at www.cateringbydebbicovington.com. Happy Cooking!
Queso Fundito with Chorizo
Delicious and EASY!
16 ounces Mexican melting cheese (or Velveeta queso blanco)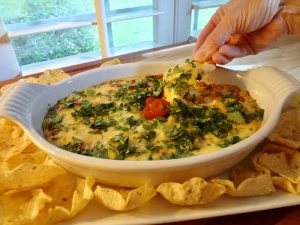 1 (4-ounce) can diced green chiles or diced jalapenos
6 ounces Spanish chorizo links, casings removed, diced into ½ -inch pieces
½ cup chopped fresh cilantro, loosely packed
Diced tomatoes
Tortilla chips
Place cheese in a medium saucepan over medium-low heat and stir until just melted; remove from heat. Add chiles and chorizo; stir to combine well. Pour cheese mixture into a prepared casserole dish and bake in a preheated 350 degree oven for 15 minutes or until queso is bubbly. Garnish with chopped cilantro and diced tomatoes. Serve with tortilla chips. Serves 6 to 8.
Taco Pie
Great for a weeknight dinner!
1 deep-dish frozen pie crust, thawed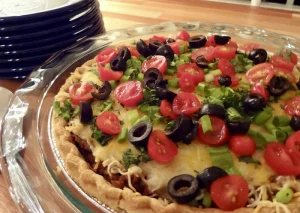 ½ cup diced green pepper
½ cup diced onion
1 pound ground sirloin (or ground beef)
1 package taco seasoning mix
1 (16-ounce) can fat-free refried beans
2 cups shredded cheddar cheese (or mexican blend)
Diced tomato
Chopped green onion
Sliced black olives
Chopped fresh cilantro
Sour cream
Prick bottom and sides of pie crust with the tines of a fork. Bake in a preheated 350 degree oven until lightly browned; remove from oven until ready to use. In a large saute pan, cook green pepper, onion and ground sirloin together until meat is browned. Remove from grease and drain on paper towels. In a bowl, combine meat mixture with refried beans and taco seasoning. Spoon mixture into pre-baked pie crust. Top with shredded cheese. Bake in a preheated 350 degree oven until cheese is melted and taco pie is heated through, 35 to 40 minutes. Remove from oven and garnish with tomato, green onion, black olives and cilantro. Serve with sour cream on the side. Serves 6 to 8.
Pink Grapefruit Margaritas
Perfect for a summer holiday!
2 cups ruby red grapefruit juice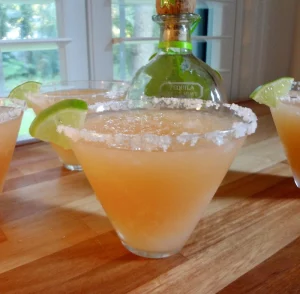 ½ cup fresh lime juice
½ cup triple sec
1 cup silver tequila
4 cups crushed ice
Kosher salt
Lime wedges
In a pitcher, combine grapefruit juice with lime juice, triple sec and tequila. Mix well. Serve over crushed ice. Salt rims of glasses and garnish with fresh lime wedges. Serves 4.
The writer owns Catering by Debbi Covington and is the author of three cookbooks, Celebrate Beaufort, Celebrate Everything! and Dining Under the Carolina Moon. For more great recipes and to view her cooking demonstrations, visit and subscribe to Debbi's YouTube channel. Debbi's website address is www.cateringbydebbicovington.com. She may be reached at 843-525-0350 or by email at dbc@cateringbydebbicovington.com.