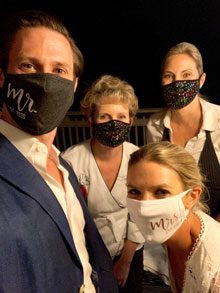 Love does conquer everything! It all began with a phone call from Polly, the mother of the bride. "My daughter and her fiance had booked their wedding and reception on Fripp Island. And now, coronavirus has made it necessary for them to change their plans and reschedule their wedding reception to October of 2021.
They don't want to wait another year to be married and are going to elope on Fripp Island on October 1st. Would you be available to cater a private dinner for the two of them on their wedding night?"
Are you kidding? After a 6 month pandemic-enforced hiatus from catering, all I could think was "Yes! That sounds like fun." And it was. Chelsea and Jordan were such a happy and sweet bride and groom. They were obviously thrilled to be married and their delight with every part of the evening made the event a one of a kind occasion.  It was a joy to cater their elopement supper. Aided by my trusty sidekick, Tami Taylor, we served the darling couple a socially distanced three-course dinner overlooking the beach on the balcony of their Fripp Island condominium. Bloom Custom Cakes provided a mini wedding cake, complete with a top layer for freezing until their first anniversary, for dessert. In this issue, I'm sharing recipes from Jordan and Chelsea's special evening and sending them both love and best wishes from their wedding caterer. Congratulations, Mr. and Mrs. Harris!
p.s. Just before sending my column to press, Chelsea and Jordan posted the following review on my Facebook page: "We had such a treat on our wedding night – Debbi cooked us an incredible meal (our mouths water just thinking about it) that we will never forget. We eloped on the beach and when we came back to our condo, Debbi and Tami had set up a beautiful table for us with candles, place settings, plateware, etc. We worked with Debbi ahead of time to come up with the menu and she even threw in some surprise treats! The food was absolutely fantastic – we had a pimento cheese appetizer, a fresh salad, swiss and chive cornbread with homemade herbed butter, bacon wrapped scallops, crab imperial, roasted veggies and sweet potatoes. Debbi and Tami took great care of us and the meal was unrushed which was so wonderful. We were thrilled to find we had leftovers, which they packaged up perfectly for us to enjoy the next evening. 
It meant a lot to us to be surrounded with kind, caring people on our wedding day and we loved working with Debbi. We highly recommend booking her for any event you have. She will make it special and the food will be incredible, tasty and memorable!"
I told you they were sweeties. Thanks, y'all. 

Southern-Style Pimento Cheese
16 ounces sharp cheddar cheese, grated
½ to ¾ cup mayonnaise
1 (8-ounce) jar chopped pimentos, drained
¼ teaspoon cayenne pepper
Dash tabasco sauce
Combine all ingredients in a medium bowl. Stir with a fork until thoroughly mixed. Chill for at least 2 hours before serving. Serves 4.

Mixed Greens Salad with Fresh Berries
For the vinaigrette:
2 tablespoons red wine vinegar
1 tablespoon freshly squeezed lime juice
2 tablespoons olive oil
1 teaspoon honey
Salt and pepper, to taste
For the salad:
4 cups mixed salad greens
½ cup fresh blueberries
½ cup fresh raspberries
½ cup chopped almonds (toasted or sweetened)
In a small bowl, whisk together vinaigrette ingredients. Place mixed greens in a bowl. Toss with vinaigrette. Place salad greens on individual plates.Top with berries. Garnish with almonds.  Serves 4.

Lady's Island Crab Imperial
2 tablespoons butter
¼ cup chopped green pepper
¼ cup chopped celery
¼ cup chopped onion
1 (2-ounce) jar diced pimentos, drained
1 tablespoon chopped fresh Italian parsley
2 tablespoons mayonnaise
½ teaspoon Dijon mustard
1 teaspoon Old Bay seasoning 
Dash cayenne pepper
1 egg
1 pound fresh claw crab meat
Melt butter in a large skillet; saute green pepper, celery, onion and pimento until tender. Remove from heat. Stir in parsley, mayonnaise, Dijon mustard, Old Bay seasoning, cayenne pepper, egg and mayonnaise. Gently stir in fresh claw crab meat.  Spoon into six lightly greased ramekins. Bake in a preheated 350 degree oven for 15 to 20 minutes or until crab is warmed through. Serves 6.

Bacon-Wrapped Scallops with Lowcountry Cocktail Sauce
½ cup ketchup
3 tablespoons prepared horseradish
1 teaspoon Worcestershire sauce
12 slices bacon 
24 sea scallops
Freshly ground black pepper 
Combine ketchup, horseradish and Worcestershire sauce in a small bowl; set aside. Preheat oven to 350 degrees. Slice bacon in half lengthwise to make 24 pieces. Wrap each scallop in a piece of bacon. Place wrapped scallops on a lightly greased baking sheet. Sprinkle with black pepper; to taste. Bake for 15 minutes or until scallop is cooked through. Serve hot with cocktail sauce on the side.  Serves 4 to 6.

Roasted Vegetables
1 bunch asparagus spears, trimmed
8 ounces green beans, trimmed
8 ounces whole mushrooms
24 baby carrots
2 medium zucchini, sliced into rounds
2 medium yellow squash, sliced into rounds
2 red onions, quartered
Olive oil
Coarse sea salt
Freshly ground black pepper 
Preheat oven to 425 degrees. Place prepared vegetables on a baking sheet. Drizzle with olive oil; season with salt and pepper. Roast vegetables until crisp-tender, about 15 minutes. Serve warm or at room temperature. Serves 6 to 8.
The writer owns Catering by Debbi Covington and is the author of three cookbooks, Celebrate Beaufort, Celebrate Everything! and Dining Under the Carolina Moon. Debbi's website address is www.cateringbydebbicovington.com. She may be reached at 525-0350 or by email at dbc@cateringbydebbicovington.com.