Sam: "What'll you have Normie?"
Norm: "Well, I'm in a gambling mood Sammy. I'll take a glass of whatever comes out of that tap."
Sam: "Looks like beer, Norm."
Norm: "Call me Mister Lucky."
– from Cheers
Rosie O'Grady's
Boundary Street, in Beaufort Town Center
843.379.7676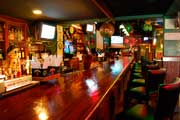 Frank Zappa once said you can't call yourself a country unless you have your own beer. Some nuclear weapons are good, too, but you really, really need a beer. I have a similar, yet more compact theory: no town is truly complete without a proper Irish pub. Michael Pressley of Rosie O'Grady's ("Mikey" to his regulars) is of a similar mind. "After 28 years in the hotel business I bought this [Rosie's] so I could slow down a little bit," he says with a sarcastic grin. "I'm here seven days a week." But there are perks. "This isn't anything fancy," he continues. "I did fancy for years and I always wore a suit or tux." There's that grin again. "I haven't had a suit on in three years," he says.
I know where you're coming from, Mike. He's sporting a black T-shirt with the legend "…even if it's wrong…" across the back. I'm not sure what it means, but I want one.
The Lowdown
Rosie's is the kind of place you stumble upon in Boston's Back Bay where you're on a first name basis with the bartender by the second pint and as long as you're not wearing a Yankees cap everything's cool. Pass the pretzels. There's a classic neighborhood vibe to the place. It's appropriately dark – but not dreary – with a fine and varied collection of neon and stuff on the walls, on the ceiling, behind the bar. "Crap," Mike elaborates, "a good bar's got to have crap." Amen. I'm particularly fond of the framed velvet Elvis next to the cash register as well as the mounted sailfish above it.
New meaning for "washed up"
Pressley spent a good chunk of his childhood in the wilds of Hunting Island where his dad was Park Superintendent back in the 1960s. Eventually, the family moved up to Edisto where a young Mike found Fate on the beach. "A guitar washed up when I was a kid, I refurbished it and learned how to play," Mike explains. I can see where this is headed. "I started playing in a bar and then I was bartending and eventually they asked me to manage the place." Thirty years later after a gypsy-like tour of duty throughout the Southeast in places like Doral Country Club and the Sheraton Music City, he and wife Leslie have put down roots.
"I've done sous chef, executive chef, food and beverage director – everything in hotels," says Mike. Now he's putting that experience to use in Rosie's full service kitchen where he cooks at least four days a week and makes all of his own sauces from scratch. The half -pound house burger (the Samuel L. Jackson Chili Cheeseburger from Hell!) comes loaded with Mike's lethal habanero sauce on the side. The faint of heart are urged to leave it there. I'm still recuperating from the hot wings. "You've gotta watch that third wing," Mike warns. "The third one always gets you." These things are more incendiary than Sarah Palin at a PETA rally – but in a good way. In fact, the menu is full of surprise and choice. The fish in the Rockville Fish & Chips Basket is grouper and comes with Mike's own pepper cream and creole tarter sauce. The Sweet Chile Pickled Shrimp are plump, succulent and "saturated with delicate flavor," according to my wife who also notices that Arthur – who's tending bar – has "an infectious smile." Hmmmm.
"We've got everything from a great ribeye steak to a pickled egg," says Mike. He's not kidding.
Hot stuff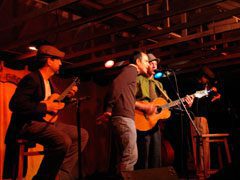 Rosie's has a few other things going for it. The eclectic collection of video games is old school and there's always action on the pool tables. There's also live entertainment and this summer's schedule includes three appearances by one of the hottest bands on the club circuit. The Asheville-based Space Heaters fit the throwback side of Rosie's. This is foot tapping, feel-good, speakeasy, hot club jazz in the style of Django Reinhardt and Bob Wills. The Space Heaters make their Beaufort debut June 13th with two shows. Catch the 7 p.m. show a few doors down at ARTworks and show your ticket stub to get in to what's sure to be a slightly more raucus 10 p.m. gig at Rosie's at a discount. Check the band out at www.spaceheaterswing.com .

When the weather's nice, the bar's crowded or just for the hell of it, Rosie's expands out back under the big top – a fenced-in rear courtyard beneath a huge tent. Mike's converted an old concessions trailer (funnel cakes) into a full bar. Oyster roasts go on year round and the mollusks come from local waters and all over the country. Most importantly, though, there's cold beer. I'm finishing off a Murphy's as Mike puts Rosie's in perspective. "You know this is a fun place," he says looking around with evident pride, "In a lot of ways it's kind of like a family. I like to call it the coolest little bar in town." No argument here, just pour me another stout.
Etcetera:
Full bar with seasonal beer taps. Daily and weekly drink and dinner specials. Check the Club Scene section for live entertainment and special events.
Email Mark Shaffer at backyardtourist@gmail.com