The USCB JULY JAMBOREE brings two Southern Literary Queens to the USCB Lunch With Author series by featuring Dorothea Benton Frank on July 1st at the Sea Pines Country Club and concluding on July 29th with Mary Alice Monroe at the Dockside Restaurant in Port Royal.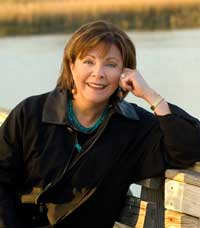 Frank attained national fame with her first book Sullivans Island and now nine books later she is taking her readers back to the old family homestead on Sullivans Island and the next generation of Hamiltons and Hayes. Newly graduated from college, Beth Hayes is commissioned by the family to spend a year on Sullivans Island house sitting the family's old homestead, the Island Gamble, much to Beth's chagrin. What happens during this year is why Dottie's books come alive with Southern lore.
In Last Light Over Carolina, Monroe returns to the South Carolina coast, this time to a small shrimping village, McClellanville. Her characters invite you to live with their families, toil with them on their shrimp boats and become part of an American family and a vanishing Southern lifestyle. Only Monroe can thread the reader into the lives of her characters. Her last book, Time Is a River was named by USA Today and Book Sense as one of the best 2008 Summer Reads. It was also the Books A Million Book Club selection, Woman's Day Book Pick, the IndieBound book pick and the Walmart book club selection.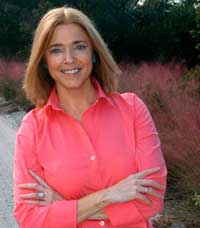 All nine of Frank's books have been on the top half of the NY Times best selling list. She has been a featured guest on The Today Show, as well as other affiliated television shows. She has been a volunteer and/or board member of every genre of the arts imaginable in both New Jersey and South Carolina. Currently she is on the Boards of the South Carolina Coastal Conservation League and The South Carolina Historical Society. A September edition of the Sunday New York Times featured her and her home on Sullivans Island, Charleston.
In a recent interview, Dottie Frank said, "I have turned in Return To Sullivans Island and what a relief that was. It comes out June 30th, which is a little later for me but this story took a long time to write and edit. This book means a lot to me as it is a sequel to my first, the book that changed the course of my life. Return To Sullivans Island is written in third person, which took some getting used to. And the protagonist is a mere twenty-three years old – another challenge. I loved writing it because it was like going to visit old friends and let me assure you of this, they are still up to their usual antics. The Island Gamble is more haunted than ever and the dead have almost as much to say as the living. I thought I would never get to the end of the story and truthfully, I could have gone on longer telling the tale of these wonderful characters. If you think it was worth the effort, then it was."
Monroe commented on Walter Edgar's show, "Living on the Isle of Palms provides a stimulating place for me to think and to write. I've always been interested in nature, but living on the island and near the wetlands has influenced my work. I draw themes for my novels from nature and the parallels with human nature. And, in my own small way, I hope that by bringing to life the beauty and mystery of this fabulously varied ecosystem and various endangered species in my stories, readers will be inspired to support efforts to protect them." Monroe is involved with several environmental groups and is on the board of the South Carolina Aquarium. Her work with these groups provided the inspiration for her novels The Beach House, Skyward, Sweetgrass, Swimming Lessons, Turtle Summer and last summer's Time Is a River.
Dottie Frank will entertain with her talk on July 1st at the Sea Pines Country Club and Mary Alice Monroe will do likewise among the shrimp docks on July 29th at the Dockside Restaurant, Port Royal. Each talk will be followed by questions from the audience and booksigning. Lunch is served at noon at both venues and the all inclusive price for each is $42. Reservations are necessary and can be made by calling 843-521-4147 or kingsley@uscb.edu with your credit card and/or mailing a check to USCB Continuing Education, 801 Carteret Street, Beaufort, SC 29902.