MARK SHAFFER spends some quality time at Habersham's newest addition
"Is Richard here?"
Peggy Wilson must be tired of the question by now. Nearly every customer who's walked through the door of Maggie's Pub this evening has asked the same thing, and the place is nearly packed.
"Yes, he is," she says with a smile. "He's in the kitchen."
This is good news for the faithful, and they are legion. The restaurateur who spearheaded the local farm-to-table movement and a chef with nearly two decades of innovation in high end kitchens (the last seven in his own), Richard Wilson is also a manager with an unmatched eye for detail who generates a kinetic charisma that would have served him well in the clergy. Perhaps it's fitting the new place has pews. The congregation has been waiting.
A year after the Wilson's sold their much-lauded Bateaux in Port Royal, the doors have finally opened on the new digs, a stylish American riff on the classic British pub and the Wilson's first foray into what Richard refers to as "flip flop casual." Like its next-door neighbor, Patois, it is also a cornerstone in the meticulous process of finding and fitting the proper pieces to the Habersham Marketplace puzzle, a process currently enjoying an unprecedented boom even in a grim recession economy.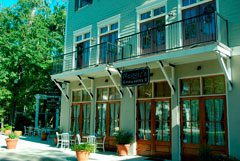 "Habersham as a neighborhood needed their own pub, their own tavern, their own bar," says Richard. "We wanted to add a little twist to it – not just your regular American bar that's covered in television screens." In a rather refreshing move there's not a TV in the place, although Wilson says that will change from time to time for special events like the World Cup. This is a Richard Wilson project and like his award-winning adventures in fine dining (the late and deeply lamented Bateaux included) it comes fully formed with no detail left unchecked.
"The first thing we did was come up with a menu and the idea behind it," He explains, "which was an English-American pub with a nod to the pubs of Scotland and Dublin. There are a lot of woods, a lot of deep, rich colors and the menu is reflective of that, as well." The first dish to make the cut was Shepherd's Pie, a traditional dish synonymous and with the public houses of the British Isles – working man's food. "And this is absolutely a working man's pub," says Richard. "Another dish is the Ploughman's Lunch which is about as old school London as you can get." Although old school Londoners probably weren't used to the Wilson standard. The plate of cheese, fruit, creamery butter, honey and fresh house-baked bread is as simple as a ha'penny whistle, but then again the sweetness of the music depends upon who's playing the instrument. The inevitable Fish & Chips are fresh cut local flounder dipped in Richard's top-secret batter ("nobody's getting that recipe") and thinly sliced rustic chips served with lemon red wine vinegar and chive mayo. There's also a monster half-pound Pub Burger, a Seasonal Salad, Pulled Pork and something for just about every palate, most of it between $5 and $10. In keeping with the Chef's evangelical devotion to the locavore movement, nearly everything that passes through the kitchen comes form local producers, including Habersham's own fledgling organic farm just across the road.
The Wilsons are big fans of classic cocktails. Order a Sidecar and you won't get a blank stare here. The selection of premium whiskies showcases a fine sampling from Kentucky to Scotland. The taps include Smithwick's, Guiness and Harp with more on rotation and a nice selection of bottles (Bud Lite is stocked for the pagans). The wine list, like the menu, is microcosmically economic – representing real choice and value on a relatively short list.
Now then, just who is Maggie?
"Maggie is my bride, Peggy."
Ah, the first essential for a pub, a story to go with the name.
"It's a nickname given to her by Leo Gannon who helped design and build this space." "Long story short," says Richard, "Leo got her name wrong when they were introduced some years back and kept calling her 'Maggie.' She just let it go for a while until she finally said 'Leo, my name's Peggy.' And Leo said 'Hell, I'll never remember that, now. How about we just go with Maggie?' And it stuck." In the end it proved a natural choice for the pub.
In the spirit of the true public house, the Wilsons wanted a place where conversation was a pleasure not a challenge. The previous bar in this space had been a sonic disaster of sound-bouncing concrete, metal and glass. They installed a faux tin ceiling made of acoustic tiles, padded huge portions of the walls with cushy leather, adorned windows and French doors with sound absorbing linens and ditched the metal bar and furnishings in favor of a rich selection of wood. "Mahogany and cherry tables, walnut chairs and barstools," says Richard. The magnificently finished bar top is Brazilian mesquite. "Very hard. You can put a hammer to it." Even the logo incorporates something traditional (a crossed knife and fork) with a unique Wilson twist – in this case a literal one. The incorporated image is that of an antique corkscrew from the Wilson's own collection. The elements all brought together by local designer Andrea Jenkins.
Yet, even before the first ale was poured, Maggie's had already acquired another thing every good pub needs – a piece of proprietary lore, courtesy of the massive antique church pews lining the walls. Just outside of Pittsburg, PA a century old Baptist church was moving and the pews commissioned for the original sanctuary were up for sale. An acquaintance in the area took a drive out and sent back photos. "They were exactly what we were looking for," says Richard, "more of an arched back, all hand-made, solid wood, not two pieces – stuff they don't make anymore – enormous detail. It must've taken a month to make each one." The pastor (who's father founded the church) also dug up the 1902 bill of sale for the lumber. The pews were fashioned in Pennsylvania, but the wood had been special ordered. "From Savannah Wood Mill!" says Richard. "It's Savannah oak. Is that crazy?"
Somehow this seems sublimely fitting – "fitting" being the operative word in the current resurgence of the Habersham Marketplace. "This is where it's at," says Richard with that characteristic gleam in his eye. "And like we say at Maggie's, we don't have customers, we only have friends." Amen.
Etcetera:
Maggie's Pub is open Tuesday through Saturday and features a spacious outdoor courtyard open to well-behaved dogs and owners. Check out maggiespub.net for hours, menus, prices and more on Chef Wilson's background. Mark Shaffer's email is backyardtourist@gmail.com
Maggie's Pub
17 Market, Habersham
843.379.1719