Opening a bar and restaurant in this economy is like handing over your 401K to Bernard Madoff. Closing down a successful business and moving across the street to create something completely unique from the ground up seems absolutely certifiable.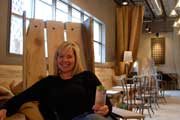 "So, how's business?"
"Crazy." Anne Sergeant shakes her head. Then she smiles. "Crazy good. Just incredible."
I'll say the same for the Ellie's Brown Ale I'm sipping at the bar of Wren as we chat about the new space, Wren Bistro Bar and Market. Anne's executive chef and co-owner along with her mother, Nancy Huber, and husband, Brad, and Wren is the reason Sea Island Wine and Gourmet has passed into local culinary history. In fact, though it's barely a block from the old store, there is a definite sense of transportation once you walk off the street. Sitting at the bar in Wren feels as if you're in another city altogether, maybe adrift in Atlanta's Virginia Highlands.
"It kind of has an urban edge, but maintains a feeling of comfort," says Anne. "It's a great place for friends to meet."
The vibe is a dramatic blend of ingredients and ideas that probably shouldn't work together, but like a premium Sazerac, they go down easy. And every bit of it – from concept to creation – was designed, sourced and crafted locally. The space is divided into three sections, with the bar separating the market and restaurant. There's plenty of exposed brick, steel, iron and tin mingling with marble, stone, whicker, wood and rope – yes, rope – and a splash of whimsy. Let's call it Gothic Industrial Rustica.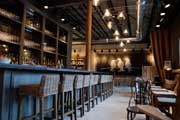 There's plenty of room at the bar (although the funky wicker bar stools take a bit of getting used to) and cocktail seating features a long rustic bench beneath a massive picture window framing all the poor suckers stuck in bridge traffic out on Carteret. Cushions and pillows are finished like old coffee bean bags. And then there are the chairs. "The Alice in Wonderland chairs," as Anne calls them. Indeed. This is where the whimsy comes in. It's easy enough to imagine the Mad Hatter sipping a mint julep sprawled all over one of these wacky, oversized variations on the Adirondack Chair. In fact, they're amazingly comfy. One could easily curl up with a book and a glass of wine and innocently lapse into reverie.
Wait a minute. Wicker bar seats? Mad Hatter chairs? A bar inside a deli inside a restaurant? It's all so… cosmopolitan. Which reminds me…

Drinks. We're here to suss out the beverage situation. This is a bar column, after all. The wine list is compact and eclectic – no grocery store labels here. And if you don't see what you want on the menu, step over to the market's wine wall (recycled from a local barn circa 1782) and pick out a bottle. A $10 corkage allows you to enjoy it at the bar. For the barley and hops crowd there's no shortage of adventurous choices in the craft beer category like Arrogant Bastard and St. Bridget's Porter. The signature cocktail menu's still a work in progress but Anne promises "a fresh take on old classics like the Tom Collins, the Sidecar, the Manhattan – things you don't see much anymore…" and husband Brad "is a big scotch fan." This is good news. We can expect an ever-expanding list of whiskies, to include rare and single barrel bourbons, along with special tasting events – something sorely lacking 'round these parts. As for a nosh at the bar, order off the main menu while the restaurant's serving lunch (11-3) and dinner (6-11) or enjoy cheeses and antipasti from the market. According to Anne, Wren is all about choice and value, particularly in these tough times. "The key is repeat business," she says. "We want our customers to come back two, three times a week."
Oh, twist my arm.
Wren Bistro, Bar and Market
210 Carteret Street, historic downtown Beaufort
843.524.9463