Your Guide to Drinking Downtown

"I feel sorry for people
who don't drink. When they wake up in the morning, that's as good as they're going to feel all day." – Frank Sinatra
Like so many small coastal towns, Beaufort's sometimes described as a quaint drinking village with a fishing problem.
Downtown Beaufort has a pretty good selection of watering holes, most attached to restaurants and several cleverly disguised as restaurants. Whether you're in search of one of craft cocktail, a shot and a beer, or a good deal on an Argentinian Malbec, you can find it all downtown.
ON THE WATERFRONT
Panini's on the Waterfront
926 Bay Street (843) 379-0300 www.paniniscafe.net
Open at 11:00 am daily.
There are few spots better to sip a frosty beverage in the cool river breezes and watch the sun set beyond the city marina than the patio bar at Panini's Cafe. It is also the only full-service outdoor bar on the waterfront (for some inexplicable reason). And now, with the addition of a giant tent covering the entire deck, completely shaded and waterproof. The inside bar is an ornately carved and canopied 200 year-old testament to English artisanship. It simply begs you take a seat, pull out your journal and order a cocktail – or maybe a pint? The house specialties include bellinis (Prosecco and fresh fruit juice), seasonal martinis and scratch-made sangrias in a variety of flavors and potencies. Sip a drink, catch up on your thoughts and try one of Panini's gourmet brick oven pizzas. There are none better.
Hemingway's
920 Bay St. (843) 521-4480
www.hemingways.org
Open daily at 11:00am.
If Ernest were still around I have a feeling you might find his beloved Pilar tired up at the city marina and her master holding court at his namesake establishment (probably puffing on a fat Cohiba, smoking ban be damned). Hemingway's is a first class dive – or as I prefer to term it, a bar's bar – and this is no bad thing. Great dive bars are hard to come by in this age of corporate homogenization. Bars like Hemingway's are never designed, they simply happen. Located in a subterranean corner of the magnificent Thomas Law Building, the bar is a lot like a '68 Mini Cooper – unique, well driven, and classic but not for the claustrophobic. The actual bar seats half a dozen patrons with a few tables against the wall. The place is festooned with an impressive accumulation of autographed currency, memorabilia and bric-a-brac and the clientele is just as eclectic. Late night this is where Beaufort's service industry comes to unwind, which is the sort of ringing endorsement any bar bar worth it's Jägermeister craves without ever really seeking it.
Luther's Rare and Well Done
910 Bay St. (843) 521-1888
Imagine Cheers transported from Boston to Beaufort and you'll find Norm Peterson and Cliff Claven arguing over "Final Jeopardy" right here. In fact, Luther's has a palpable Cheers vibe to it, only with a spectacular view of the river and a pet-friendly deck. There's also a brimming shot of semper fi, the Marine Corps motto which – come to think of it – translates to what I like to call the Regular's Creed: Always Faithful. If you're a regular or even a semi-regular, chances are your beverage of choice is on the bar before your butt's on the stool. Claim a table or a seat at the big rectangular split-level bar (curiously, one side's taller than the other) to watch the game or the race on a plethora of flatscreens. Luther's features live music Thursday through Saturday with happy hour daily from 4-7. We recommend the famous seasoned wings, and Fred Flintstone would dig the burgers – among the best in Beaufort.
Plums
904 Bay St. (843) 525-1946
www.plumsrestaurant.com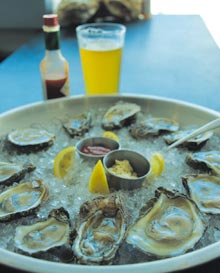 The restaurant's been a favorite among tourists and locals alike for two decades, which is like a century in restaurant years. When soft shell crabs are in season you've got a better chance of getting backstage at a Stone's show than scoring a porch seat for lunch. But like most waterfront establishments, Plums leads a double life – a Jekyll and Hyde life. Thursday through Saturday, after the dinner crowd clears out around 10 o'clock, tables and chairs disappear, amps and speakers materialize and shortly thereafter the musicians to which they are attached. On the waterfront side Plum's offers a spectacular view of the park and the river. The bar's a great place to meet up for a quiet drink and a top notch nosh between lunch and dinner rush. The Bay Street side of the building features a Boston style raw bar. Claim a stool and enjoy an icy pint with a dozen on the half shucked to order right in front of you. It doesn't get much better.
Q on Bay
822 Bay Street (843) 524.7771
www.qonbay.com
The latest addition to the waterfront lineup is the river front bar at Q on Bay. As the name implies barbecue – all manner of it – is what's cooking at Q. There's an instantaneous throwback sensibility to the place – a bit like stepping back into a bygone era, plucked from the past and newly polished for the present. The current renovation finally realizes the building's full potential with three distinctly different spaces and an atmosphere the owners call "upscale rustic." The bar is relaxed and casual with a covered patio on the waterfront park. Q features live music on the weekends and sports all year 'round on the abundant flat screens.
Order up a mess of ribs or sliders and choose from 16 taps featuring a mix of staples, craft beers and microbrews all available by the pitcher. You won't find that option anywhere else downtown.
Saltus River Grill
802 Bay St. (843) 379-3474
www.saltusrivergrill.com
To paraphrase Winston Churchill, this is a riddle, wrapped in a mystery, inside an enigma – only with sushi and premium cocktails. The patio overlooking the Atlantic Intracoastal Waterway has a Napa Valley vibe while the bar and restaurant housed in this historic old Lowcountry building mimic Manhattan chic. Carrie Bradshaw and her posse would be right at home. In fact, more often than not the bar clientele at Saltus may be the best dressed bunch of drinkers this side of a Donatella Versace afterparty during Fashion Week. During the week the after hours business crowd mingles with golfers and Day "Frippers" in from the island. On the weekends this is where the Beautiful People gather to see and be seen, the heady scent of titanium credit cards sweet as magnolia blossom in the air.
PORT REPUBLIC TO CARTERET STREET
Emily's Restaurant and Tapas Bar
906 Port Republic St. (843) 522-1866
www.emilysrestaurantandtapasbar.com
I'm on record as saying this is Beaufort's living room and I'll stand by that. The restaurant's a longtime local favorite. A black baby grand piano sits in a corner. The restored antique bar is curiously shaped like a giant coat hanger. Ask owner Tommy Winburn to tell the tale of how he found it on E-bay. There's no happy hour but the price of cocktails drops once you're on Port Republic. The wines are terrific values either by the glass or by the bottle and there's a decent selection of bottled beers. If you're in the mood for a nosh the tapas menu is extensive. The giant flatscreens make Emily's a great spot to meet friends and catch a game or just catch up. Stick around long enough and you're likely to end up as part of the family.
Nippy's Fish
310 West Street (843) 379-8555
A sign in the window reads "Cold Beer In a Parking Lot." Owner, Diana McGrath, says that kind of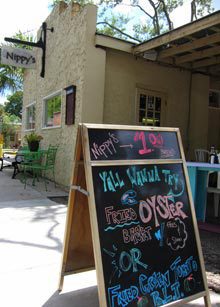 sums up the attitude – or lack of it. I couldn't agree more except to add that there's plenty of shade, high-powered fans and picnic tables. A throwback to the bygone Lowcountry tradition of the fish shack, Nippy's is nothing fancy and therein lies the glory of the place. Two blocks off Bay Street, the small tabby building and adjacent lean-to offer an alternative reality at the edge of a pay-to-park lot beneath live oaks dripping in Spanish moss while horse drawn carriages clop past on Craven Street. Order up a frosty beverage and sample the award winning Fish & Chips (voted best in Beaufort or the fresh made local Shrimp Burger – a true Lowcountry delicacy. Nippy's features live music Thursday and Friday nights and in every Saturday afternoon. Thursday evening the parking lot's packed for the weekly "cornhole" tournament – a local phenomenon one must see to truly appreciate. An acquaintance once called it "the most fun you can have in a parking lot with your clothes on."
Wren Bistro & Bar
210 Carteret Street (843) 524.9463
The vibe is a dramatic blend of ingredients and ideas that probably shouldn't work together, but like a premium Sazerac, they go down easy. There's plenty of exposed brick, steel, iron and tin mingling with marble, stone, whicker, wood and rope – yes, rope – and a splash of whimsy. Let's call it Gothic Industrial Rustica.
There's plenty of room at the bar (although the funky wicker bar stools take a bit of getting used to) and cocktail seating features a long rustic bench beneath a massive picture window framing all the poor suckers stuck in bridge traffic out on Carteret. The wine list is compact and eclectic – no grocery store labels here. For the barley and hops crowd there's no shortage of adventurous choices.
Breakwater Restaurant and Bar
203 Carteret St. (843) 379-0052
On the subject of bar stools, Breakwater is looking out for your butt, so to speak.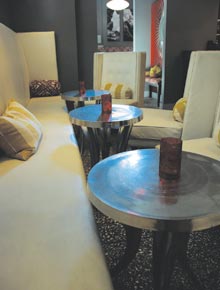 All dedicated bar patrons know that the key to any successful watering hole is your own posterior and what it's perched on. Co-owner Donna Lang personally selected the plush leather seating. "If your customers aren't comfortable, they're not going to stick around," she says.
As for the atmosphere, "People tell us it's hip, sexy and modern," says Lang. "It's almost like being in New York, but without the attitude." The glassed enclosed Wine Room opposite the bar showcases a wall of wines from around the world – the most extensive cellar in Beaufort, nearly all of it available by the glass. The gold-flecked marble of the bar simply demands an Old Fashioned or a Bombay Sapphire Martini.
So with all this style, sophistication and leather the prices have to be pretty luxurious as well, right? Wrong. In fact some of the bar prices have been adjusted down and drinks are discounted during happy hour from 5 to 6:30. And just a few yards north of that swanky wall of wine a frosty pint of PBR is two bucks all night long. And everything on the eclectic seasonal menu can be enjoyed at the bar. I highly recommend the Lamb Sliders, two mini lamb burgers served up in toasty home-made mini-buns with minted yogurt, feta cheese, a pickle and the kitchen's addictive hand cut fries. Dang, they're tasty.
TO BE CONTINUED…
Got a great watering hole? Email Mark Shaffer at backyardtourist@gmail.com and delve into the archives and check out our videos at www.lcweekly.com.