"Twas a woman who drove me to drink. I never had the courtesy to thank her." – W.C. Fields
The origin of the Margarita is as cloudy as a shot of cheap mescal, but two stories have endured over the years with three things in common: women, tequila and Mexico.
The first comes out of Tijuana, circa 1938. Legend has it that Carlos "Danny" Herrera conjured the cocktail for aspiring actress Marjorie King who was allergic to just about any form of booze other than tequila. Flash forward a decade to post World War II Acapulco where Dallas socialite Margarita Sames claims she invented the beverage for party guests in 1948. One of those guests, Hotelier Tommy Hilton, was so impressed that it eventually became a staple on the bar menu at his chain of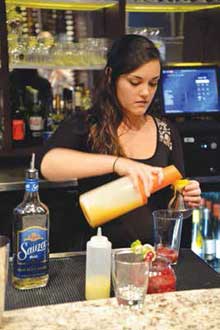 hotels.
With the rise of premium tequilas over the past decade, Americans have begun to consider the Margarita as more than just a frozen party drink. Given the opportunity, I would gladly road trip the 1700 miles to the Adobe Bar in the Historic Taos Inn for a famous Cowboy Budha Margarita. Or I might save a couple grand in gas money and walk over to the bar at Breakwater for the truly unique, absolutely delicious, made-from-scratch, now-for-a-limited-time-only, Cranberry Margarita. Yeah, cranberry. The bar staff at Breakwater have been at this craft cocktail thing for a long time now and never seem to miss an opportunity to create a fresh spin on a classic or something completely original. Trust us, this one is muy sabroso.
WELCOME BACK to Breakwater's original mixologist extraordinaire, Terry Guinn, recently returned from a lengthy Manhattan adventure – which, we presume, had less to do with mixing Manhattans than one might
suppose.
Watch bartender Amber Young (above) mix a Cranberry Margarita.