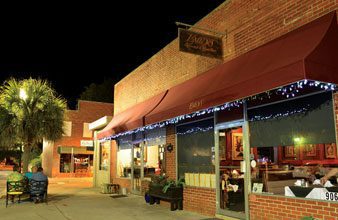 Story and Photos by Mark Shaffer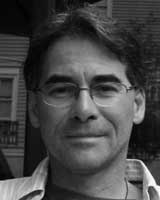 A guy walks into a bar…
In one of my favorite opening scenes from Cheers, a stranger wanders into the bar and strikes up a conversation with Woody. The guy explains he used to be a regular, but moved away and hasn't been in the place for twenty years.
Woody: Really?
Guy: Yep. See those stairs? They used to go down the other side of that wall.
Woody: Hmm.
Guy: And this floor, when I was here it was all ugly green tile.
Woody: Wow.
Guy: I guess everything changes in 20 years. They've even changed the paneling.
Woody: Where?
Guy: Over there, behind Norm.
Cue the music.
No doubt the regulars at Emily's Restaurant & Tapas Bar shared certain similarities with the patrons of Boston's famous fictional pub. Chief among them was loyalty. It was a locals' favorite – a place where everyone really did know your name. But change is inevitable. Sometimes it catches you by surprise like a blackjack to the back of the head in a dark alley. So it came as a bit of a shock when Tommy Winburn sold the business after nearly two decades. The bigger shock came a few weeks later when we learned that after nearly 30 years as a downtown Beaufort icon, Emily's would cease to exist to make way for a new concept.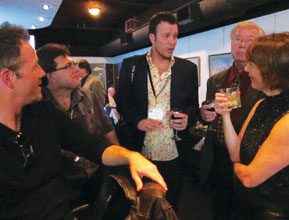 I've never written an obituary for a bar before, but it seems appropriate considering the circumstances. It sure feels like part of the family's passed. When I get right down to it, Emily's was about family. My wife Susan and I stumbled upon the place in late 2007, newly escaped from the onset of another dreary Seattle winter, ready to come home to South Carolina. We were immediately welcomed into the fold. Looking back I'm certain Susan's natural charm, intoxicating drawl and ancestral Irish appreciation for a fine public house were the keys to our acceptance. We met the town at Emily's.
We moved to Beaufort a few months later. I went to work for this publication and we became Emily's regulars. It wasn't hard. Hell, the joint was only a block from my office. I've probably written most of what I've published between these pages in longhand at the bar. It's where I started this piece. I used to jokingly refer to the place as "the home office" or the "Port Republic Annex." It was, as I once observed in this column, Beaufort's living room.  
Emily's is where I first bumped into Pat Conroy in Beaufort. Back in those days it wasn't uncommon to stumble upon Pat and his crew – John Warley and Bernie Schein – swapping stories at the bar. It wasn't hard to find them, either. All you had to do was listen for Bernie. When major Hollywood productions came to town on a regular basis to make movies like Pat's The Prince of Tides and Forrest Gump,the stars ate and drank here. Back in those days the whole operation was housed in the mahogany paneled dining room. The original bar might have seated a dozen elbow-to-elbow, and it wasn't unusual for patrons to be three deep. In 1995's Something to Talk About Julia Roberts catches Dennis Quaid cheating on her here. While filming Last Dance, Sharon Stone threw a first class diva fit in the dining room and was invited not to return. 
My friend Mary Godley was behind the bar in those days. She recalls the Stone incident, remembers Tom Hanks dining there and says, "Sally field was a dream, Dennis Quaid was super funny and Robert Duvall truly was a gentleman."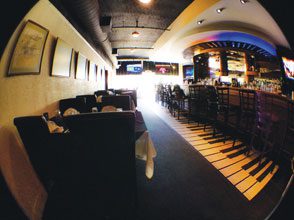 When longtime Beaufort resident, Tom Berenger came home after his 2012 Emmy win for Hatfields & McCoys, he brought the celebration straight to Emily's. And each February as the Beaufort International Film Festival grew, the filmmakers packed the place to connect over cocktails, tapas and the restaurant's signature dish, Steak au Poivre. 
A black baby grand piano once sat at the front of the bar sporting an armada of tiny trawlers – trophies won at Beaufort's annual Shrimp Festival and the floor was tiled like a giant set of piano keys. I half expected to see Tom Hanks stroll in and reprise his keyboard dance from Big.
That would've been particularly weird beneath the lighting canopy that recalled the mother ship in Close Encounters with its pulsing, colored lights. The magnificent vintage bar has some serious history. Tommy bought it on eBay and flew to Wisconsin to truck it back to the Lowcountry. He recalls that, "It was not in the best of shape." Its original location was in a venerable family-owned tavern in Little Chute, Wisconsin. About five years ago the folks who sold the bar to Tommy dropped by, had a few beers and shared some pretty cool bar lore. The story goes that before he became the king of the Chicago underworld and the target of Eliot Ness' Untouchables, Al Capone used to stop and hang out while conducting mob business between Milwaukee and Chicago. And during the glory days of Lombardi's Green Bay Packers, the bar in Little Chute was a hot spot for the players to blow off steam far from the coach's curfews and restrictions. 
Emily's was always a place where locals and visitors gathered to celebrate engagements,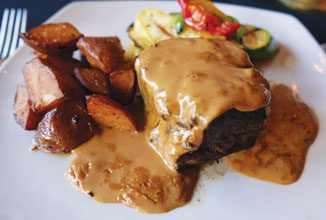 weddings, anniversaries, births and too many milestones to mention. Regulars filled the bar and shared cakes on birthdays, the Gamecock faithful gathered to cheer (or not) on game days, and on the first Saturday in May the bar bloomed in the bright pastels of lady's hats and whiskey was poured for the Running of the Roses.
Like any family, we came together there to take comfort in our losses, as well. In recent years it seems those losses have come all too often on both sides of the bar, including a pair of young men who left us far too soon and tragically. 
It is my experience that tragedy brings family together. And my experience happened on the afternoon of May 3rd, 2017. I was to meet Susan at the bar to celebrate her first day of training new volunteers for the Friends of Hunting Island Sea Turtle Conservation Project. She was passionate about this and got deeply involved our first spring in Beaufort. I got a text that she was running late. Late dragged into later, which dragged into getting worried, which turned into my worst possible fears realized with a phone call. The rest played out in a slow-motion blur, the nightmare from which you so desperately want to wake but can't. I vaguely recall being led to the rear of the dining room to sit down with the coroner and a very nice state trooper. I don't recall much about the next 48 hours, maybe more, but I do remember the kindness and care. While extended family made their way from around the globe and the nation, my Emily's family stepped up and did what needed to be done – in spite of their own grief. When my dad followed a few months later, most of them traveled to the wilds of the Pee Dee to take part in two memorials.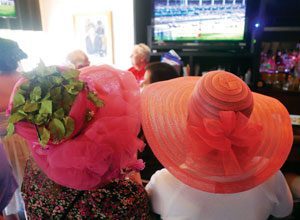 Emily's wasn't everyone's cup of tea. But here's the thing: it was a special place for a lot of people for a very long time, and specifically a close-knit group who disagree on politics and just about every other damn thing. But we came together there to laugh, sometimes to cry, to bond and endure.
Recently I had a beer with Tommy, who tells me his relationship with the landlord had simply become impossible. Offers to buy the property were rejected and faced with the prospect of a crushing increase in rent come spring, it was simply time to let go. 
"I met a lot of nice people," he says. "Made a lot of good friends. And that was nice."
In the end his chief concern was the continued employment of his staff. "I'm just glad they kept them all," he says. "That was the most important thing. Although I kind of wish they'd continued the Emily's legacy. But I wish [the new owners] well. I really do." 
Same here. I wish all the best to the new team, George and Jim and the forthcoming Mezes Mediterranean Grill. Chances are you'll read about it right here. In the meantime, the Displaced roam the happy hour landscape like a lost tribe and I can't help but mourn the First Lady of Port Republic . . . 
Longtime Beaufort social icon, Emily's, quietly passed into history at the cusp of the New Year, December 31st, 2018. She was attended by the faithful until last call.
Like us on Facebook and share your memories and photos of Emily's.